5 Best Children's Libraries in St. Pete-Clearwater, FL
Your guide to the best Children's Library areas in the St.Pete-Clearwater
Taking your kids to the library is an awesome free activity. In Florida, it is especially nice for hot days when you need something to do with your kids indoors.
Going to the children's library area isn't just about finding books. The best kids sections are full of toys and activities that make going to the library a fun destination.
But not all children's library areas are created equal. Some libraries have bigger and better kids' sections where kids would happily play for hours.
We've rounded up the best libraries for kids in Pinellas to help save you time. Nobody wants to pack up the kids and make a whole trip only to find out the library children's section isn't that great.
As local moms, we've personally frequent these libraries with our kids too. Our kids range in age from one-years-old to
Below you'll find our favorite children's library areas, including pictures and lists of some of their toys & activities. Our goal is that you can easily find the best fit for your kids.
And don't worry, we also round up a list of subpar children's library areas you should skip at the end.
Let's check them out!
5 Best Libraries for Kids in Pinellas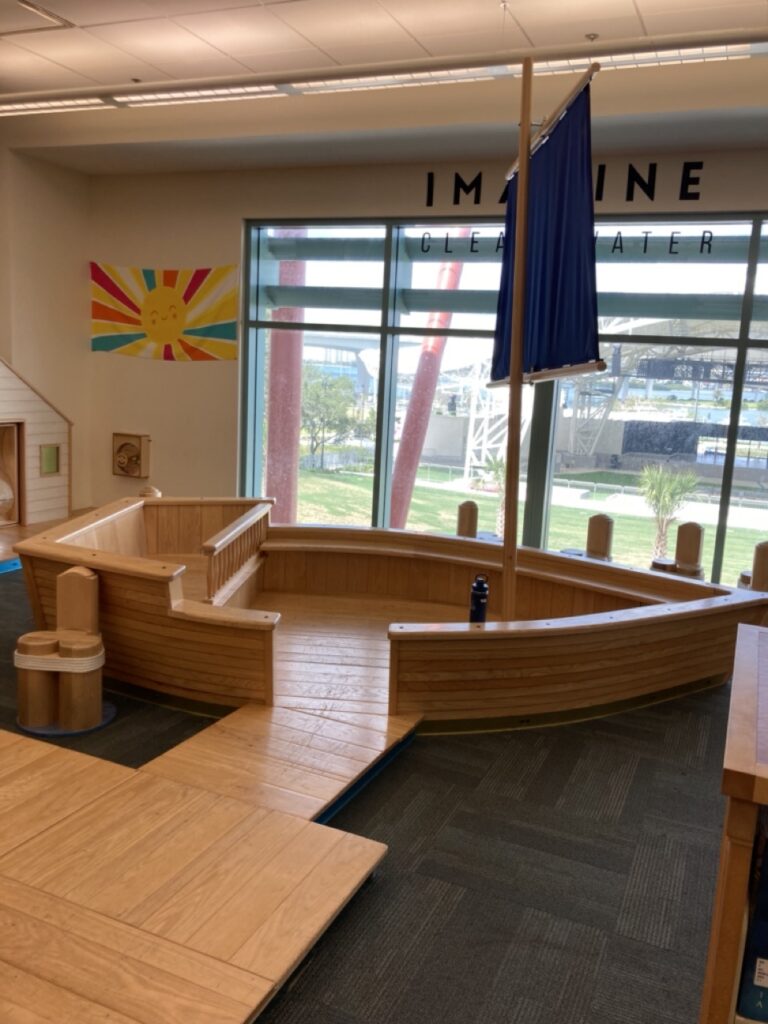 1. Clearwater Library Main Branch
Clearwater's flagship library has an amazing children's area. It is basically the entire second floor of the library.
The divide the space up so there is a section for the youngest kids and a section for young adults.
In the children's library area, you'll find things like: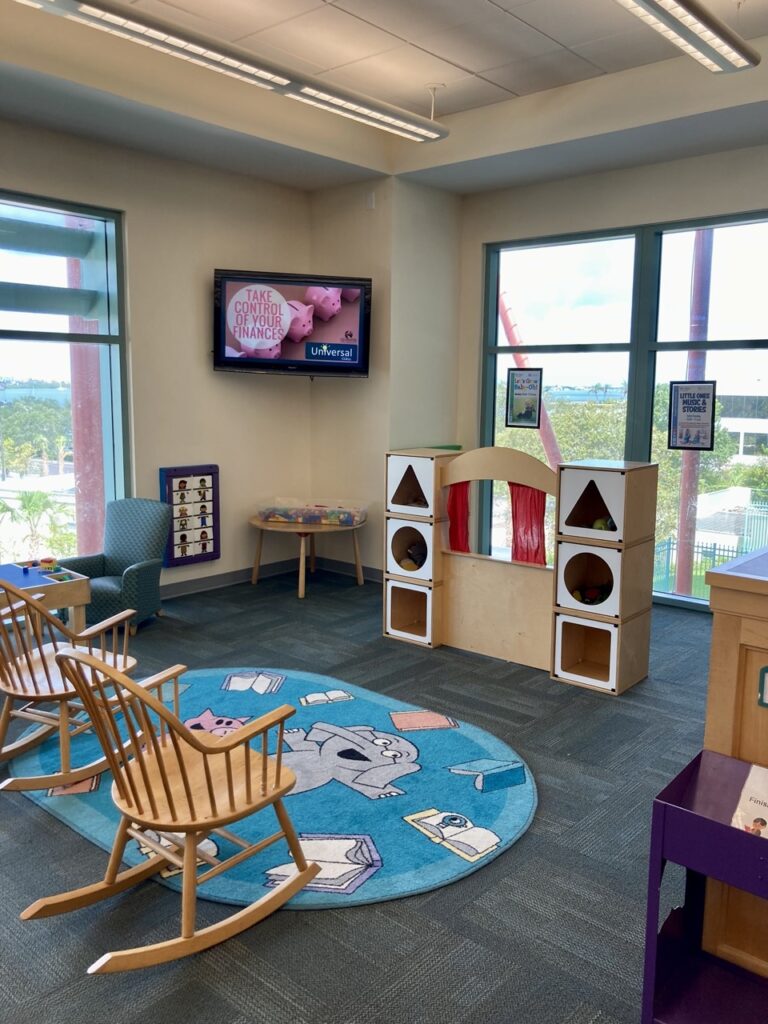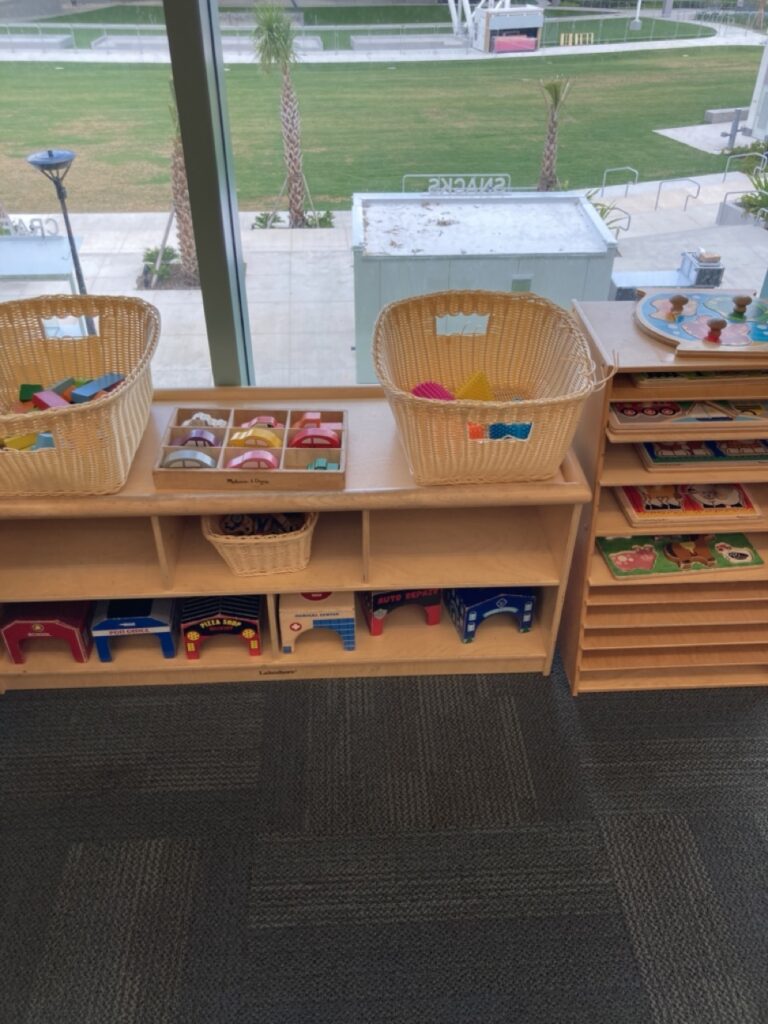 My kids could have probably spent all morning playing there. I wish we had budgeted a lot more time for our visit and will definitely be back soon.
The library is also adjacent to the newly redone Coachman Park, so we spent the morning at the park and headed into the library to play when it got too hot.
📚 I love this children's library area for the cool boat & multiple play spaces
2. Largo Library
Largo Library is a favorite library for families with young kids in the area. The library opened its new facility in 2005 which is a large and pretty space (source).
I've yet to make it to this library with our kids but it is one of Malena's favorites in the area (her kids range in age from elementary school to toddler).
Largo Library has:
📚 We love this library because it's on-site cafe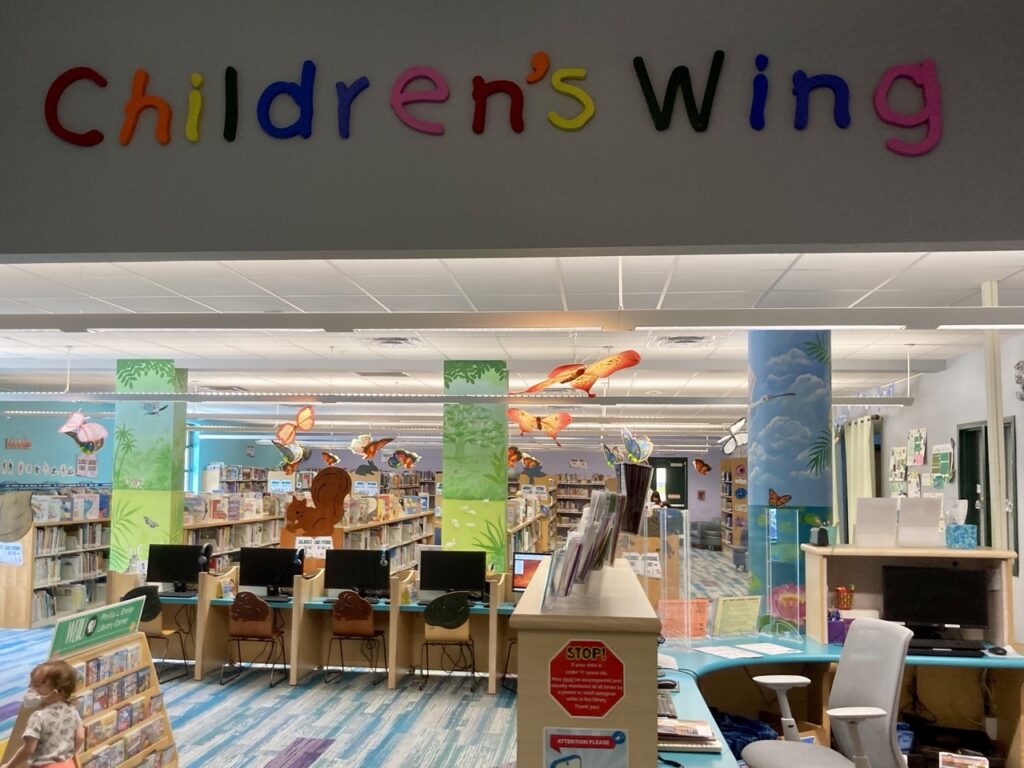 3. Safety Harbor Library
Safety Harbor Library has a nice children's wing that takes up about a third of the library. There's a dedicate section for little kids and a smaller area for teens.
This library has lots of toys and play spaces for kids that makes it a popular destination.
It has always been bumping when we've visited in the mornings so it is a good spot if you want your child to interact with other kids.
The Safety Harbor Library has: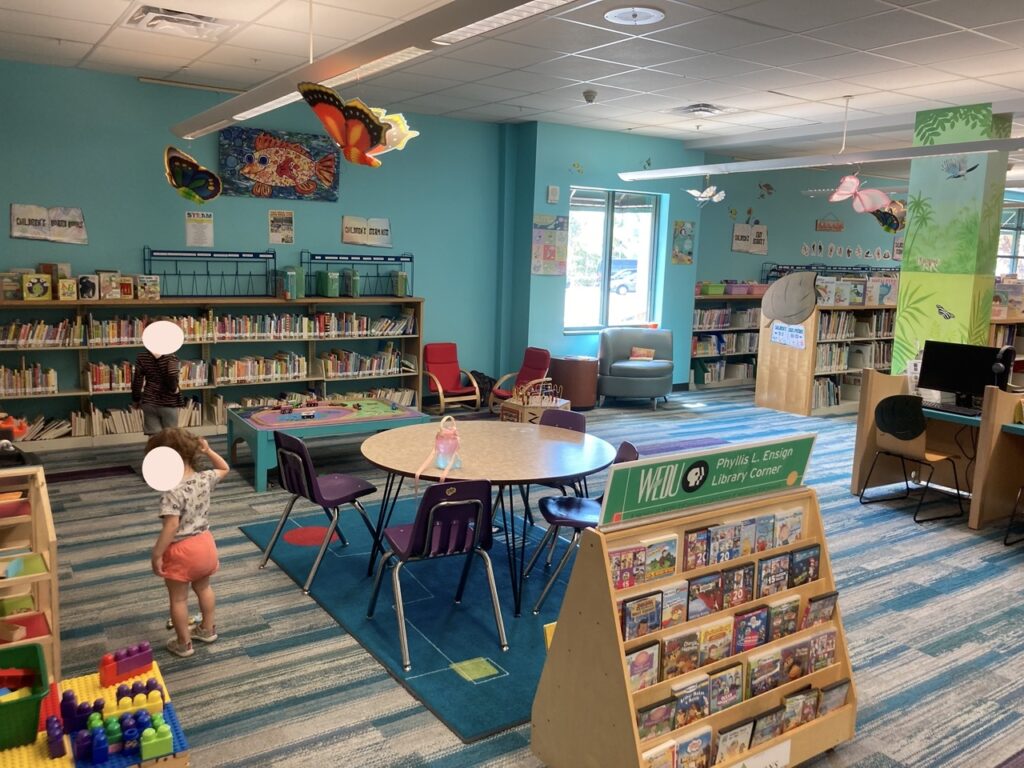 The Safety Harbor Library also has a great weekly lego club meet-up for kids that Malena kids often attend, and regular classes for babies and toddlers.
My kids will happily play in the sensory play area and with the bristle blocks for as long as I'd let them.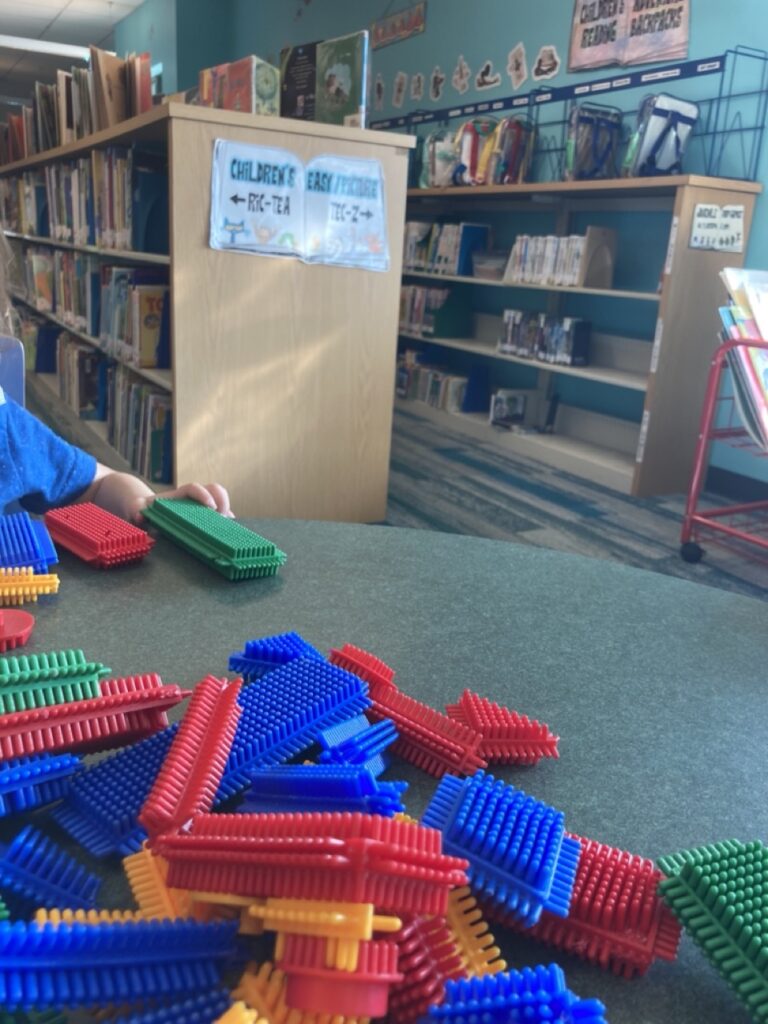 I also really appreciate that the Safety Harbor library has bins around for any toys that get put in a child's mouth so they can be sanitized. They also request children clean their hands before and after play with provided hand sanitizer.
These public health details mean a lot to our family since one of our kids has a higher risk health history.
📚 I love this library for the sensory play area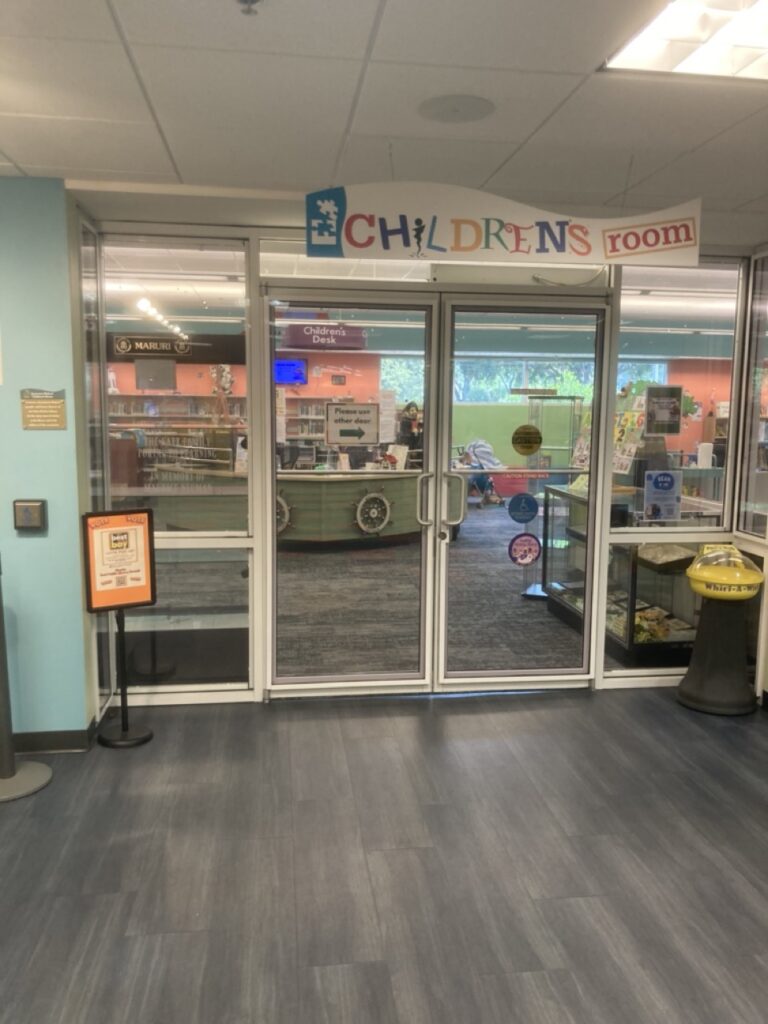 4. Palm Harbor Library
I absolutely loved visiting the Palm Harbor Library with our 1-year-old.
Before we even set foot into the library, she was delighted by their outdoor garden with musical instruments hidden throughout it and cool art sculptures. The garden alone could be a toddler activity.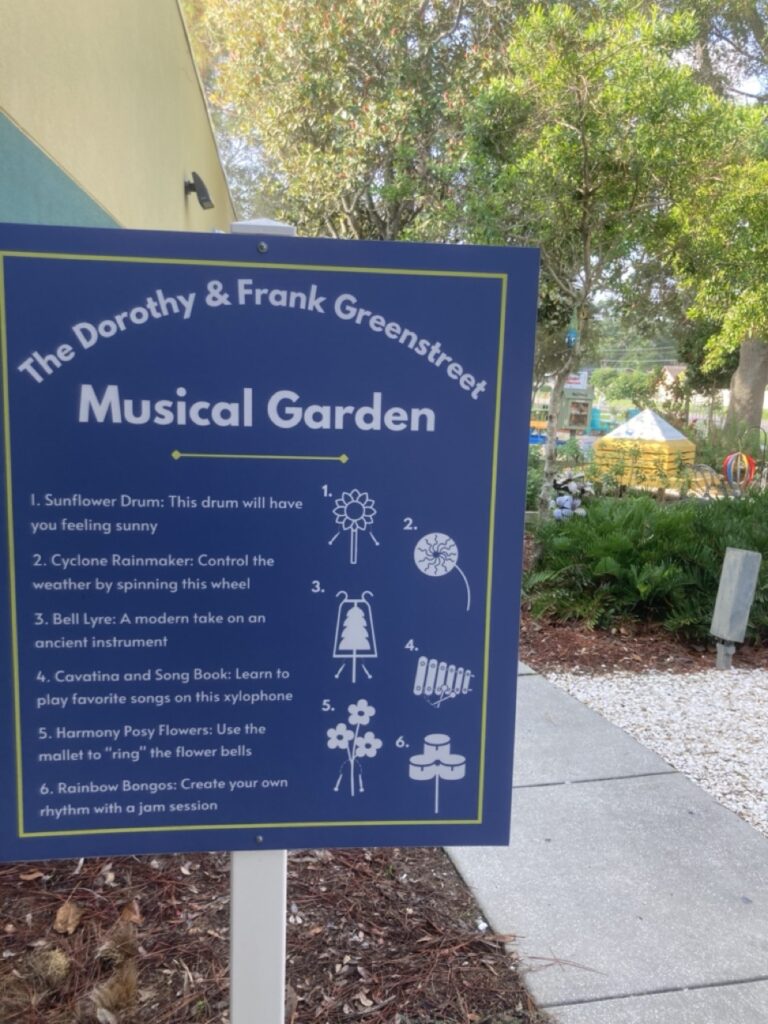 Inside the library, you'll find a Children's library area that has a closed door — a feature I love so you don't have to worry as much about disturbing people.
Perhaps the coolest feature of the Palm Harbor library is their "Maker's Space" full of art supplies. Children ages 5-12 can create for an hour once a week in the space (according to the library's Maker Space webpage).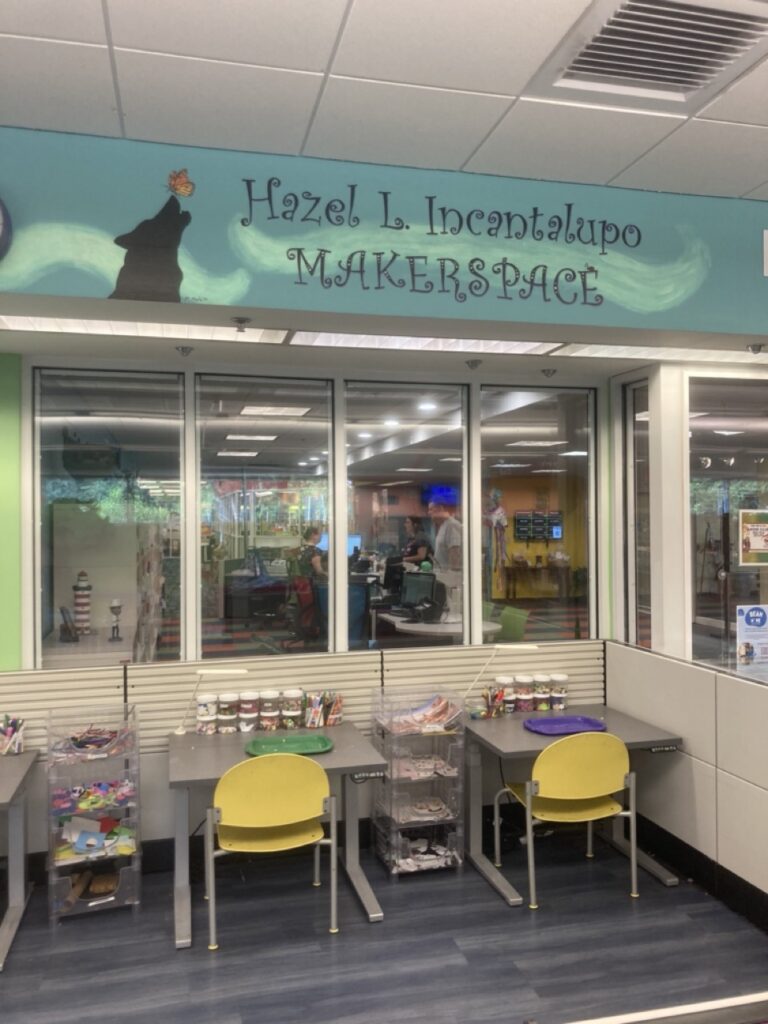 Palm Harbor Library has: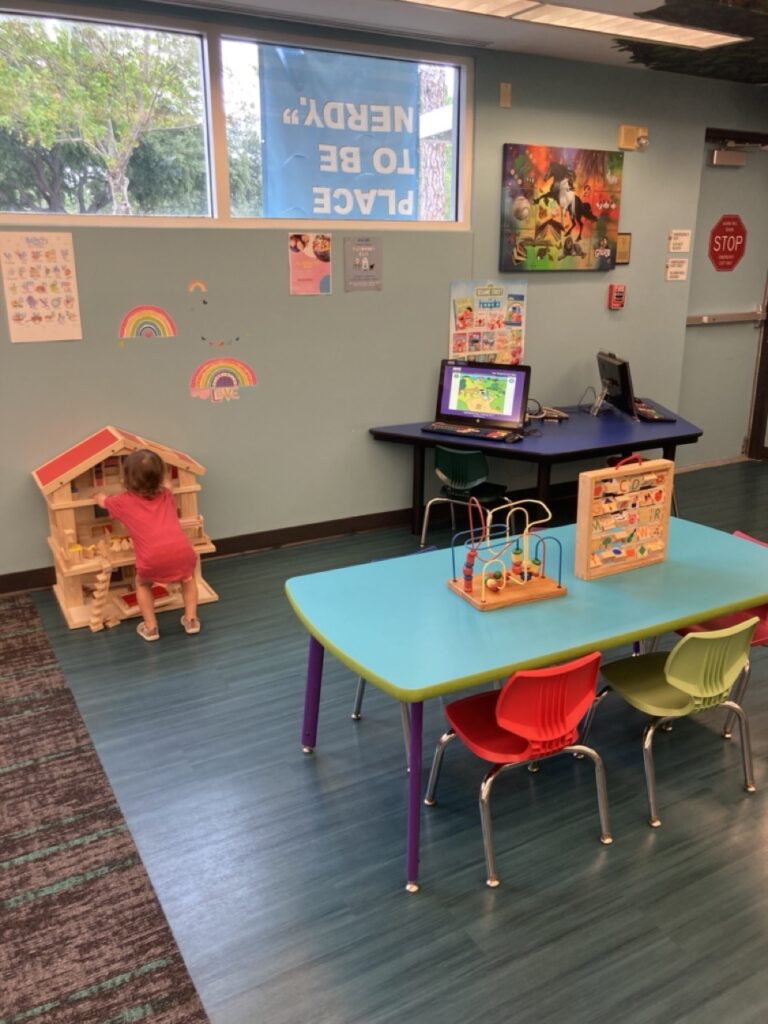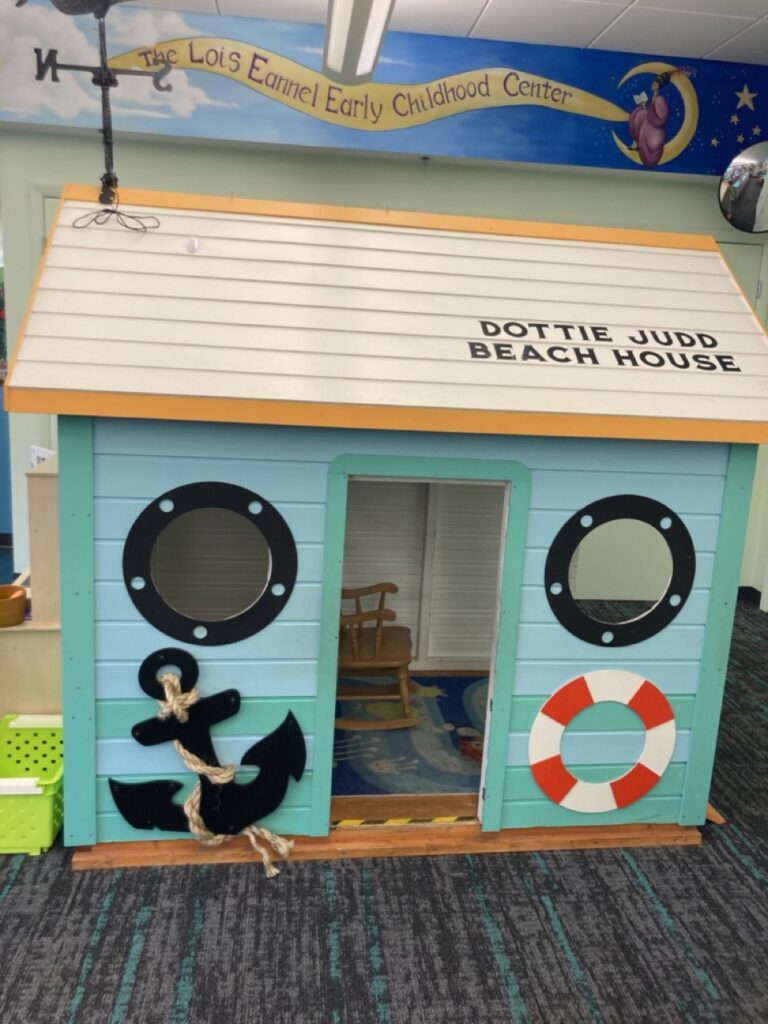 The Palm Harbor Library also has a 24/7 borrowing kiosk outside the entrance which is a really nice added feature.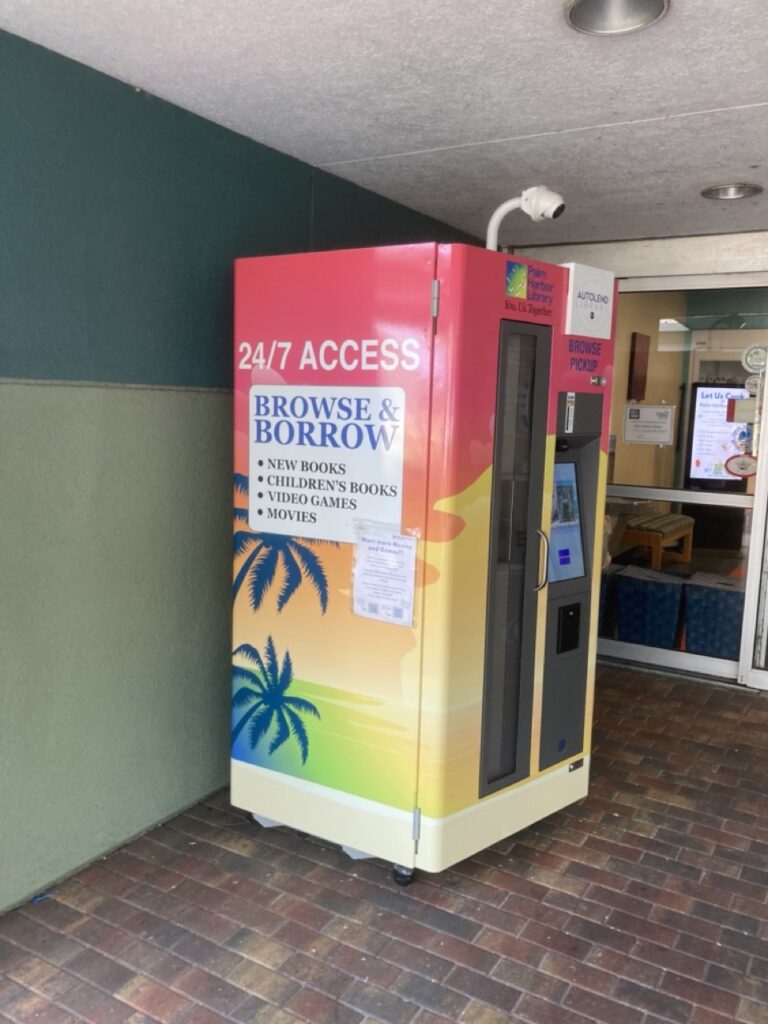 📚 I love this library for the unique art Maker's Space & garden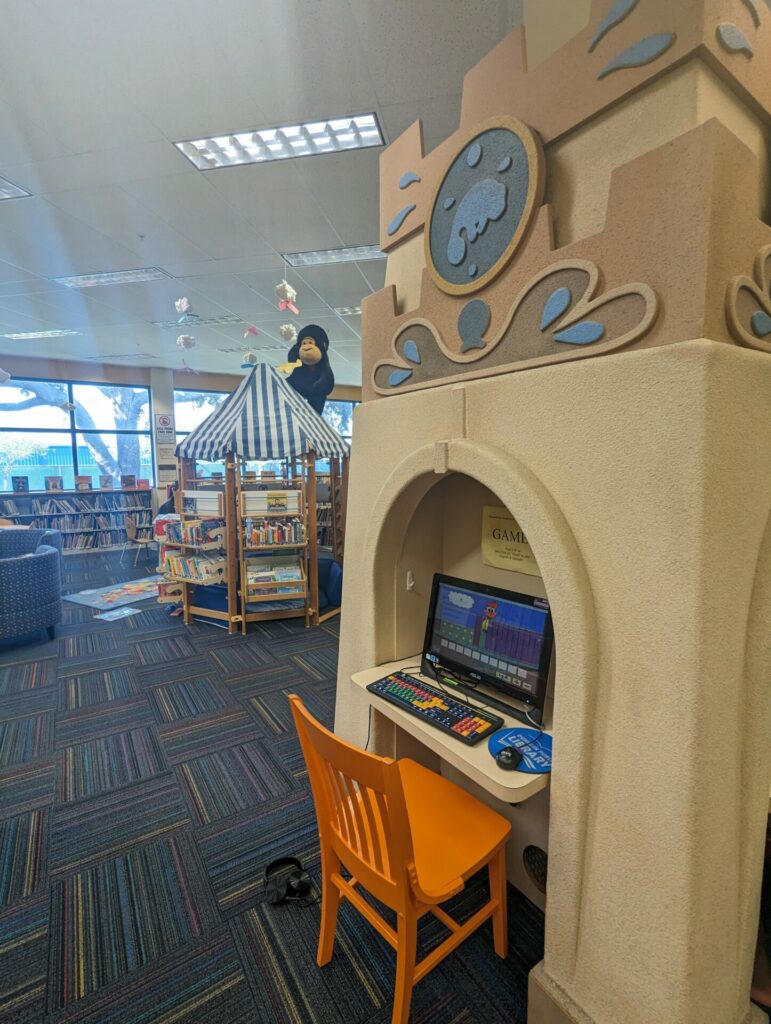 5. Dunedin Library
Dunedin Library is both an awesome kids library and has a playground right outside. This makes it a great spot for kids, and they have things for kids of all ages.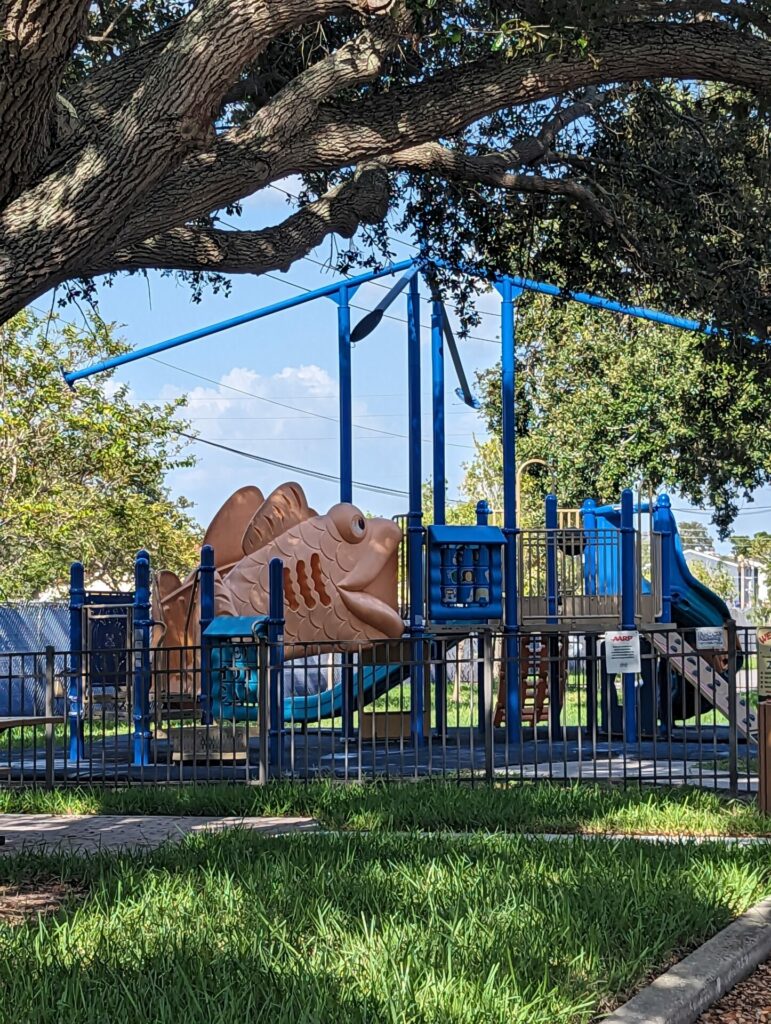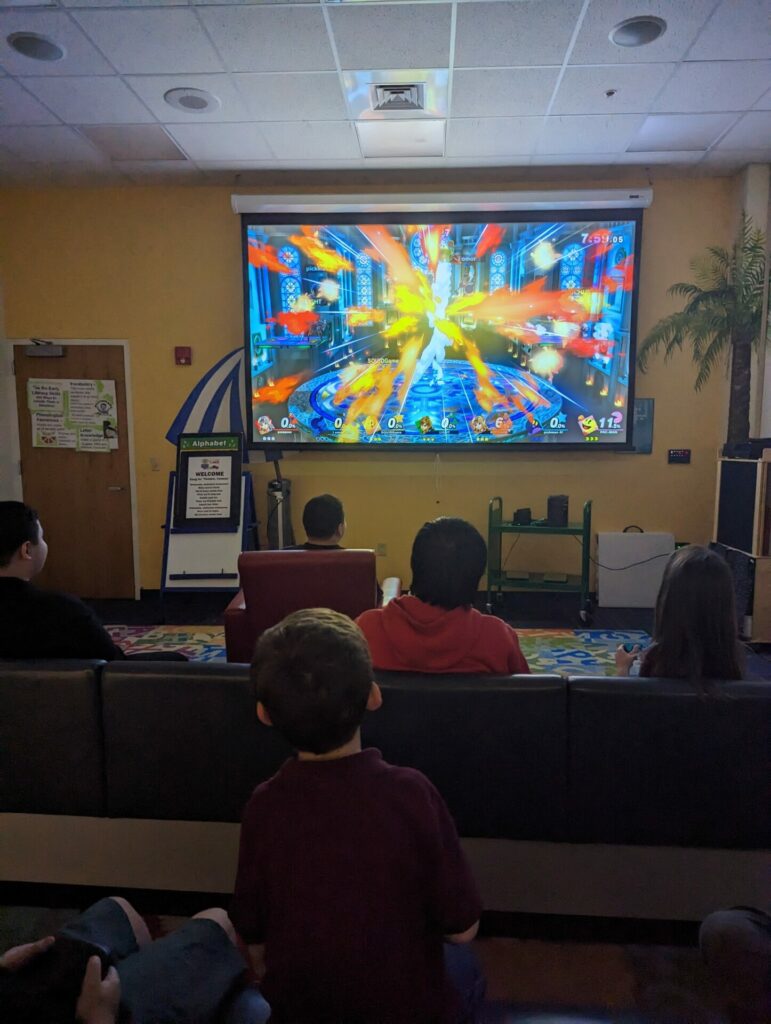 For elementary school & middle school readers, they have the books broken up really well and set up to get kids excited based on their reading levels.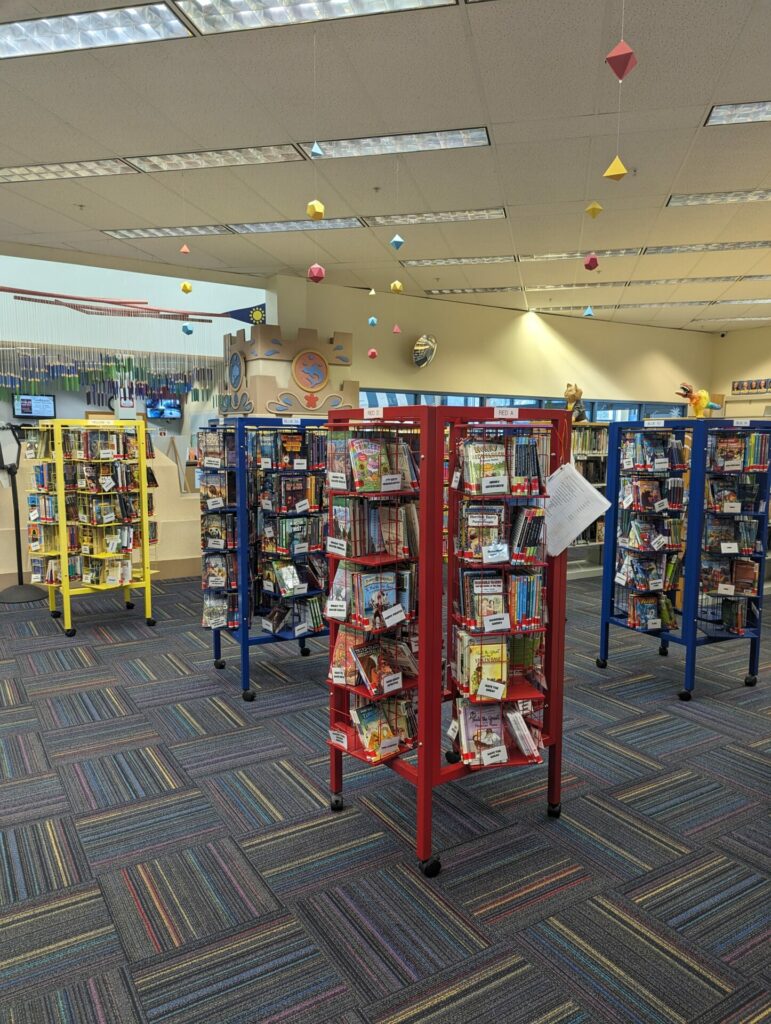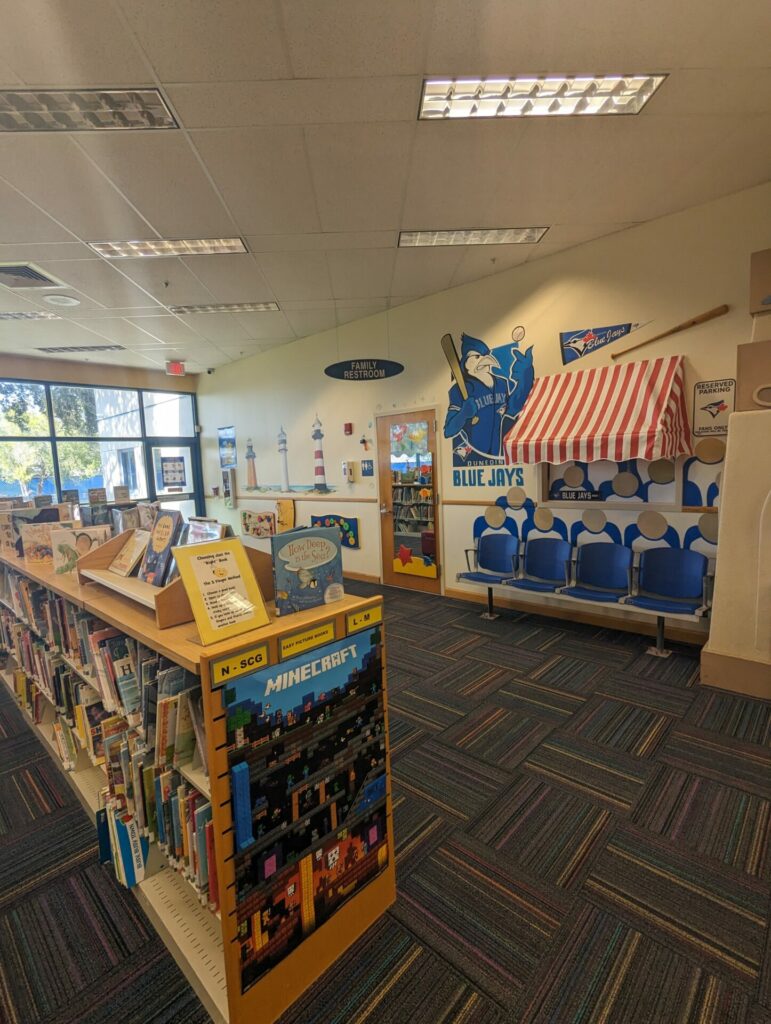 They also have a Bluejay's themed area, coloring areas, and kid-friendly computers.
Dunedin Library has:
📚 I love this library because the preschool activity boxes & playground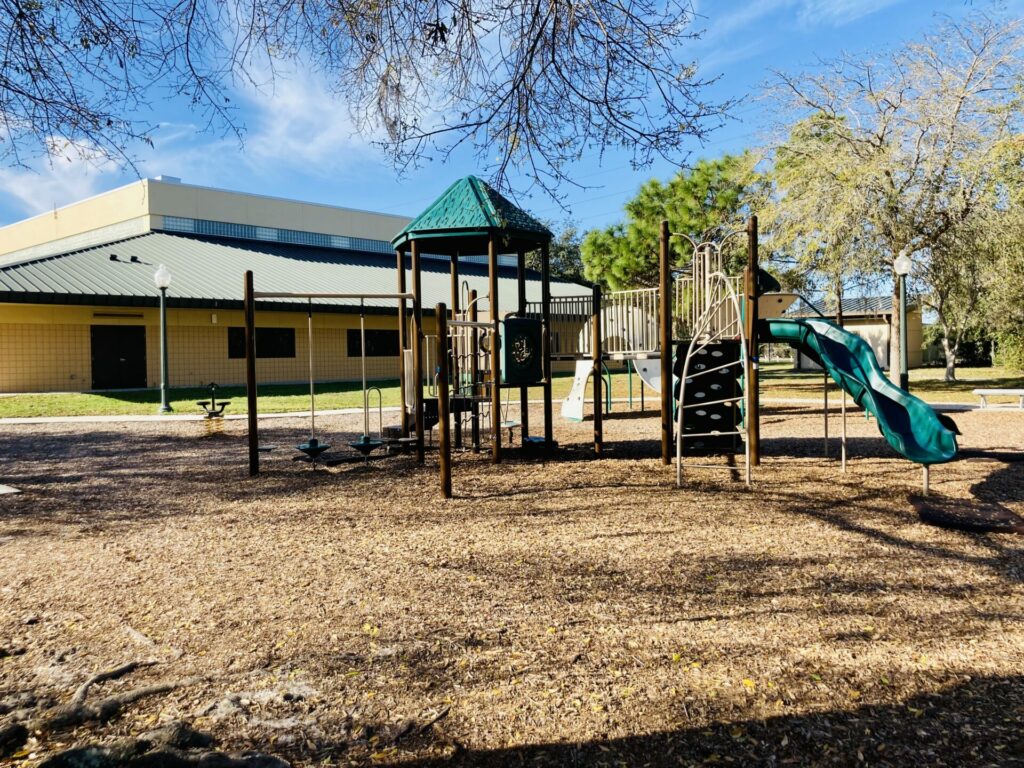 Honorable Mention: Countryside Library
Clearwater Countryside's children library is not the best library for all kids. If you have older kids, you'll want to skip this one. The activity/toy selection are slim for younger kids too.
So why did we add it to this list? There are a few nice and unique features that may appeal to some families (families with younger kids mostly).
First, there is a playground right outside the library. This is nice to make a double header activity.
The library doesn't open until 10am, which I think is a little late for young kids, so we played at the playground first and then headed to the library.
Second, the children's library area is a separate room with closed doors at Countryside. I loved this feature because I could worry less about my kids making noise or wandering off.
Finally, they also have a drive thru pick up for books, which is a nice touch when you don't want to unload kids from the car.
As I said before though, the toy selection is light. Countryside Library has: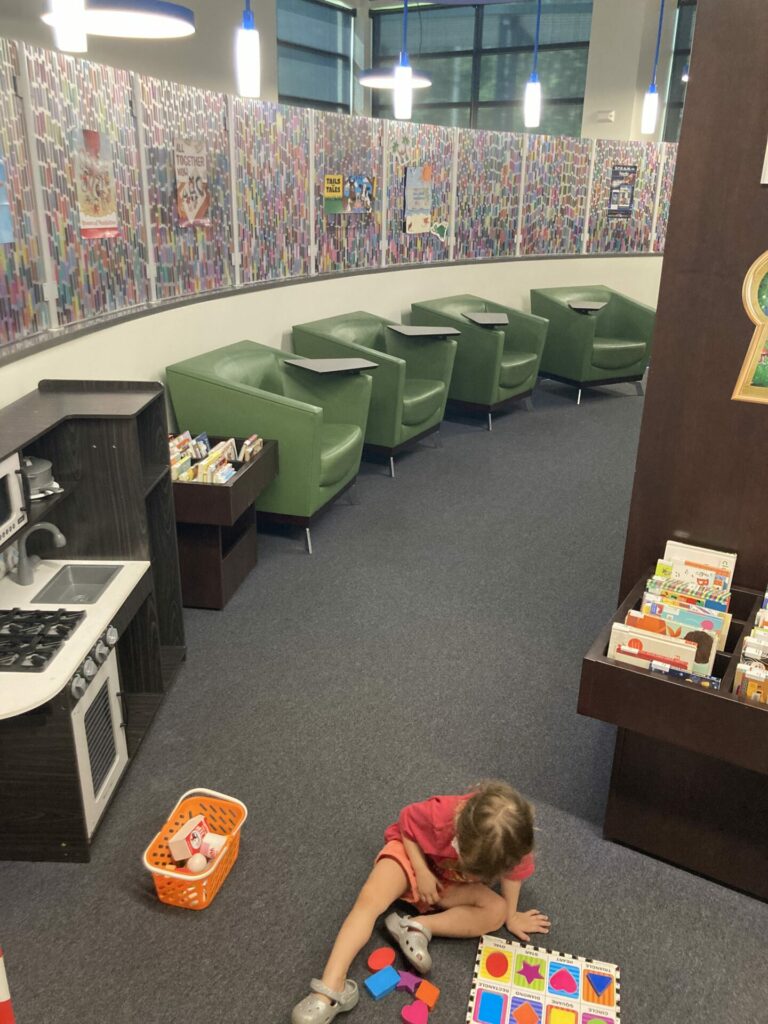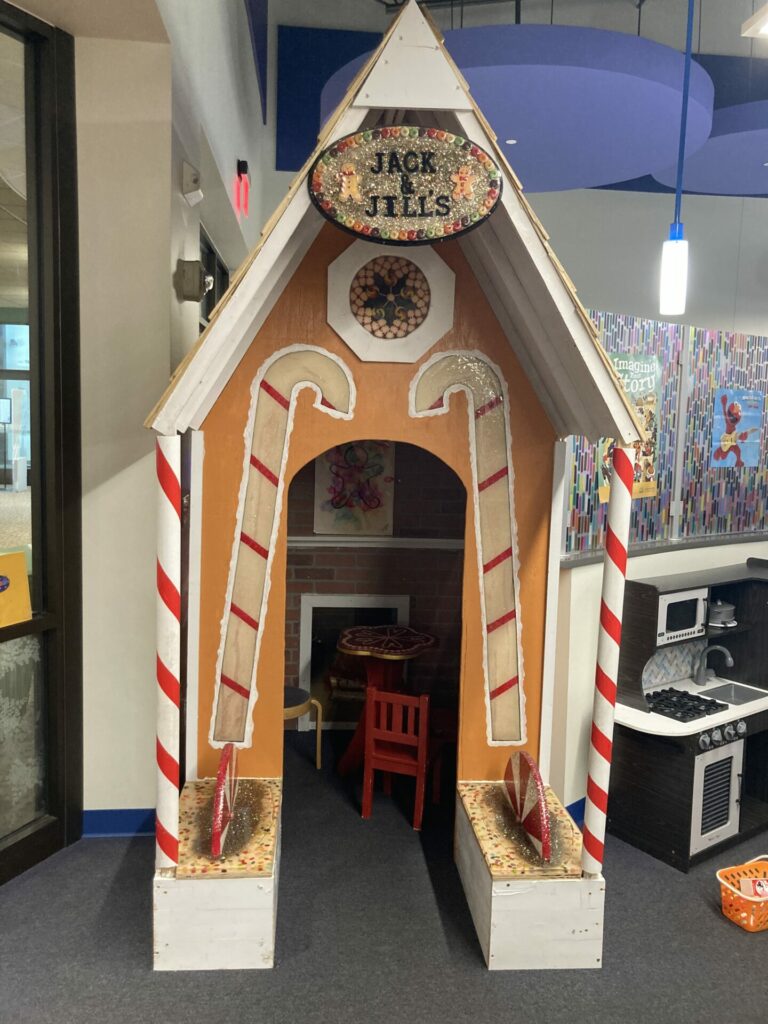 The photos above are pretty much the extent of the play area.
I'd say Countryside children's library isn't worth a special trip, but if you're nearby it can be a nice visit.
📚 I love that library is next to a playground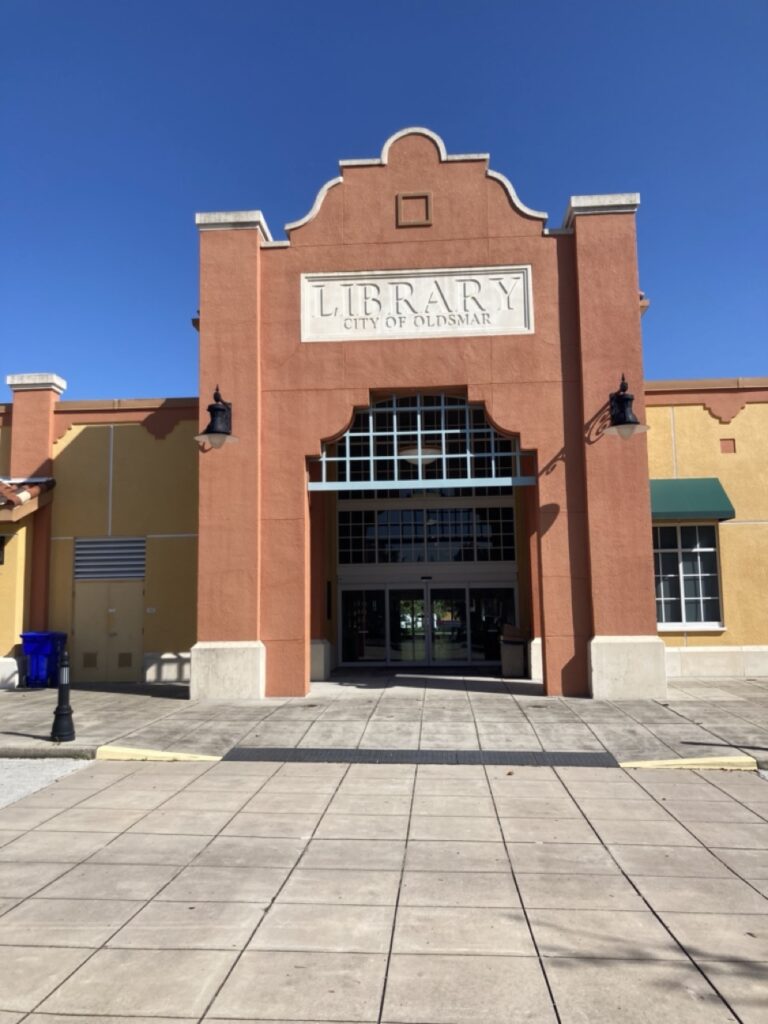 Honorable Mention: Oldsmar Library
We want to give Oldsmar Library an honorable mention on this list because it is good for the youngest kids, but doesn't have much for kids passed toddlerdom.
This library would be good for babies and toddlers, especially those who might get overwhelmed in busy children's areas at the bigger children's library areas.
I was also impressed that during a visit, the kids' librarian came up to invite us to story time happening that morning. He was really friendly and the kids had a great time at the story time.
The Oldsmar library has: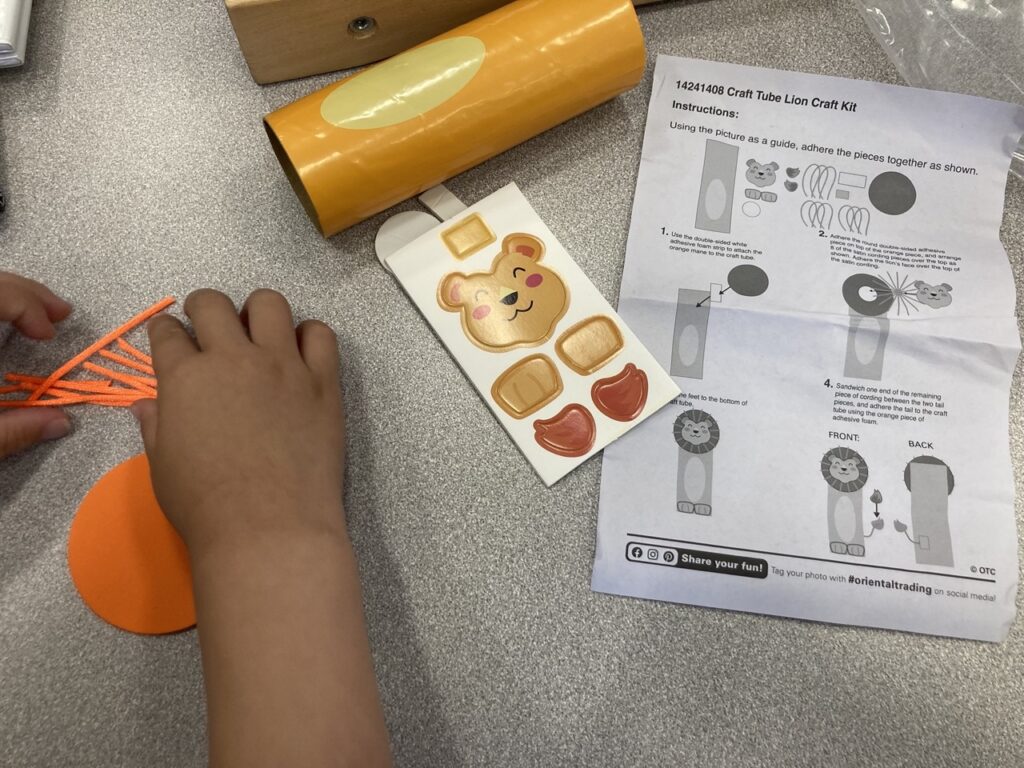 If you head here with little kids, definitely pack a few of their favorite cars or trucks. My kids went nuts for the roads on the ground, driving their cars around for a long time.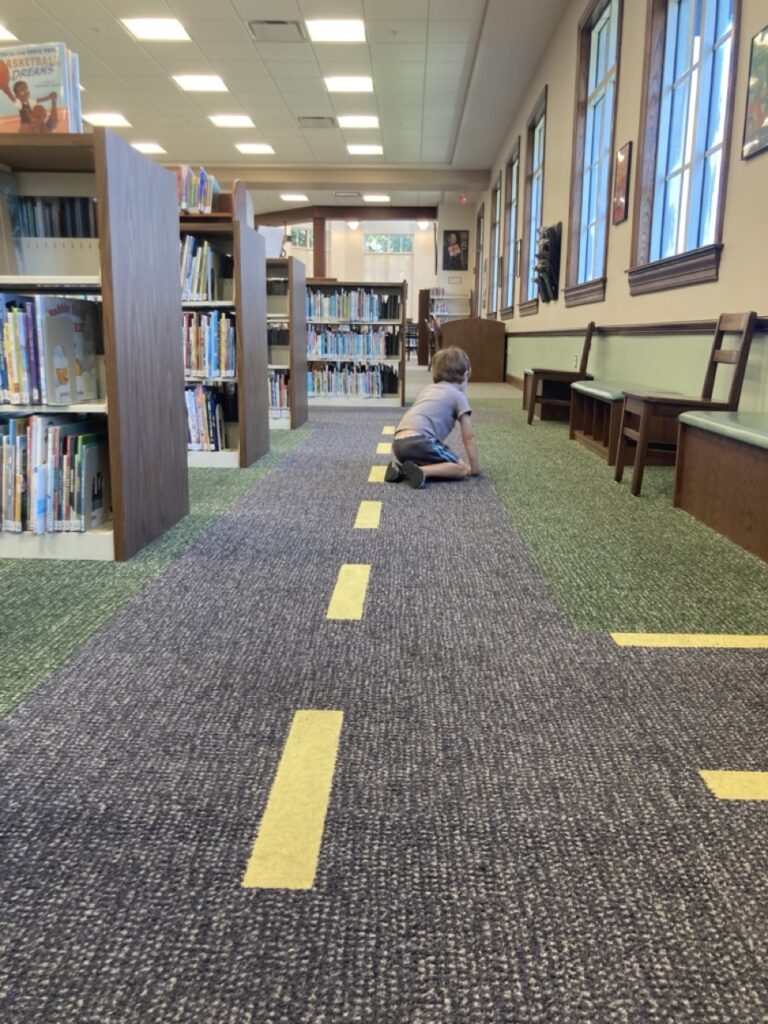 We were the only kids there, which we've never experienced at the bigger children's library areas like nearby Safety Harbor Library. It was a nice change of pace if you want a chill activity.
📚 I love this library for the littlest kids and babies
Skip These Children's Library Areas
Unfortunately, not every library in Pinellas is as great for kids on our top picks.
Here a few places you should be aware of before going with your kids:
FAQs About Children's Libraries in Pinellas
What makes a great Children's library area?
The best children's library sections offer a wide variety of activities and toys for kids of all ages, comfortable reading areas and play spaces, interactive elements, regular kid-focused events or programs, and computer access for kids.
Are children's library areas free? What about kids library programs & events?
Playing in the library's children area is free! You don't even have to be a library member to visit. For residents, library memberships and book borrowing is also free. Most of the children's programming and events are also free, but some special programming or classes may have a small cost. Check with your local branch for information about specific events & programs.
Are the children's library areas safe and child-proofed?
Yes, children's sections in designed with kids in mind and are child-friendly. I've noticed small child-proofing details like securing power cords and covering outlets at the libraries on this list. They also offer soft seating, lower shelves that kids can access, and public health details like hand sanitizer.
Do these libraries offer reading programs or events for children?
Absolutely! Pinellas libraries host story times, reading challenges, craft activities, and kids club events tailored to kids of all ages. Each library has different kids programming and the calendars are updated monthly.
Final Thoughts: Children's Library Areas in Pinellas
We love these St.Pete-Clearwater kids libraries for making library-going fun for kids. We hope that these libraries help instill a love a libraries in your kids too.
Read More:
Looking for more fun things to do with your kids? Check out our list of fun things to do in Dunedin.