38 Birthday Freebies in St.Pete-Clearwater
YOUR GUIDE TO FREE THINGS ON YOUR BIRTHDAY IN PINELLAS
For the last decade, I have spent my birthdays hunting down birthday freebies. Not only do I love a good deal, but birthday freebies are a great way to recognize and pause for your day.
When the birthday freebie coupons start hitting your email a few days before your birthday, it helps it feel like your birthday season.
And what's great is that so many birthday freebies give you a few days or weeks around your birthday to enjoy the discount.
I've been keeping personal spreadsheets for years of all the places I like to eat free on my birthday. Many places now require that you sign up for their mailing list or app in advance of your birthday so you have to plan ahead for many of the birthday freebies you'll find below.
I hope this list helps you add a little more fun to your next birthday.
Let's start celebrating!
Birthday deals and discounts change frequently. We do our best to keep this list update but you should always call to verify the birthday freebie is still active before going to the location.
Free birthday meals in Pinellas
Local restaurants with birthday freebies in St. Pete-Clearwater
1. CASSIS
Cassis in St. Pete does a free meal up to $50 on the day of your birthday with photo ID. I called the restaurant in July 2023 to confirm this deal was still active since the last post I found about it was on their Facebook in 2020.
2. PIEROGI GRILL & DELI
Pierogi Grill does a free pierogi dinner on your birthday. Their Facebook page is the go-to for their information since they don't currently have an updated website.
Pierogi Grill is so good if you haven't tried it before. I love the dessert pierogis and you can also buy frozen pierogis to take home.
3. STILLWATERS TAVERN
Stillwaters Tavern offers a free entree with a purchase of a second entree on your birthday, with photo ID. You can find more information here.
4. JIMMY GUANA'S
Jimmy Guana's offers a free BOGO meal when you join their email club. You can find the free birthday meal information and email club here.
5. JIMMY'S FISH HOUSE
Jimmy's Fish House is a sister restaurant to Jimmy Guana's. They offer free birthday BOGO on Mondays in your birthday month (information here).
6. THE AVENUE IN ST. PETE
The Avenue in St. Pete gives you a free birthday dessert-drink-combo called Bad + Boozy. It's an ice cream sundae with a donut, waffles, oreos and two shots of booze. You can see a video of how good it looks on their Facebook recent post.
7. NINE SPICES HOT POT & KOREAN BBQ BUFFET
Nine Spices Hot Pot gives people a free buffet meal on their birthday with purchase of another buffet meal. On their Facebook page, you can find pictures they share of people enjoying their complimentary birthday buffet.
8. HAROLD SELTZER'S STEAKHOUSE
Harold Seltzer's Steakhouse will give you a free bottle of wine and dessert on your birthday or anniversary if you join their mailing list. You can see a recent post they made on Facebook about it here.
9. BACKWATERS AT SAND KEY
Backwaters at Sand Key offers a birthday discount to VIP club members. Recently, the discount has been $25 off with the purchase of another meal. Here is a recent Facebook post about their VIP club and birthday discount.
10. FRAY'S DONUT HOUSE
Fray's Donut House is a local donut shop that's been around for over 30 years. If you're over 65, you can get a free coffee and donut on your birthday.
11. PAISANO'S PIZZA
Paisano's is a local restaurant that has been serving St. Pete for almost 50 years! They offer a number of specials, including free birthday lunch or dinner with purchase of an entree (source: their specials page)
Chain restaurants in Pinellas with free birthday meals
12. MOE'S
Moe's was one of the first birthday freebies I ever used. I was very happy to get back to this free birthday meal now that we are back in Pinellas since I wasn't near a Moe's for a few years.
Moe's free birthday burrito meal is so easy to use too. It automatically gets added to your Moe's account and you order it online in your Moe's account before you go. Then you can walk in and simply grab your pick-up order.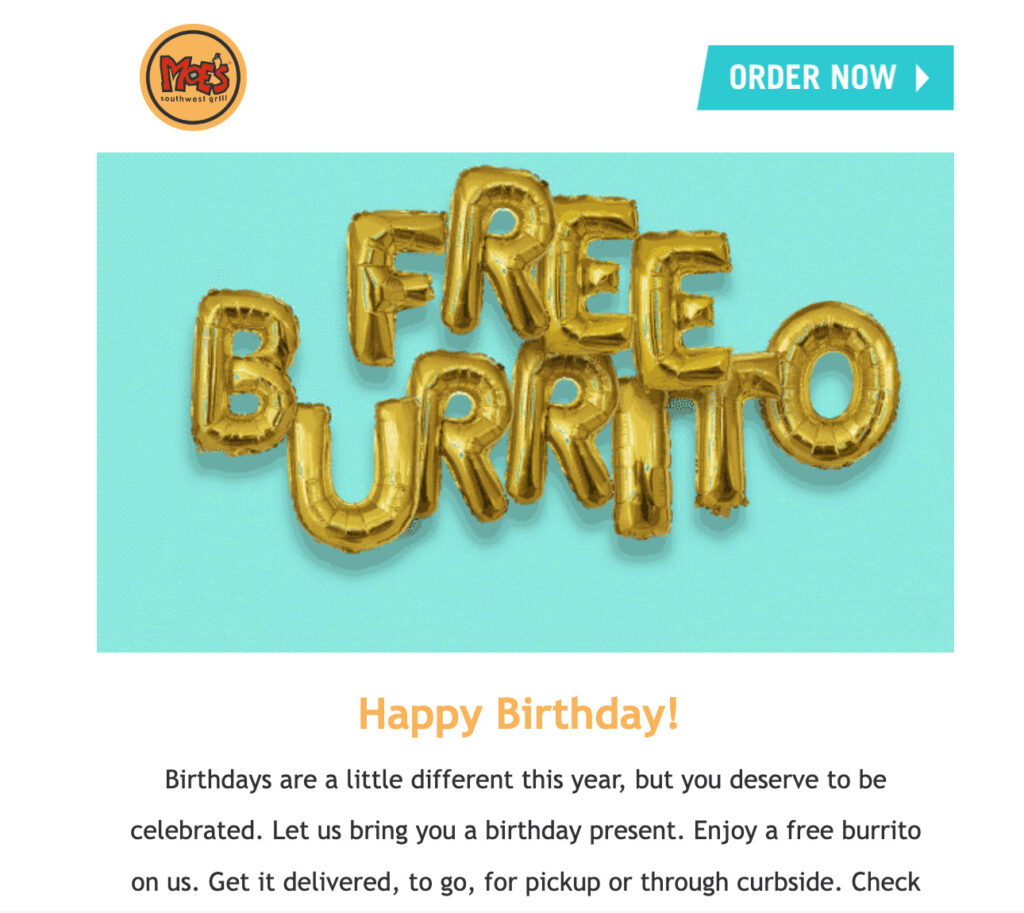 13. RED ROBIN
Red Robin is one of my favorite birthday freebies. I had never been to a Red Robin before I went for the free birthday meal and I ended up loving it.
You have to sign up for their rewards club prior to your birthday and in return you get a coupon for a free burger any time in your birthday month (with purchase of $4.99).
You can find the current terms of their free birthday offer on their rewards program FAQ.
14. PDQ
PDQ gives a free meal in your birthday month if you sign up for their rewards program, MyPDQ Points.
15. GRIMALDI'S PIZZA
Grimaldi's is a smaller pizza chain with four locations in Florida, including one in Tampa's Westchase neighborhood.
You have to sign up for their rewards program AND make a purchase before your birthday to be eligible for their free birthday pizza.
16. POLLO TROPICAL
Pollo Tropical gives a free half grilled chicken platter meal on your birthday if you're in their My Pollo rewards program. You can find the terms of their free birthday meal here.
17. FIREHOUSE SUBS
Firehouse sub gives a free medium sub to their rewards members if you use their app and make another purchase.
18. IHOP
IHOP is another birthday freebie favorite of mine because that's the only time I go to IHOP. This year, they gave me 5 crypto-pancakes that you can redeem for food. You have to sign up on their mailing list in advance.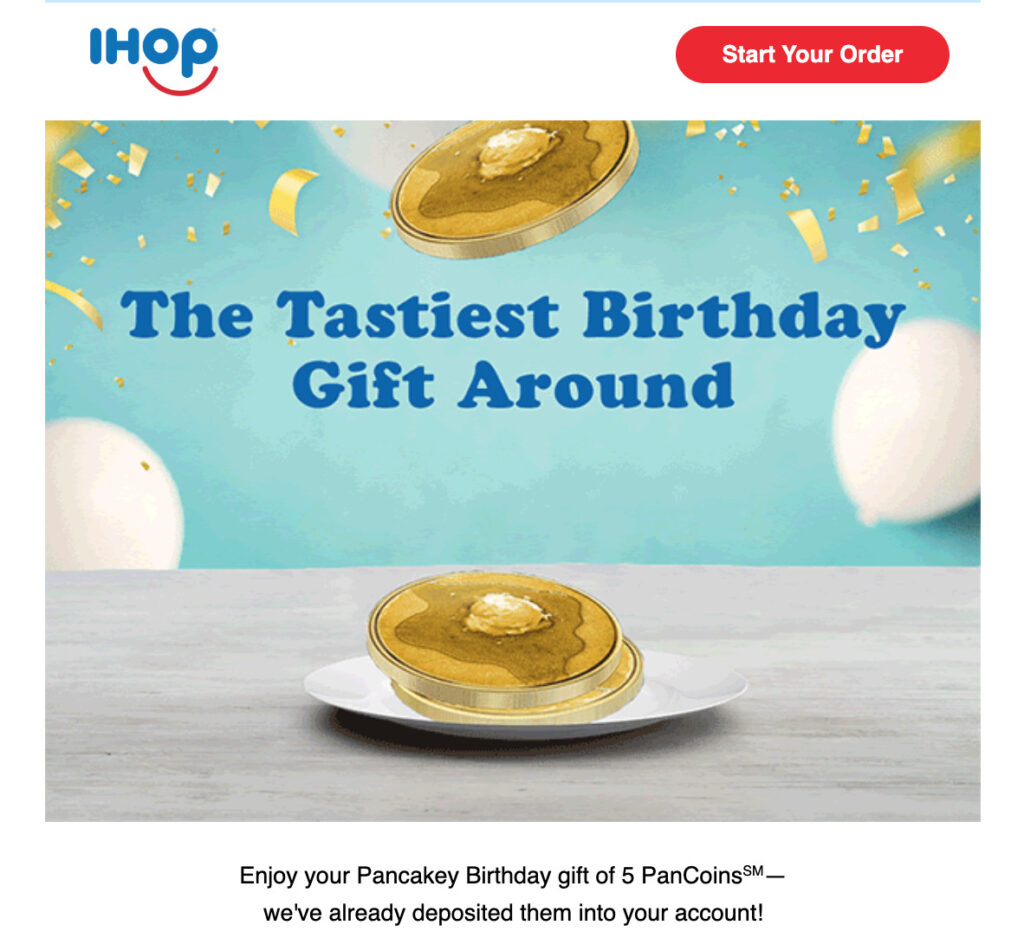 19. EINSTEIN'S BAGELS
If you join the Einstein's rewards club, you'll receive a free egg sandwich on your birthday (with other purchase). You also get a free bagel and schmear with purchase for signing up.
20. ANTHONY'S COAL-FIRED PIZZA
Anthony's gives reward members a free 12-inch pizza on their birthday with a minimum $5 purchase. If you are a VIP (visiting at least 12 times in a year), you'll get an upgrade to a free 16-inch pizza.
21. SONNY'S BBQ
Sonny's BBQ offers a free birthday Big Deal Combo if you join their rewards program.
Places that no longer offer birthday freebies
Here are a few places you may see on other lists that are NOT currently offering birthday free meals in the Pinellas area:
Williams Sub Shop: I called them to ask and was told they haven't done free birthday subs in years.
Jersey Mike's: Jersey Mike's used to be one of the best free birthday meals because they gave you a whole year to use the coupon. Unfortunately, they've currently paused their birthday freebie (source). You could still hop on their rewards list in case they reinstate it before your birthday.
Free birthday desserts
22. RITA'S ITALIAN ICE
Rita's birthday freebie was the only one I could manage to use the year I had hyperemesis so I have a soft spot for this one. You have to sign up for their e-Club before your birthday to get the coupon.
23. CULVER'S
Moving back to the Clearwater area meant that I could finally take advantage of Culver's free birthday custard. There was a Culver's around the corner from where my dad went through radiation so this has always been a family favorite.
You have to sign up for their My Culver's rewards program prior to your birthday. Don't forget to check their custard flavor-of-the-day calendar to find the best day to use your coupon (I scored cookie dough this year!).
24. JENI'S ICE CREAM
If you find yourself in Tampa, Jeni's Ice Cream gives a free scoop on your birthday to rewards members.
We went to Jeni's Ice Cream after our recent visit to the Florida Aquarium and it was so so good (their peach & biscuit flavor was truly perfect).
25. SPRINKLES CUPCAKES
Also in Tampa, Sprinkles Cupcakes will give you a free cupcake on your birthday if you're in their membership (you can find the birthday freebie info in their FAQ info).
I recommend signing up for this one early. I'm pretty sure I didn't sign up early enough and missed getting this coupon last birthday sadly.
26. BASKIN ROBBINS
Baskin Robbins emails a free scoop coupon to email subscribers who opt into their birthday club.
27. NOTHING BUNDT CAKES
Nothing Bundt Cakes is a franchised bakery with locations in Clearwater and St. Petersburg. If you join their mailing list, you'll receive a free mini bundt cake on your birthday.
You can find the mailing list sign-up and information about the free cake at the bottom of their main homepage.
28. PANERA BREAD
Panera gives you a free "bakery treat" on your birthday if you are a member of their mailing list. In the past I've used it on a breakfast pastry but you can also use it for cookies to go with your meal or a bagel.
29. SOME PLACES THAT ARE MAYBE NOT WORTH THE EFFORT
There are a few more local birthday freebies, but personally I find these require too much effort to be worth it:
Edible Arrangements: free chocolate dipped fruit box, but you have to have made a $30 purchase in the previous year to qualify. You can find the terms here.
Auntie Anne's: free pretzel but you have to download their app and it's only on your first birthday in the club.
Free birthday activities in St.Pete-Clearwater area
30. CLEARWATER MARINE AQUARIUM
Clearwater Marine Aquarium offers free admission on your actual birthday. You have to provide an ID for adults or birth certificate for children at the ticketing desk to redeem the offer. You can find the information on the aquarium's special offers website.
We had a great time visiting the Clearwater Marine Aquarium recently. It is smaller and less crowded than the Florida Aquarium, making it a really nice visit for young families.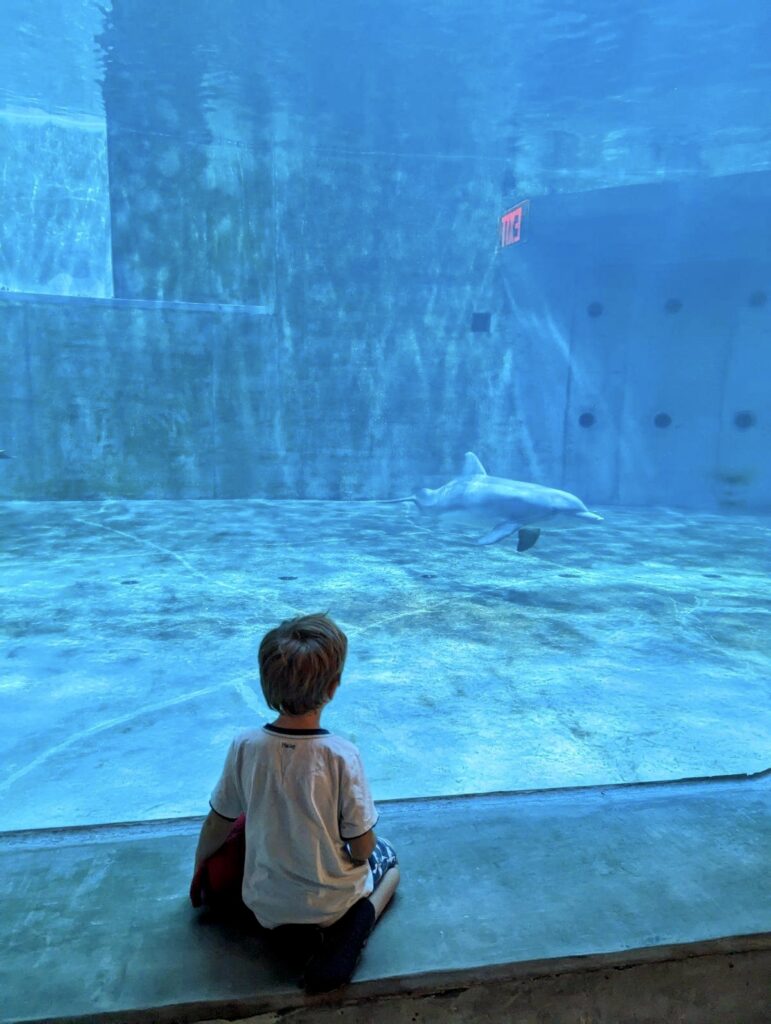 31. BUILD-A-BEAR
Build-A-Bear is an almost free birthday activity for young kids. During your kid's birthday month, you can get a bear at Build-A-Bear that only costs the age of your child. We did this one for the first time this year at Countryside Mall and it was awesome.
You (the adult) have to sign up to Build-A-Bear's club but you don't have to give them any of your children's information to use this deal. They do try to sell you on extras like outfits but had no problem when we decline and only got the bears.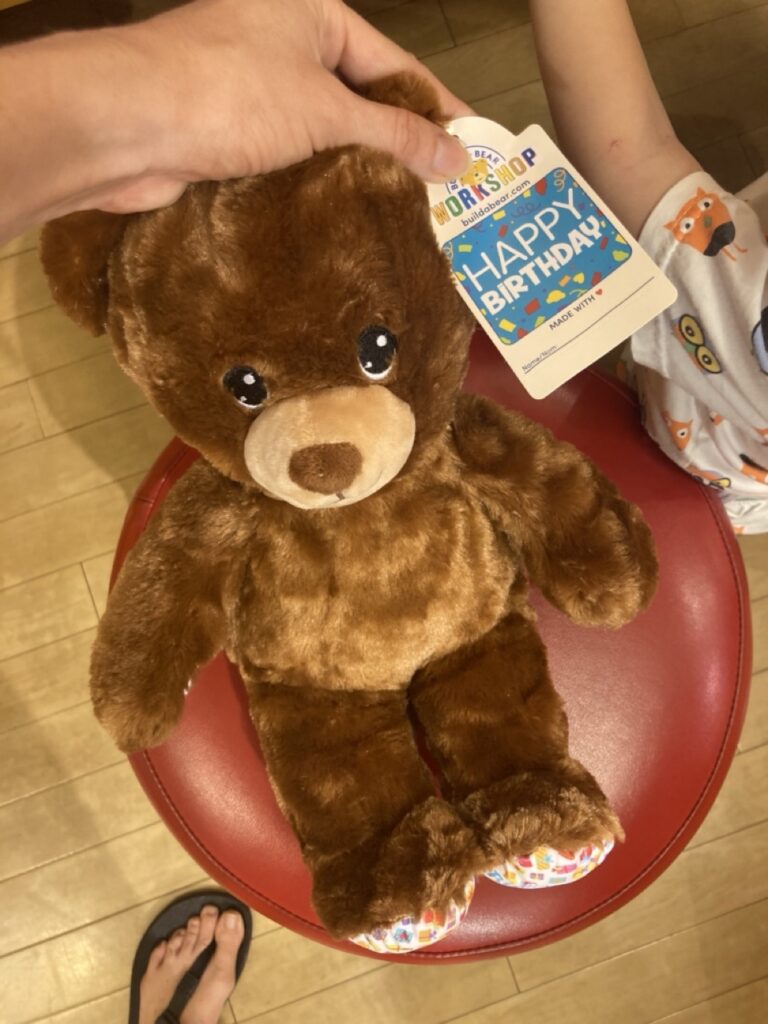 32. BIG DAN'S CAR WASH
Big Dan's Car Wash gives you a free car wash on your birthday when you sign up for their loyalty program. There is a location in Pinellas Park and one coming soon to St. Petersburg. You can sign up for their loyalty program on their homepage.
MORE CAR WASHES: Bubble Down, with locations throughout Tampa, also offers a free car wash on your birthday if you join their loyalty program.
Free things on your birthday around Tampa Bay
33. PUBLIX
Here's one more reason for Floridians undying love for Publix: birthday freebies for Club Publix members. I spotted the promo in the picture above at our local Publix's ice cream section.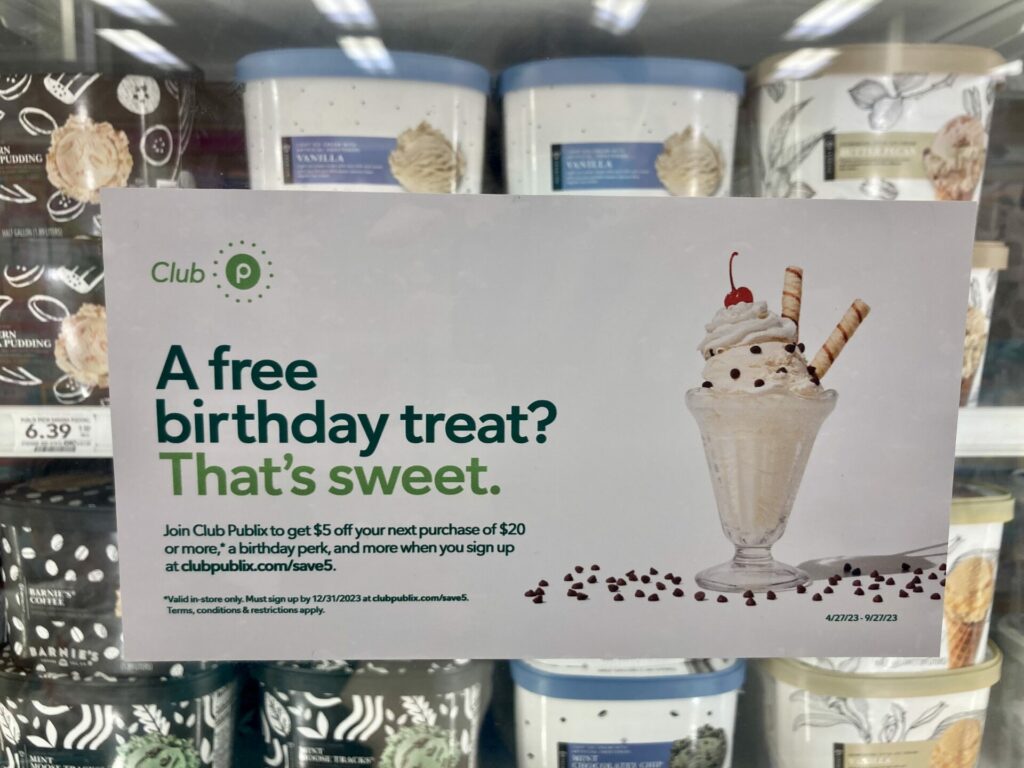 We did this birthday freebie this year and our coupon was for any one dessert item.
34. SEPHORA
Sephora Beauty Insider members can choose a free gift on their birthday. Sephora is a nice birthday freebie because it is one of the only ones you can get online.
You can find the details here, basically the birthday gift you pick can be added to any $25 online purchase. I've only redeemed my free birthday gift in store, which was also super easy.
35. ULTA
Ulta gives you a free birthday gift and discounts during your birthday month if you are a member of their loyalty program. The gift changes each month and you can see this year's gift calendar here.
36. TARGET
Target Circle members can get 5% off a purchase. It automatically gets added to your account (it was a pleasant surprise when I discovered this checking out after my birthday).
Free birthday drinks
37. STARBUCKS
Starbucks gives a free drink on your birthday if you're in their rewards program.
38. DUNKIN DONUTS
Dunkin Donuts also does a free birthday drink for their rewards members.
Read More:
Looking for more freebies? Check out all the places with kids eat free specials in Clearwater-St. Pete.