Christmas Events In Pinellas (2023 Update)
Your guide to Christmas events in Clearwater-St. Pete
Looking for something festive to do this weekend? We've rounded up a list of Christmas events happening in Pinellas, all updated for 2023.
We are two local moms and love doing holiday-themed activities with our own kids. I've personally been frustrated trying to find a master list of local Pinellas activities since all the lists that pop up are for the huge Tampa Bay region.
Our list focuses specifically on local Christmas events for Pinellas families. We include some select Tampa Bay activities, like ZooTampa's Christmas event, but only the ones we'd make the trip for ourselves.
This list is regularly updated as we find new events so don't forget to check back!
Now, let's find some Christmas cheer!
Looking for more Christmas fun?
Where to Take Photos with Santa in Pinellas
Can't Miss Christmas Lights in Pinellas
Are we missing a Christmas event? Shoot us a message and we'll add it! hello[at]suncoastfamilyfun.com (swap out the [at] with a @)
Multi-Day Christmas Events Near Pinellas
First up, here are the Christmas-themed events near Pinellas that run for multiple days in the holiday season.
Largo Central Park
Largo Central Park is a beautiful light display and also has festive rides, food vendors and on select nights train rides.
ZooTampa Christmas in the Wild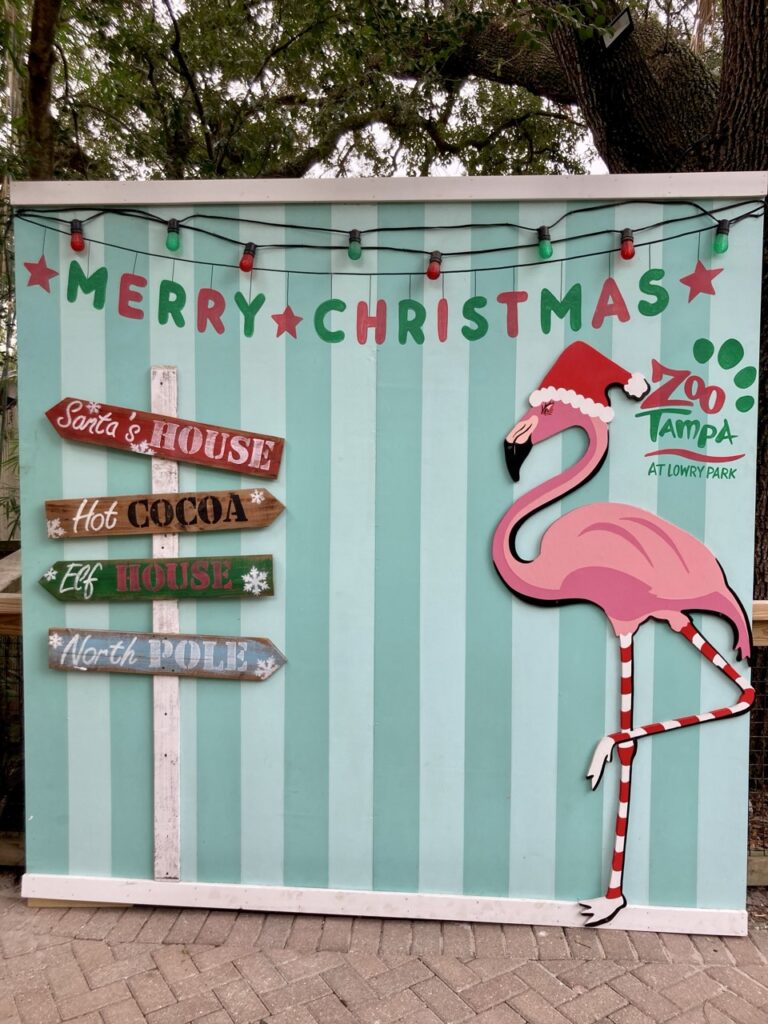 ZooTampa puts on a Christmas extravaganza throughout December. It has Christmas light displays, festive activities, fun treats and more.
Psst… don't forget to check out our guide to visiting ZooTampa before you go too.
Rudolph Limited Train at Largo Central Park
The Largo Central Railroad does monthly miniature steam engine rides through Largo Central Park. For Christmas, they do two special evenings where they run the trains through the Christmas lights.
Sea of Holiday Joy at Clearwater Marine Aquarium
See a scuba-diving Santa when you visit one of CMA's Sea of Holiday Joy days. THere are also holiday craft stations and festive decor.
We have a full guide to the Clearwater Marine Aquarium to check out too.
Heritage Village Santa Saturdays
In addition to meeting Santa, there are kid-friendly activities, scavenger hunts, food trucks and music.
Folly Farms Harbor Holiday Nights
Harbor Holiday Nights includes lights, a campfire with s'mores, kids' activities and live music.
Note that there is no parking at Folly Farms and you have to take a shuttle from Elm & Cedar if you're driving
Raprager Farm Country Christmas
Raprager's Old Fashion Christmas has lots to do for families, including Santa, bounce pillow, chute slide, corn pit, petting zoo and lots of Christmas decorations and theming.
Long Center Festival of Trees
The Festival of Trees is a tree and wreath sale to benefit charity (the Arc Tampa Bay Foundation). You can walk through the beautifully decorated trees and meet Santa.
Fire Truck Santa Tours
Fire Rescue Stations throughout Pinellas will host special Santa tours on decorated fire trucks. I remember this so fondly from my own childhood and teen years (hunting down Santa was maybe even funner once we could drive).
St. Pete Libraries Santa Visits
In addition to photos with Santa, every child who comes to meet Santa will also be given a free book.
Clearwater Beach 12 Days of Christmas
Clearwater Beach businesses put on a variety of events in December, including a parade and holiday Market
Enchant Christmas Light Maze
Clearwater Holiday Trolley Tours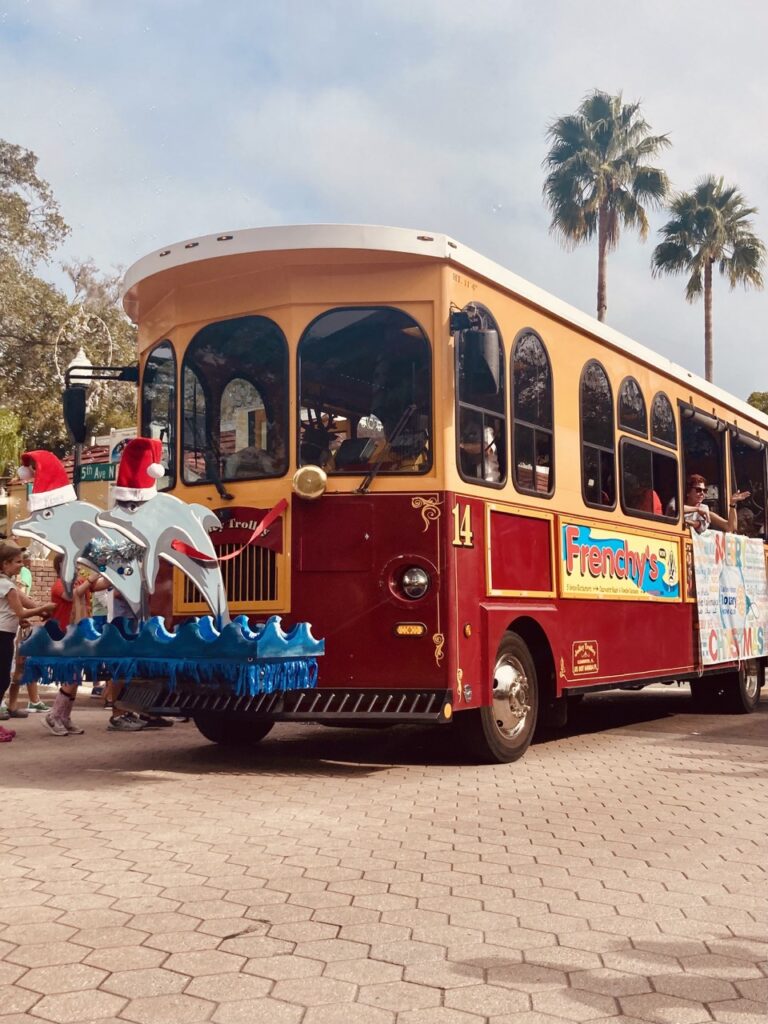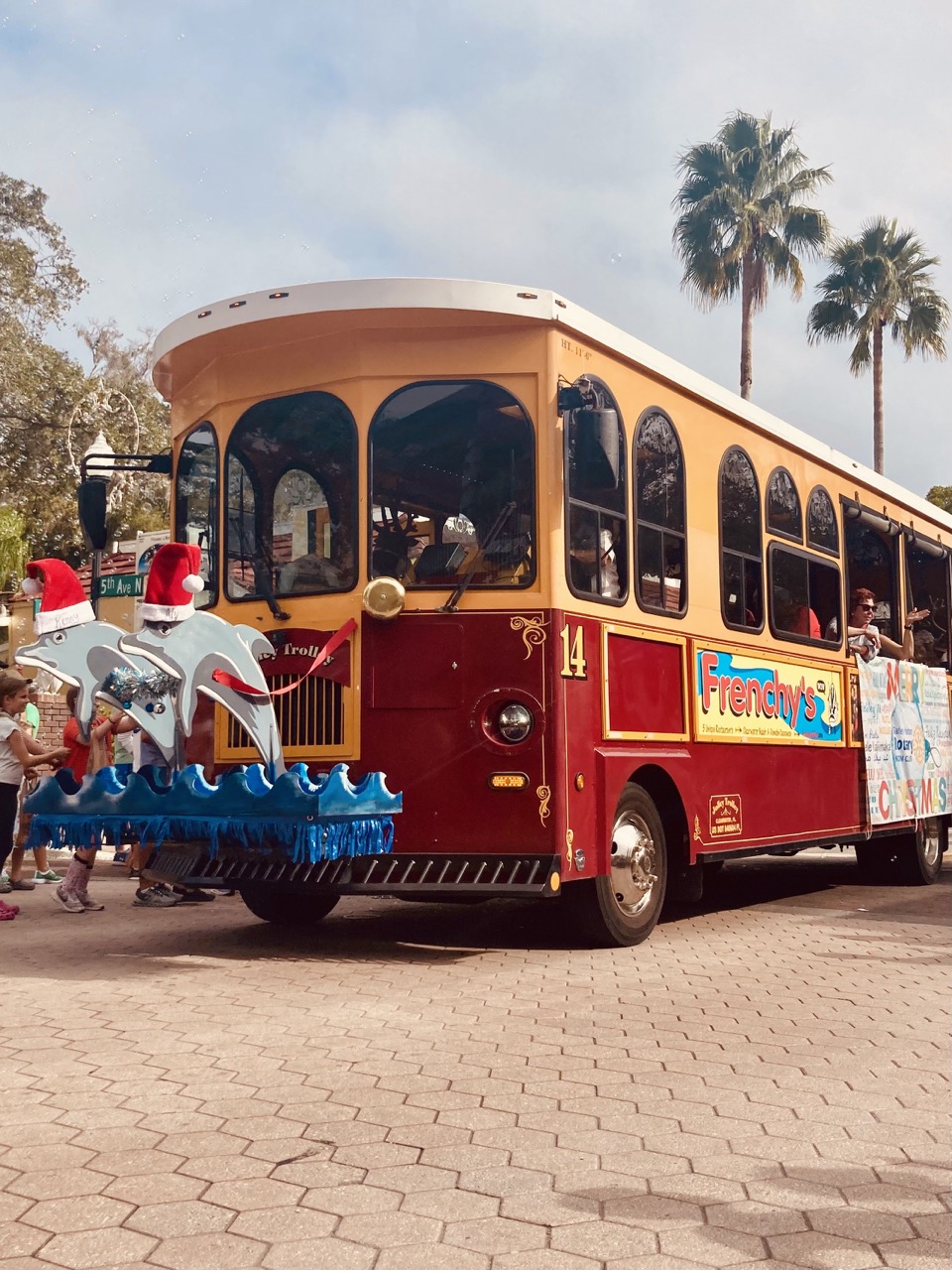 Santa tours around Clearwater on a Trolley Tour and you can meet him at a few of Clearwater's recreation centers. In addition to Santa there are also holiday activities for kids. Here are Santa's stops:
Dec. 8: North Greenwood Recreation & Aquatic Complex, 4:30-5:45 p.m.,
Dec 8: Clearwater Beach Library & Recreation Center, 6:15-7:30 p.m.
Dec. 15: The Long Center, 4:30-5:45 p.m.
Dec 15: Countryside Recreation Center, 6:15-7:30 p.m.
Busch Gardens Christmas Town
Christmas Town at Busch Gardens includes Christmas lights, Santa, a holiday train, holiday-themed attractions like meeting Rudolph, and holiday-themed food & shows.
One Day Christmas Events in Pinellas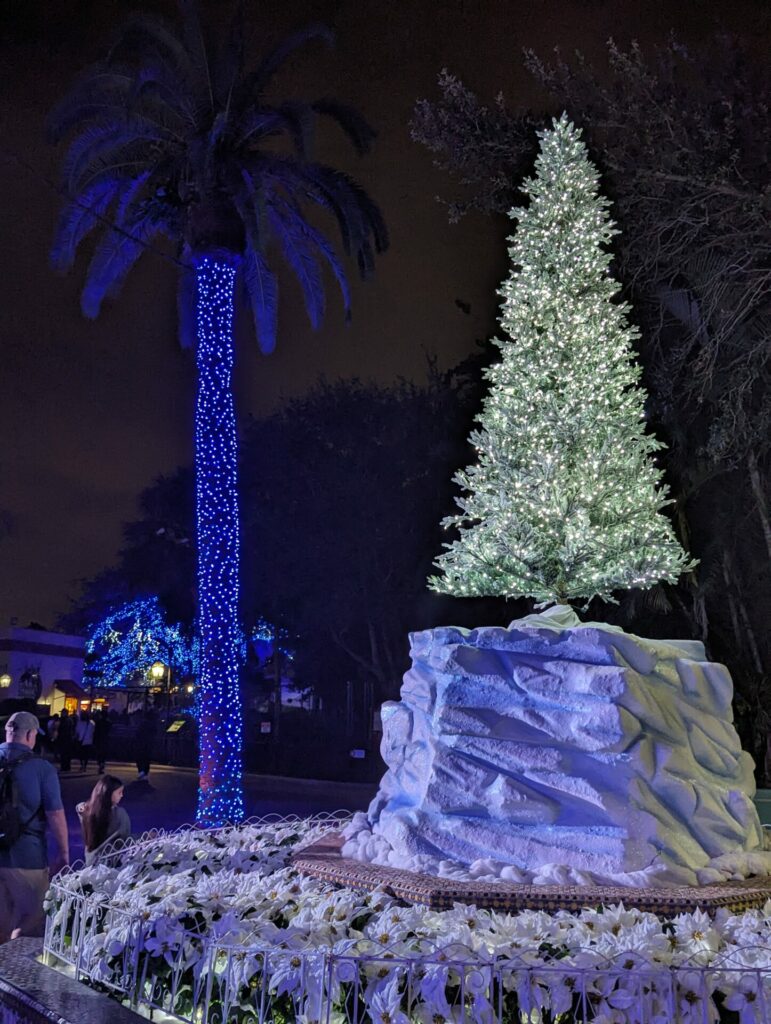 The next set of events are one-day only events so add them to your calendar now. They're ordered chronologically to make it easy to find an event by date.
Note: Parades, tree lightings and markets are in separate sections that you'll find below.
Nov 26: H&R Trains Santa Reading Polar Express
H&R Trains' Santa event includes both photos with Santa and Santa reading the Polar Express with refreshments served. From 11am-4pm, Santa is available for photos. He takes a short break and then at 5:45 cookies are served. 6pm Santa returns to read the Polar Express.
Note on the linked webpage, you have to scroll towards the bottom to find the blurb about Santa.
Dec 1: R.E. Olds Park Winter Wonderland
Winter Wonderland has a giant snow slide, Santa, and bounce houses.
Dec 1: Santa Stroll at Countryside Mall
Countryside Mall turns into a festive event from 6-8pm to welcome Santa for the season. There are treats, characters, and activities; plus, attendees are encourages to dress in Christmas pajamas or sweaters.
Dec 1: There's Snow Place like Tarpon Springs
This is Tarpon's biggest Christmas event and it sounds awesome. It include a snow slide, falling snow, their boat parade, kids' crafts and Santa.
Dec 2: Dunedin Breakfast with Santa
This event includes breakfast with Santa, along with crafts and entertainment. The cost goes up when you buy tickets closer to the event so early bird book if you plan to attend.
Dec 2: Countryside's Reindeer Lane
This event includes "reindeer games," meeting Santa, and holiday snacks.
Dec 3: Dunedin Youth Guild Tour of Homes
The details on this event are light but you tour multiple local homes that are made festive for the holidays.
Dec 3: Belleair Party & Parade
Following their holiday parade, the town of Belleair puts on a Christmas party event that includes Santa, hot chocolate and activities like crafts.
Dec 5: Largo Very Merry Christmas Party
This event is already sold out!
Put this on your radar for next year because this event is sold out! I checked early November and it was already sold out.
The event includes dinner, meeting Santa, and entertainment. For only a few dollars more, you can also add a light tour of Largo Central Park.
Dec 7: Movie on the Lawn – Elf
In addition to the outdoor showing of Elf at 6:30pm, they'll also have hot chocolate, an ornament craft and face painting.
Dec 8: Holly-Day Jolly-Day Block Party
The evening event from 5:30-7:30pm includes a tree lighting, kids activities and food and live music.
Dec 8: Morningside Ho Ho Holiday Party & Hayride
This evening event from 5:30-8:30pm includes kid-friendly activities liek crafts and inflatables, plus you can take a hayride to see Christmas lights.
Dec 9: Dunedin Old Fashioned Christmas & Parade
This event includes Dunedin's holiday parade, followed by holiday activities and festivities around Pioneer Park.
Dec 9: Crest Lake Park Movie & Santa
St. Pete Rec will be showing Home Alone 2 in the park and before the showing you can meet Santa and do holiday crafts.
Dec 15: Winter Holiday Social
This event includes photo with Santa, cookie decoration station and hot chocolate. 4pm-6pm.
Dec 19: Reindeer Games
The details on this one are thing but the description says you'll compete in family holiday games for prizes.
Meet Santa Events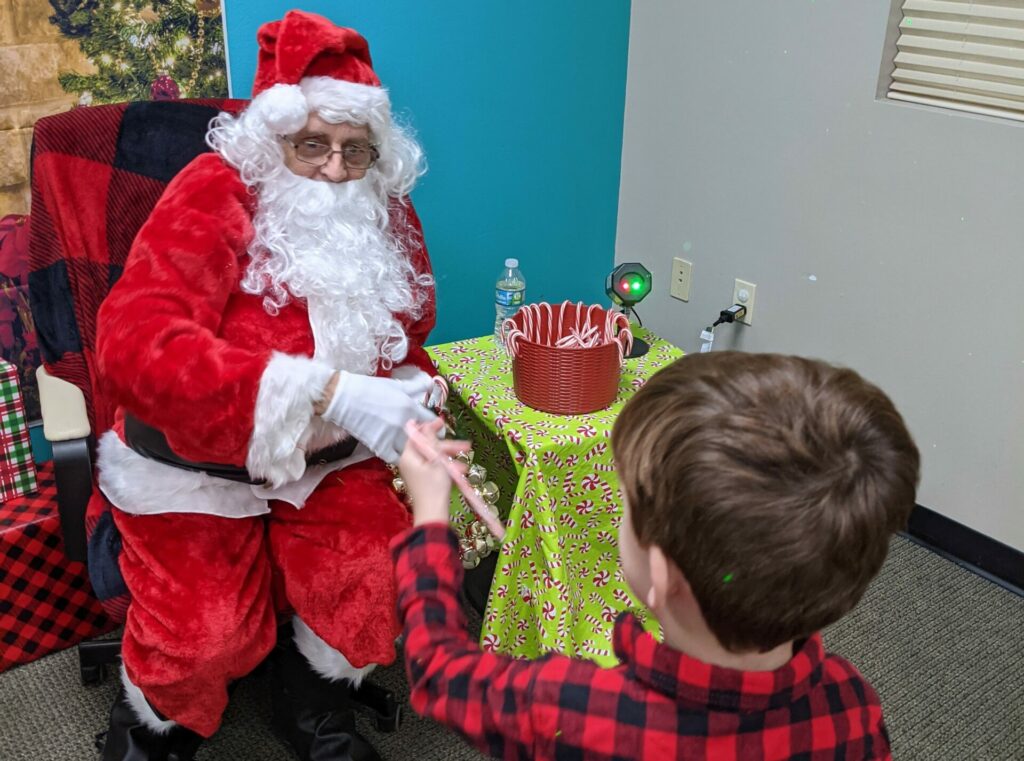 There are so many opportunities to meet Santa in our area in November and December that we made a separate list of these.
We also have a list for pet photos with Santa too!
Check out our list of where to meet Santa in St. Pete-Clearwater!
Winter-Themed Events
These next events are winter and snow themed instead of Christmas-themed. Each of them also feature snow activities — a very special treat for a Floridian kid!
Snow Fest at North Straub Park
Snow Days at Florida Aquarium
Snow Days at Florida Aquarium include snowballs kids can throw, make your own snowman (pictured above), snow-themed activities, maze, and more.
Christmas Parades
There are lots of Christmas Parades happening throughout Pinellas between Thanksgiving and Christmas. Here is a list the local parades happening this year, updated for 2023.
TIP: Bring along a stocking to collect candy or trinkets thrown from the floats
Holiday Boat Parades in Pinellas
A unique Floridian Christmas experience is to watch a boat parade. Boat owners decorate their boats with Christmas lights, music and decoration. The boats sail down a parade route so people on the shore can watch.
You can catch one of these whooping nine boat parades happening in Pinellas this year.
Best Christmas Lights
Visit the coolest Christmas light displays in Pinellas. We made a stand-alone list of great Christmas lights that we keep updated through the season.
These are very best Christmas light displays in Clearwater-St. Pete
Christmas Tree Lightings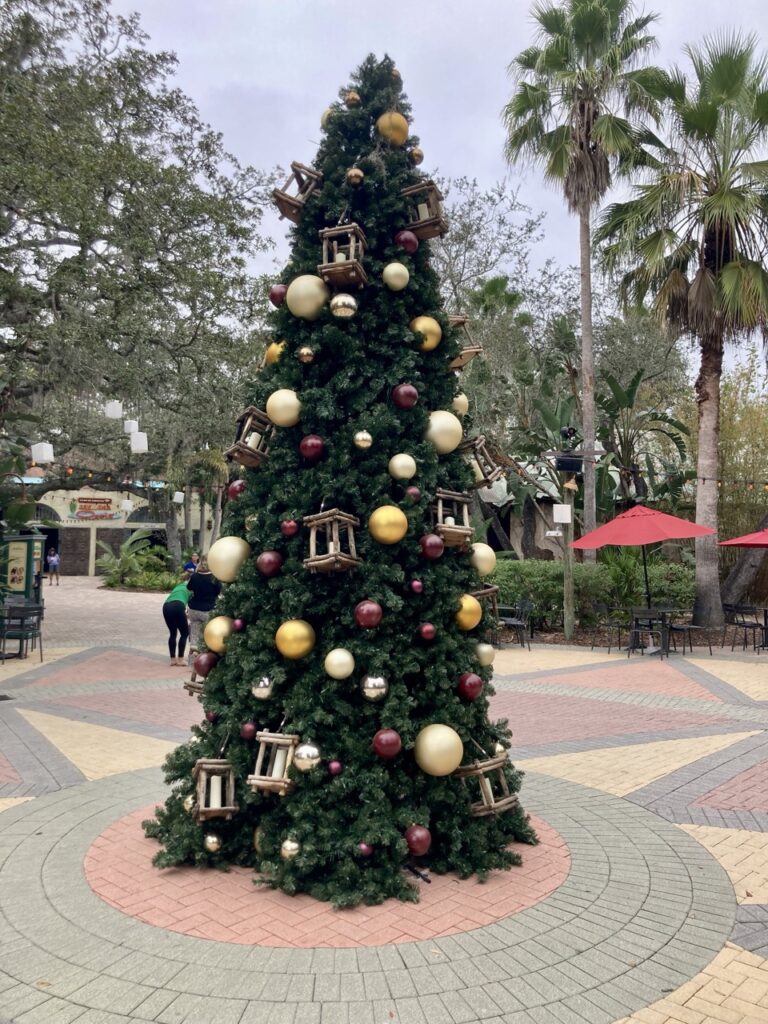 Many of the local cities in Pinellas host Christmas tree lighting events when they turn on their community Christmas tree. Usually these are accompanied by other festive activities like live music or a visit from Santa.
Other Holiday Activities
Here are a few more holiday activity ideas to add to your list. Some of these are not formal events but are festive activities that kids will love, like visiting a pet zoo at a Christmas tree lot.
Library Activities
The libraries throughout Pinellas County have so many holiday-themed activities going on throughout the end of the year. Check your local library for their upcoming event calendar.
Calls from Santa
Local recreation centers organize volunteers to call kids as Santa, Mrs. Claus elves during set times. Find more information for each Santa Calling here:
Gallagher's Christmas Tree Lot
In addition to selling Christmas trees, Gallagher's does up lots of festive photo op backgrounds, and has a small goat petting zoo and animals.
We visited their pumpkin patch as we were exploring local Halloween events and it was a great way to spend a morning with toddlers.
es winter and snow themed activities, like painting snow and a snow maze.
Robert's Christmas Wonderland Store
Visit Robert's Christmas Wonderland store for a lot of holiday cheer. I remember visiting Robert's as a kid and feeling like there was so much Christmas to see (and also being a little scared I'd break an ornament..).
Holiday Markets
Holiday Concerts
Read More:
Looking for more Pinellas holiday fun? Don't miss our other holiday guides: