7 Best Local Donut Shops in Pinellas County
Your guide to awesome donuts in the St. Pete-Clearwater area
Looking for the best donuts in Pinellas County? We've rounded up the local donut shops to help you find your next stop for donuts.
We had a free morning with week so I took my kids on a donut tour of our area to find the best donuts near me.
Obviously, my toddlers were very delighted to be taste testers on this quest. And obviously, neither of them took naps after I stuffed them full of donuts 😂.
Below you'll find the details you need about each donut shop, such as whether it features classic donuts or more artisan creative offerings. We also highlight affordable options because sometimes a $1 donut is just as a good as a $4 donut.
Let's dive in!
7 Best Doughnuts in Pinellas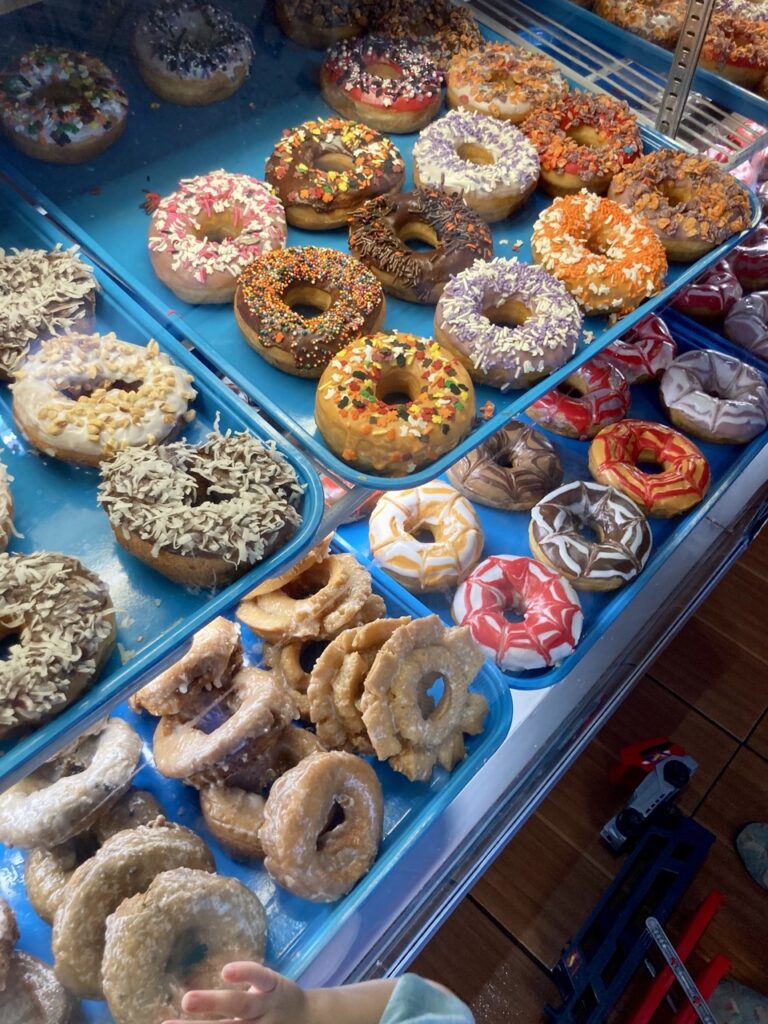 1. Fray's Donut House
Fray's is a local doughnut shop that has been serving the Pinellas area for over 30 years. It's the donut shop my dad used to take me to so I have a sweet spot (pun!) for this one.
Fray's shops are no frills but they have a good variety of high quality donuts and fritters. Every time I've been, they're been fresh and delicious with a great texture.
The donuts are the usual suspects so you won't find crazy elaborate ones, but they're also very affordable. They're perfect for when you just want a really good classic donut and don't want a huge donut with a whole piece of pie on top that costs $$$.
🍩 I love Fray's for its local history and affordable delicious donuts.
2. Valkyrie Doughnuts (St. Pete)
Now, on days you want that really creative, elaborate donut? That's when you head to Valkyrie.
I was given a box of Valkyrie doughnuts on my birthday and they were uh-mazing.
Valkyrie's claims to fame are being all vegan and wild, creative flavors. On my birthday, we had flavors like birthday cake, matcha, and french toast.
The donuts don't taste "vegan" — I would have never known if I hadn't been told. Valkryie started in Orlando and their St. Pete shop is their second location.
🍩 I love Valkyrie for its veganism and creativity
3. D&E Donuts
D&E Donuts is similar to Fray's in it's classic donut shop feel. D&E has all the donuts you'd expect at a donut shop, done really, really well.
The yeast donuts we got were nearly perfect – good texture, fresh and not overly sweet. We stopped in around Halloween and they had cute themed donuts too which my kids loved.
Best of all, the donuts are really affordable. Our two donuts rang up to just over $2.50.
TIP: I wish I would have known before our first trip that they fill donuts with your choice of filling (e.g. jelly, cream) after you order them. My kids would have loved to have watched that.
🍩 I love D&E for the quality (filling added to order!) & prices
4. Van Dough Mini Donuts
Van Dough's is distinct on this list because it sells mini donuts. The donuts are about the size of a door knob and are sold in quantities of three (three minis equals about one regular donut). When I visited, three donuts costed ~$3.60
The donuts are cake donuts and they're made to order. You picked from a big menu of flavors and they'll cook and decorate your donut to order. While I waited, they gave me a free fresh, warm sugar donut and it was very moist and delicious.
Van Dough's would be good for people who like the smaller sized portions — I appreciated this for my toddlers. It's also good if you'd like to try a variety of flavors without getting full sized donuts.
Note: Their store sign says "Mini Donuts" instead of "Van Dough." I drove past it the first time because I was looking for Van Dough's.
🍩 I like that Van Dough's donuts are made to order
4. Daddies Donuts & Delites
Daddies Donuts is another St. Petersburg donut shop that does over-the-top creative donuts. Many of the flavors are candy or sweets-themed.
What I like about Daddies Donuts is that you also have the option to get a donut "naked" without fancy toppings for a cheaper price if you want something less sweet.
They also sell ice cream so you can also get a donut ice cream sundae if you want to go crazy.
🍩 I like Daddies for the genius of a donut ice cream sundae
5. Rockstar Donuts
Rockstar Donuts in Largo sells donuts but also had some food items like gravy biscuits and hamburgers. It was a bit of a surprising variety of foods, but I do appreciate anywhere with Impossible meat on the menu.
Their donuts are mid-range prices, a little cheaper than big elaborate donuts but more expensive than Fray's or D&E.
They had an interesting variety of cake donuts and in hindsight, we should have tried those (that's what the people before us were ordering). For example, they had a pumpkin cheesecake and a variety of red velvet cake donuts, which I've not seen elsewhere.
Our yeast donut was good but overly sweet for my taste (admittedly, my kids picked out basically a frosting bomb). The texture was chewier, less fluffy & a touch drier than other donuts on this list like D&E or Fray's.
🍩 I like Rockstar Donuts for their cake donut selection
6. Five-O Donuts
Five-O Donuts is a small Florida chain of donut shops with seven locations around the state. As the name suggests, they are police-themed.
Five-O Donuts is only 3 minutes away from Daddies' Donuts. We haven't made it to this one yet but wanted to include it because of it's proximity.
🍩 Five-O Donuts is around the corner from Daddies' Donuts
7. Hole in One
We also haven't made it up to Hole in One yet but wanted to highlight a north Pinellas donut shop on the list.
I want to go next time we are in the area because their Facebook is full of really cutely decorated donut pictures. The decorations and themed donuts look more detailed and cuter than the other donut places we visited for this list.
We'll report back once we get to try them ourselves.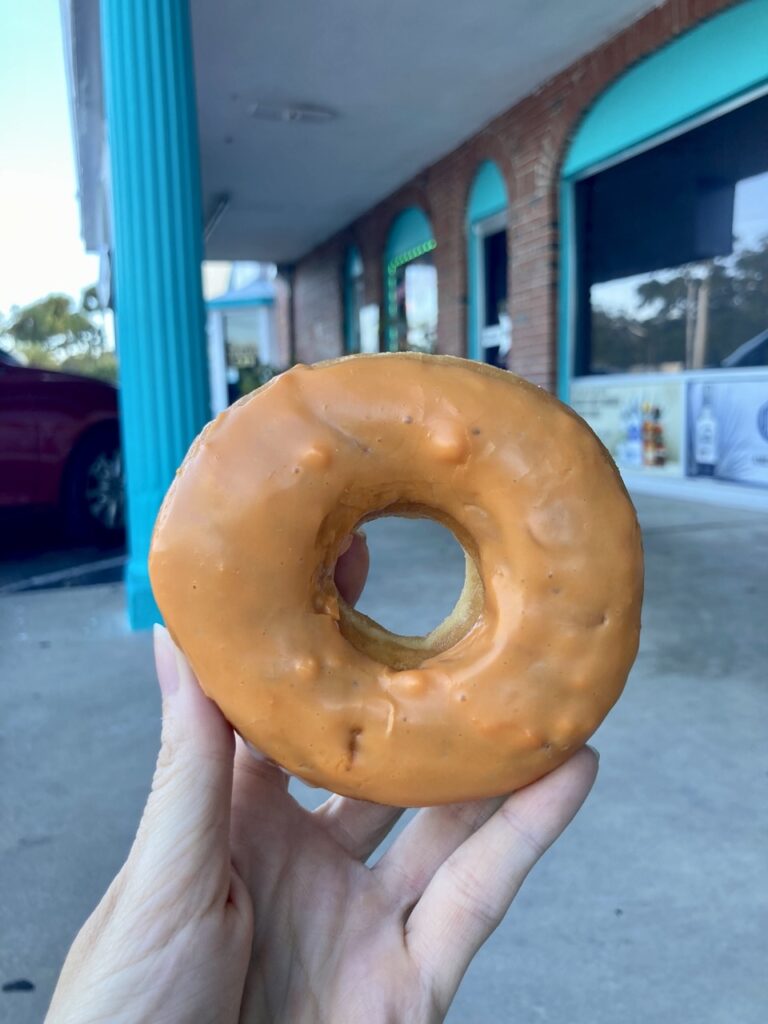 Other donuts
Here are a list of some other donuts you'll find in the area:
Donuts, Pies and More: This place in Kenneth City is more than simply a donut shop, you can also get food like breakfast sandwiches, other baked goods, and buy their donuts wholesale
Oldsmar Flea Market: On Saturday's and Sunday's, you can find a mini-donut shop at the Oldsmar Flea Market
Krispy Kreme: You'll find the only Krispy Kreme in Pinellas down in St. Pete
Dunkin: There are so many Dunkins in the area that it's almost hard to find local options when you look at Google Maps (that's another reason we wanted to highlight local options!)
Read More:
Looking for more food ideas? Check out our list of kid-friendly restaurants in St. Pete-Clearwater.