7 Tips for Great Explorations Museum in St. Pete
YOUR GUIDE TO GREAT EXPLORATIONS CHILDREN'S MUSEUM IN ST. PETE
Ready to visit the Great Explorations museum with your kids? Here are some tips to make your visit even better.
Earlier this month, we visited the museum using the Pinellas County library museum program and had a blast.
Great Explorations is a smaller children's museum and was a great size for our 1-year old and 3-year old. The museum focuses on experiential and pretend play, with kids sized versions of every day spaces like the grocery store (for real, the grocery store exhibit was the highlight of our visit).
The museum is also home to a big climbing structure and things like big foam building blocks that were teeming with elementary-aged kids during our visit.
Plus, it is an indoor play space in Florida so it was clearly hopping during our July visit.
Let's dive into what you need to know before you head to Great Explorations!
1. General Information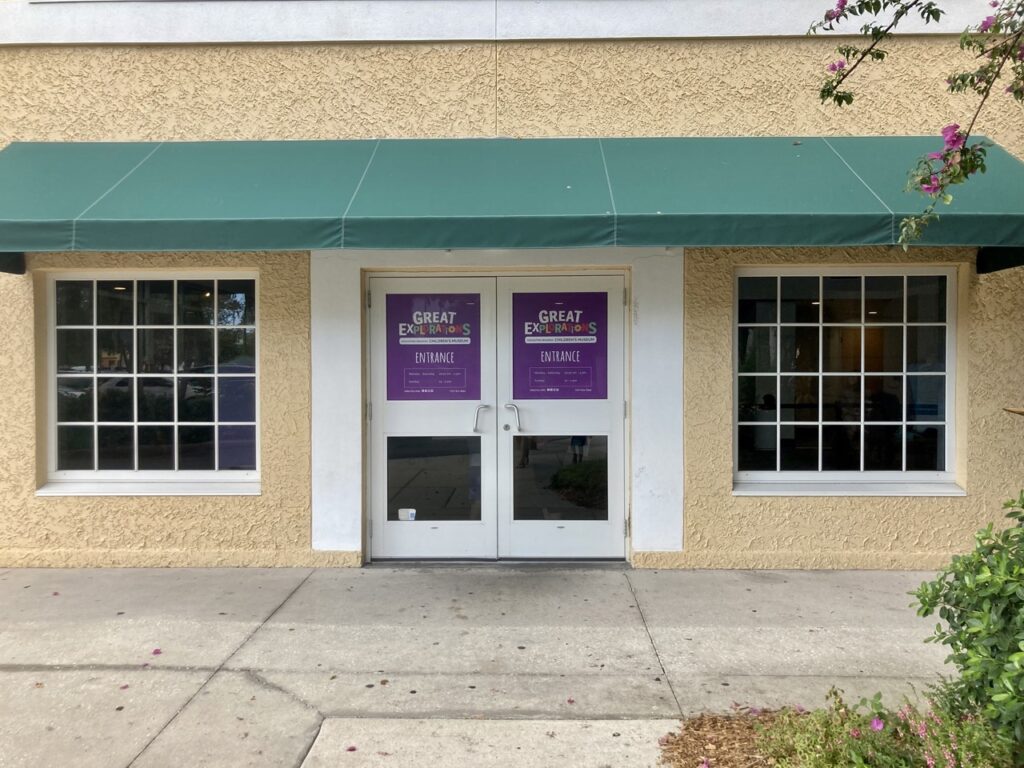 Great Explorations children museum is located next to Sunken Gardens in St. Petersburg, Florida. The building looks a bit nondescript but you'll see the entrance door next to the garden (pictured above).
Visiting the museum was super easy. Parking is right in front of the building and it is free — key when you've got a baby and toddler in tow.
Getting in through admissions was also very fast and efficient. This was definitely an easy museum for me to visit alone with two very young kids.
The only thing I wish was that the museum opened a little earlier. I think the hours are a little tricky for those with nap-times, especially since the museum has a lot of stuff for very young kids.
2. Plan to visit for at least a couple hours
I'd budget at least a couple hours when visiting the Great Explorations children's museum in St. Pete. The museum has a lot of explore, especially for littler kids.
We did a quick one-hour stop at the museum and my 1-year and 3-year old definitely could have kept playing for much longer.
Great Explorations is made up of smaller stations where kids can pretend-play around real-life, like grocery shopping and the doctors office. These were some of the exhibits we saw on our visit:
Plus there are many non-themed play options you'll find throughout the museum, including: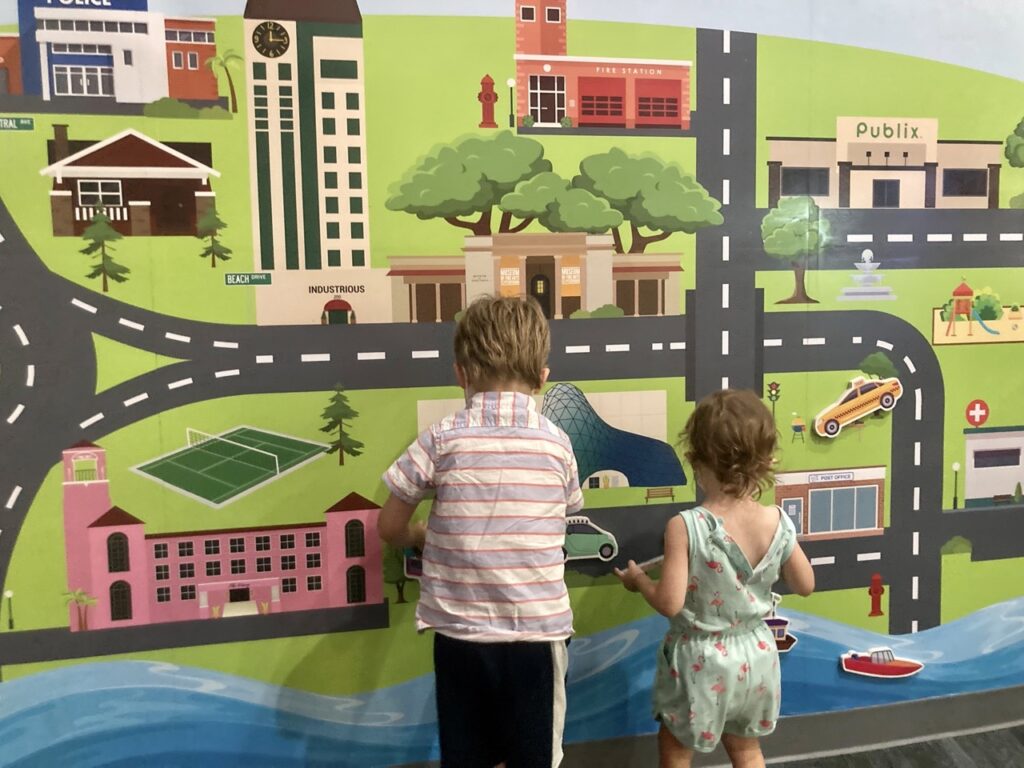 3. Don't expect the old museum
This tip is for anyone who grew up in the Pinellas area and visited Great Explorations-Hands On Museum as a child. This is sadly no longer the museum of our youth.
Great Explorations moved from it's original location and the museum experience has drastically changed from what I remember growing up.
You won't find old favorites like the blind touch tunnel at the new Great Explorations. The museum today feels more experiential play, where you can pretend to grocery shop or be a vet, instead of "hands-on" touching cool and weird things.
While my kids liked today's Great Explorations, I really wish my kids could experience the old Hands-On-Museum. If you have similar Great Exploration memories, its best to go in without any expectations of the old museum.
4. You don't need a stroller
The Great Explorations museum is small and you likely don't need a stroller. It is essentially only one room.
The play areas are also kid-sized so they wouldn't fit a stroller in them anyway. You'll be living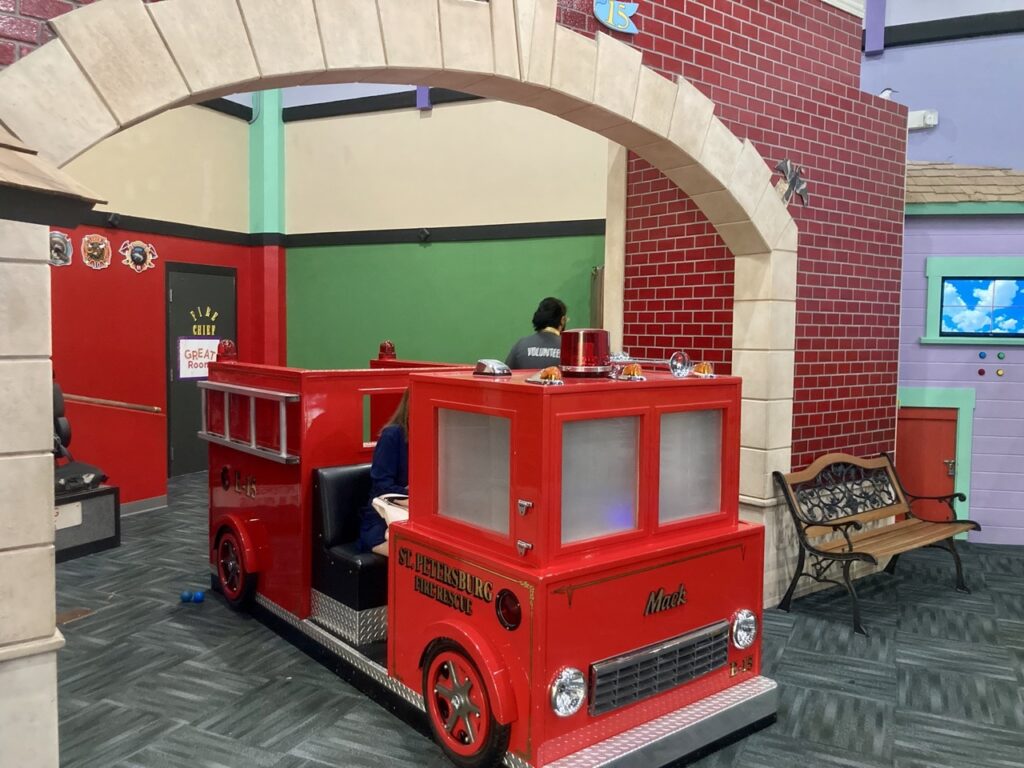 When we visited, it was also busy with kids running around all over. You'd definitely be bobbing and weaving through chaos with a stroller.
If you do feel like you need a stroller, I'd definitely opt for a smaller, single stroller if possible. Our double bob would have felt like a liability there for sure.
5. There's no food for sale
This is a smaller museum and it does not have a food for sale. Plan ahead and have snacks on hand for when you get out of the museum.
Great Explorations states on their rules that outside food and drink is not allowed in the museum. Here is where you can find all their rules
6. Visit for free!
There are a few ways to visit the Great Explorations children's museum in St. Pete for free. This is how we visited the museum and definitely what I would recommend if you're eligible.
Pinellas county library museum pass program
We visited Great Explorations for free using the Pinellas County Libraries museum pass program.
If you are a Pinellas resident, this is the best way to visit the Great Explorations children's museum.
Each library in Pinellas has two passes for select museums that you can check out like you would a library book. A pass grants free museum admission to two adults and up to three children.
Once you check out the pass, you have seven days to visit the museum for free. You are given a receipt from the library that you bring to the museum with you to use as your ticket. The pass is automatically returned to the library after your check out period.
This is how we visited Great Explorations. Here are a couple of tips to using the museum passes:
Museum membership reciprocal program
Great Explorations is a member of the North American Reciprocal Museum Association, a group of over 1200 museums that honor each other's museum memberships.
If you hold a membership to another museum, you may be able to use it at the Great Explorations museum. Here is where you can find the list of member NARM museums.
Great Exploration's membership also partners with some local museums, which has partnerships during specific months. You can find more about these other partnerships here.
7. Visit with a discount
If you don't go with a library pass or aren't a Pinellas county resident, there are some other ways to save money when visiting Great Explorations.
Great Explorations discounts
Those using WIC of EBT are able to get tickets for $3 a person simply by showing their benefit card. This is available any day the museum is open.
The museum also offers $1 discounts for AAA, teachers, military and first responders.
Personally, I think the the daily ticket price is a little high if you're visiting with multiple kids.
Buy a membership
If you live near Great Explorations, you may want to consider a yearly membership.
A family of four would come out ahead on costs after only 4 visits to the museum. Since Great Explorations is a great air conditioned indoor play space, nearby families would likely get a lot of use out of a membership.
In addition, membership can get you free reciprocal entry into other museums both locally and in North America.
For example, in September, members can also visit the Glazer museum on their membership which adds even more value for local families.
You can find the list of North American museum partners here and local monthly reciprocal deals here.
Things to do near Great Explorations