11 Kid-friendly Breweries in St. Pete-Clearwater
YOUR GUIDE TO KID-FRIENDLY BREWERIES IN PINELLAS COUNTY, FL.
If you're looking for breweries in Pinellas where you can take your kids, you've come to the right place. We've rounded up our favorite breweries that we go to with our kids to help you find a great spot for your next afternoon out.
Breweries are a go-to for many families because they have a relaxed vibe and many of them have a lot of space. You'll often find kid-friendly games like corn hole and arcade games too.
We're two local moms and the places below are all breweries we go to with our families. With each brewery, you'll find information on why they're great for kids.
Let's dive in and find your next beer!
1. Cage Brewing (St. Pete)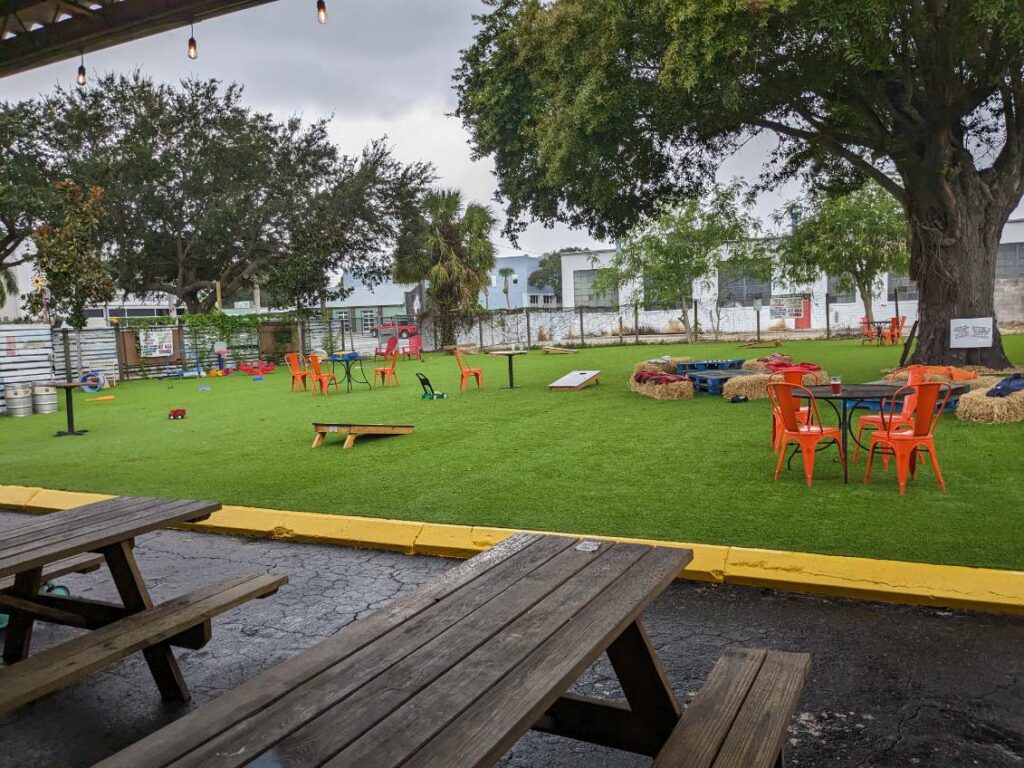 LOCATION: 2001 1st Ave S, St. Petersburg, FL 33712
We spent my last birthday at Cage Brewing and it was perfect for a bigger group with kids. Their outside space had communal toys! Plus it is big, fenced and wasn't crowded when we were there on a Saturday afternoon.
On a recent visit, we were pleasantly surprised to find that Cage had redone it's back area so it is astroturf. It's an awesome upgrade!
The only tricky part about Cage Brewing is the lack of parking. We had to park down the road and it is off of busy 1st Avenue. But there is plenty of space outside to park a stroller if you use one for the walk from the car.
2. Crooked Thumb Brewery (Safety Harbor)
LOCATION: 555 10th Ave S, Safety Harbor, FL 34695
Listen, I'm very biased in favor of Crooked Thumbs, thanks to their annual Rule 7 brew in honor of beloved local weatherman Denis Phillips (IYKYK).
The brewery is nice for kids because it has a big outdoor space for families. My kids like the gravel-y ground because they'll happily play with their dump trucks with it for a long time.
They regularly have food trucks with kid-friendly food like BBQ & Mac-n-cheese.
Crooked Thumb also makes our list of fun things to do with Safety Harbor with kids.
3. HOB Brewing Co. – Outside Space (Dunedin)
LOCATION: 931 Huntley Ave, Dunedin, FL 34698
HOB Brewing is located right off the Pinellas trail and is in easy walking distance from Dunedin's main street.
HOB Brewing has an amazing outdoor space, perfect for families with kids. There are multiple shaded patio areas with picnic bench-style seating.
But what really makes HOB stand out is the large, wide-open astroturf section of the patio where kids can play. It is also all fenced in — a much appreciated feature when you have young kids.
4. HOB Brewing – Inside Space (Dunedin)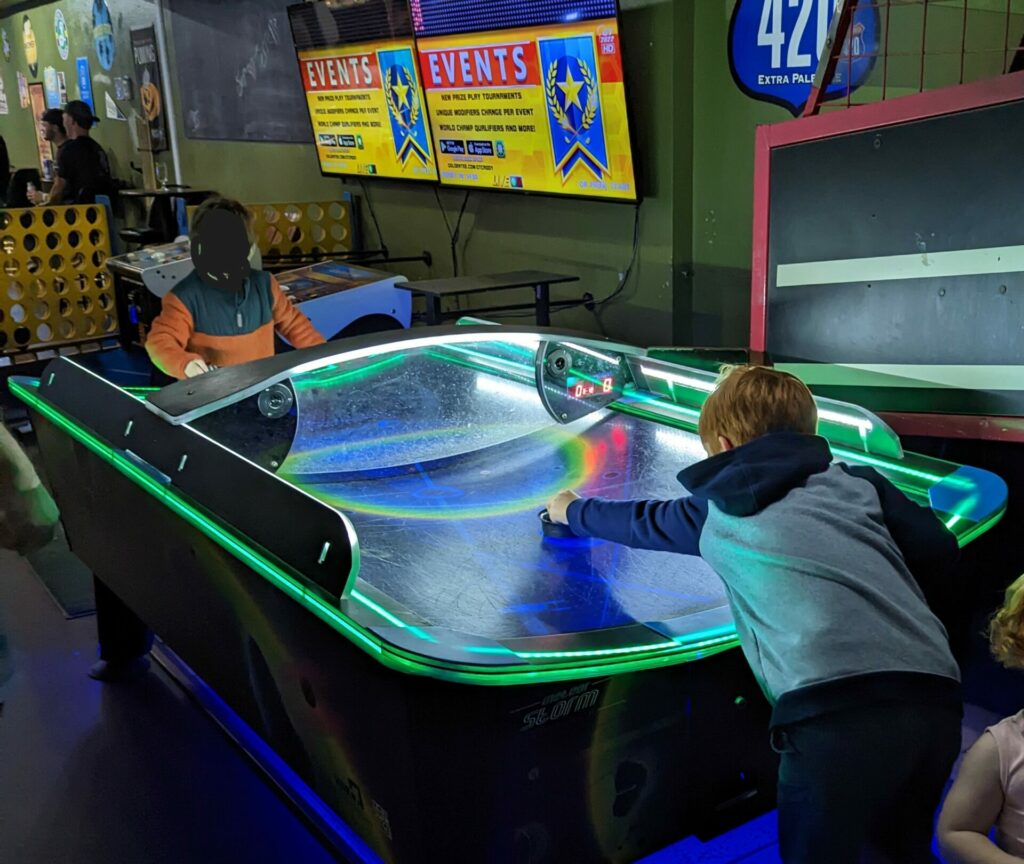 We've listed HOB Brewing twice because it has two locations across the street from each other. We wanted to highlight this so people don't miss out on visiting each location since both are kid friendly and different.
The inside space location has lots of fun games for kids to play, like table hockey and big connect 4 (pictured above).
5. Dunedin Brewery (Dunedin)
LOCATION: 937 Douglas Ave, Dunedin, FL 34698
Dunedin Brewery is the OG craft brewery in Pinellas and the state of Florida. Established in 1995, it was Florida's first microbrewery so they are old pros with delicious beer (source: Dunedin Brewery website).
I'd say that Dunedin Brewery is not as kid-friendly as HOB Brewing, but their outdoor space is still spacious for those with kids. While they don't have a dedicated kids menu, the regular menu has picky-eater staples like fries and chicken fingers.
I haven't made it back with my kids yet but Dunedin Brewery holds a soft spot for me because I used to go there with my dad, who we lost to cancer a few years ago.
6. 3 Daughters Brewery (St. Pete)
LOCATION: 222 22nd St S, St. Petersburg, FL 33712
The place is big so it can handle some family-sized chaos. It has big indoor and outdoor spaces.
I haven't been back to 3 Daughters since I had kids but on my earlier visits, the place was absolutely bumping with kids. Kids and families were playing with games like foosball and arcade games, and there are often live music and multiple food trucks.
7. Green Bench Brewing (St. Pete)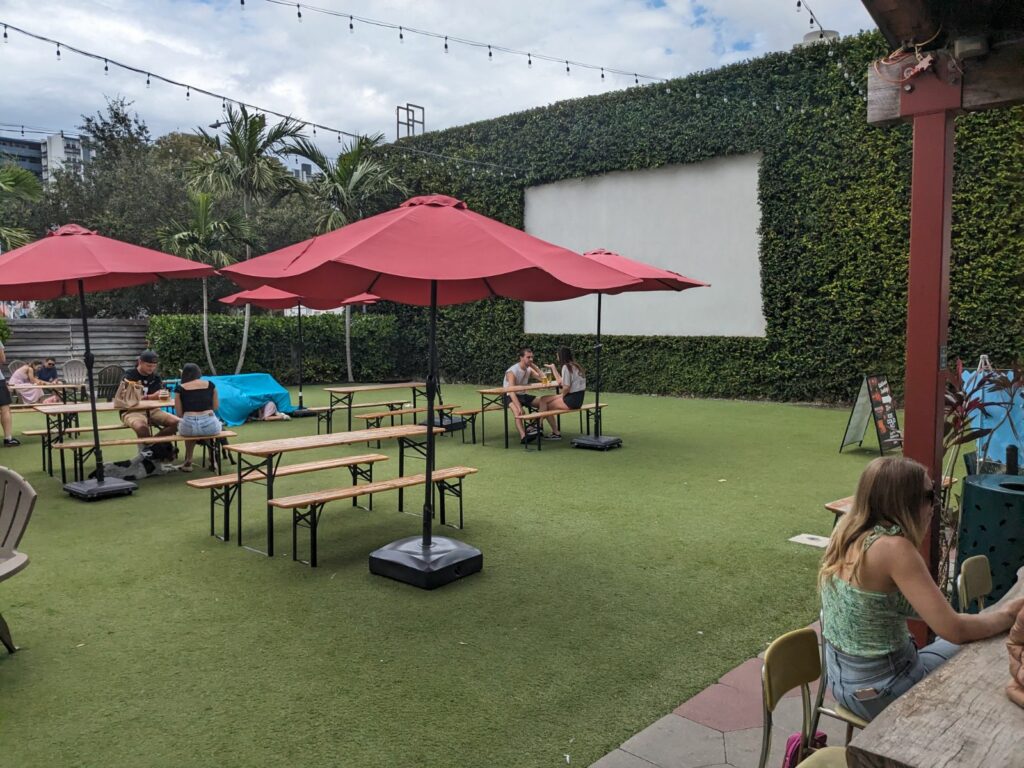 LOCATION: 1133 Baum Ave N, St. Petersburg, FL 33705
Green Bench Brewing in St. Pete is great for kids because it has an awesome outdoor space with astroturf. In the outside area, there is also a covered patio so you can find some shade while watching the kids.
The best part of the outdoor area is that is it enclosed by a fence and building walls. Every parent appreciates a space that's fenced in. Plus, the beer is good too.
8. Soggy Bottom Brewery (Dunedin)
LOCATION: 660 Main St, Dunedin, FL 34698
Soggy Bottom is another brewery in Dunedin with a great outdoor space for kids. They have lawn games like ring swing and big Jenga.
It is attached to Southern Q BBQ and they share the outside space, so you can eat and have a beer outside while your kids play. Southern Q's food is awesome and kid-friendly too.
9. LBC (Palm Harbor)
LBC stands for Local Brewing Company and it is great for kids because of its big outdoor space with lawn games. Inside is also spacious and has games like darts. They do activities and entertainment that kids can be involved in too.
LBC often runs a Groupon, but note that you have to purchase it at least 24 hours before going (we've made that mistake before!).
10. Southern Lights Brewery (Clearwater)
Southern Lights Brewery makes the list for their great arcade room. Kids love it but the best part is that the games are very affordably priced, especially compared to some other places like Reboot.
It also has a small outdoor area but the inside area is large and comfortable for kids.
11. Reboot (Dunedin)
Reboot is technically not a brewery but they are a beer-based establish that is ridiculously kid-friendly. It is a bar-cade, with lots of pinball games and arcade games. They have old video game consoles that are free to use and you can rent new consoles.
Our kids love it, especially that you can play the arcade game Minecraft Dungeons.
Important Note: kids are welcome only before 8pm.
Read More:
Looking for more kid-friendly places? Check out our list of restaurants good for kids in Pinellas.