15+ Kid-Friendly Restaurants in Pinellas
YOUR GUIDE TO KID-FRIENDLY PLACE TO EAT IN CLEARWATER-ST. PETE
This list is born out of my own personal need to find restaurants where we can actually relax while out with two toddlers.
If you found yourself on this article, I'm sure you know what I mean. Sometimes you just need a place where you can eat and not worry about kid chaos.
We're two local moms and we've compiled a list of our favorite go-to kid-friendly restaurants in Pinellas to help parents find spots that work for the whole family.
Below you'll find Pinellas restaurants with playgrounds, restaurants directly on the beach (our personal favorites because my kid loves to dig), and some unique options like a restaurant with a pool!
Let's find your next dinner stop!
1. The Getaway
Why it's a great restaurant for kids:
Tables located on the sand for kids to dig and play
Kids can play in the water on an old boat ramp, with there are tables right on the edge of it so you can supervise from your seat.
They have appetizers on happy hour special
I'll be real, the food is pretty average and it's expensive if you go outside of happy hour. But, the beach + water play for kids is so good that it's still one of our favorite places to go.
2. Nona Slice House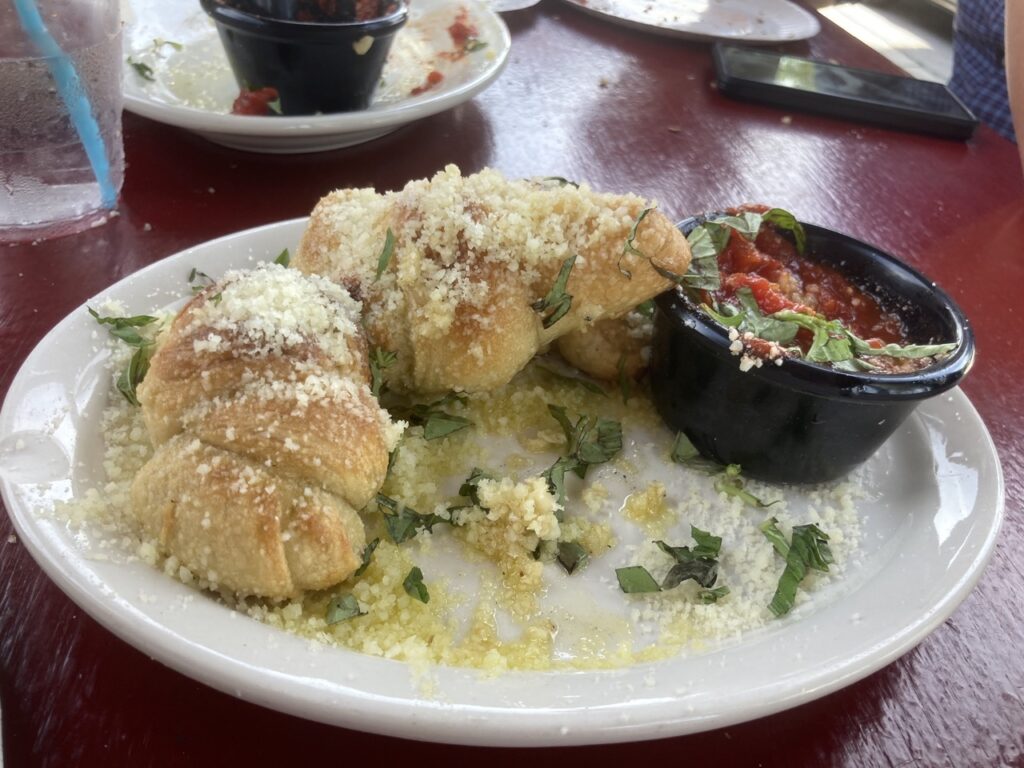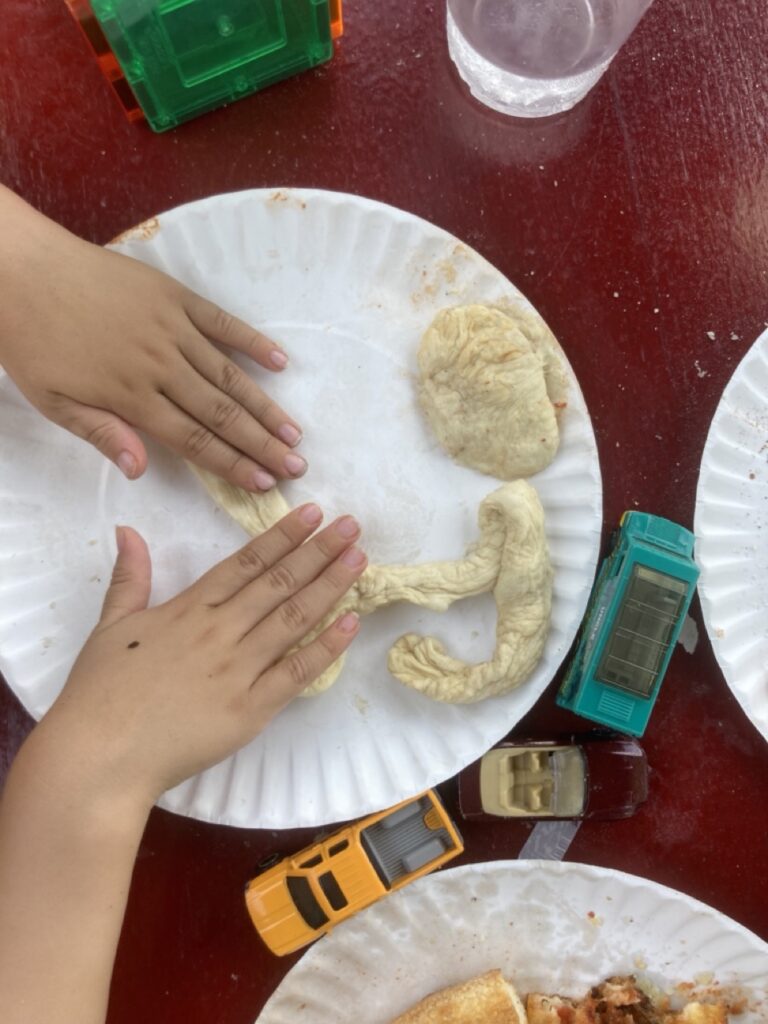 Why it's great:
Kids are given dough to play with — my kids are SO delighted by this
The pizza is awesome and is an easy kid-friendly food
Live music for little kids to dance to that isn't too loud (I'm especially sensitive to loud spaces)
3. Joe's Crab Shack
Why it's a great kid-friendly restaurant:
There is a fenced in playground
The fenced in playground on the otherwise busy strip of 60 is Joe's Crab Shack's big sell. I was specifically searching for restaurants and breweries with playgrounds to take my kids to and this was the one I could find.
4. Spa Beach Bistro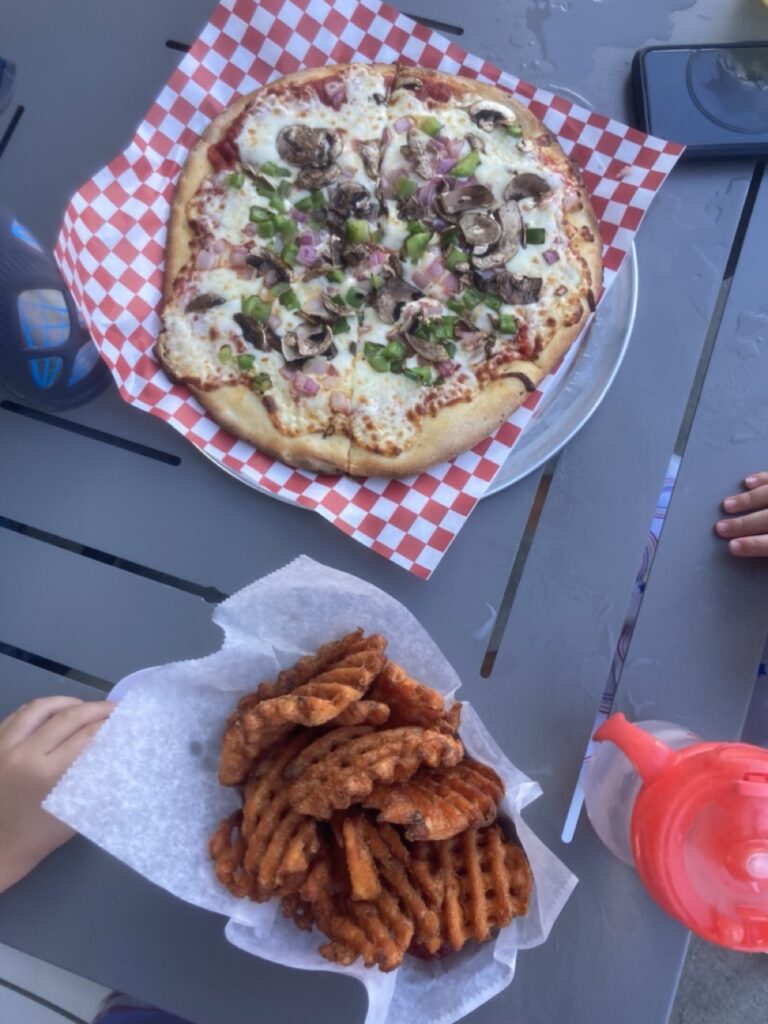 Spa Beach Bistro is an outdoor cafe located on St. Pete Pier between the awesome Glazer playground and the splash pad (featured on our list of 10 great splash pads in St. Pete-Clearwater!).
Why it's great:
Great location between an amazing playground AND a splash pad
Food was surprisingly decent and not crazy expensive given the location
More playgrounds need a bar right next to them
5. Ozona Blue
Ozona Blue is unique because it has a pool AND hot tub open to restaurant guests until 6pm!
Why it's great:
For real, how many restaurants have a pool for kids to swim in?
Pretty water front location + boat watching
6. Whiskey Joe's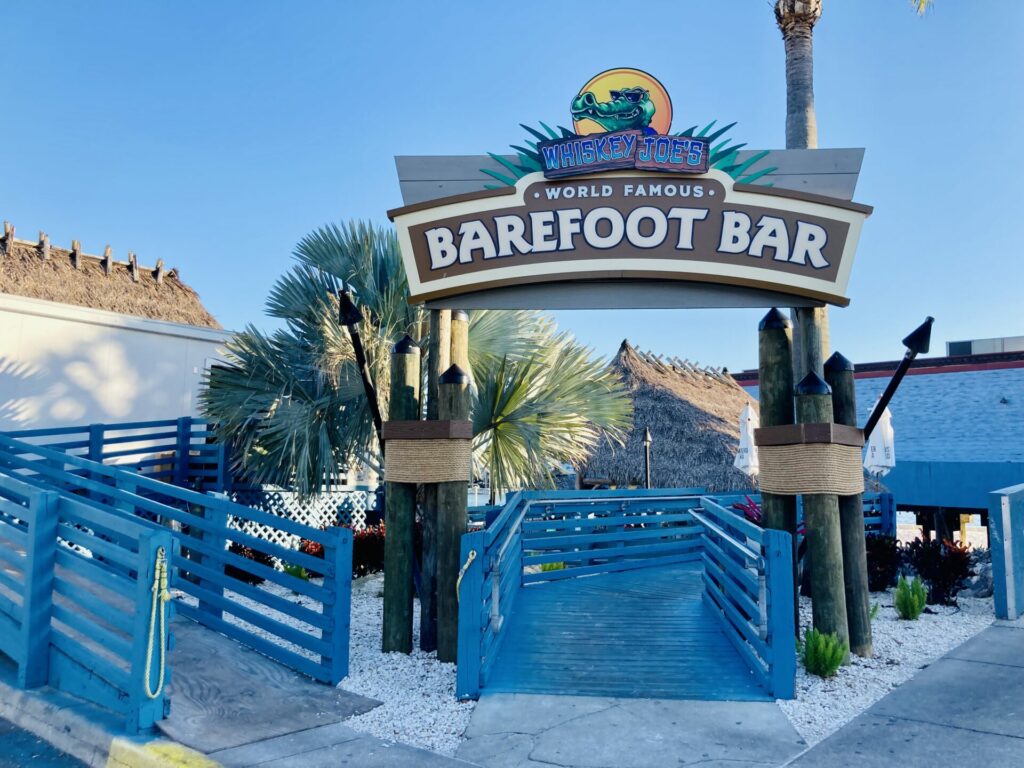 We're sneaking this Tampa restaurant in because it is just over the line on the Courtney Campbell Causeway. Plus, it's on-the-beach eating makes it amazing for kids
Why it's great:
Eat directly on the beach so kids can dig or swim
You can walk directly to the beach part and order from the beach bar so no juggling kids inside
Happy hour food specials
Admittedly, they were having an off night with service during our visit but the location was so nice for the kids that we'll definitely be back. Go straight to the beach parking a little down to avoid the hassle of trying to park at the restaurant.
7. Frenchy's Rockaway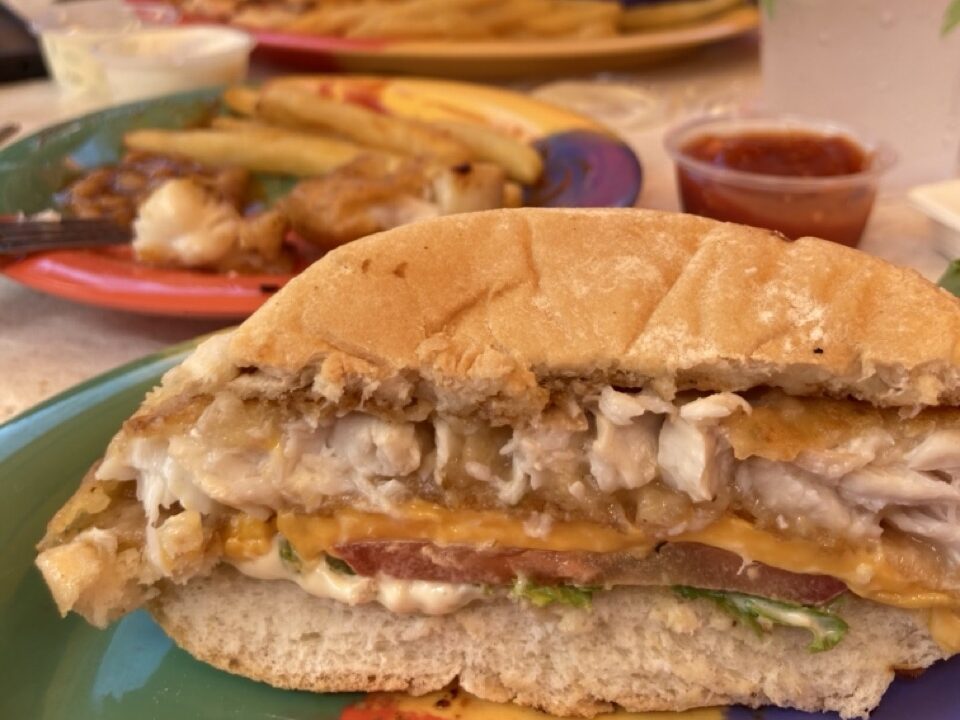 Frenchy's has many locations but the Rockway location has tables right on the beach (with shade canopies too!). You can even check the tables & beach condition on their Frenchy's webcam.
Why it's great:
Kids can dig in the sand at your table
Their grouper sandwich is famous for a reason (+ lots of picky kid-friendly options)
Beach views
8. Gigglewaters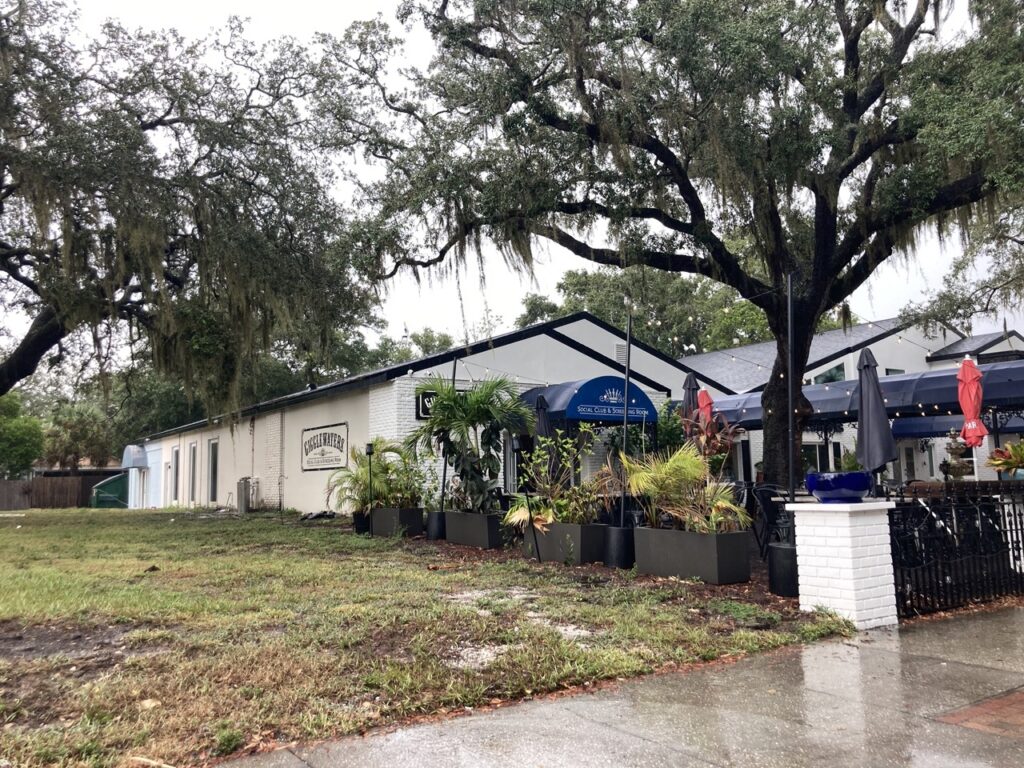 Gigglewaters is unique because it is both a restaurant and a small movie theater. You can eat dinner while watching a movie, including kid-friendly picks.
Why it's great:
Eat dinner while watching a movie in their theater
Lots of kid-friendly foods and comfort foods
9. Cici's Pizza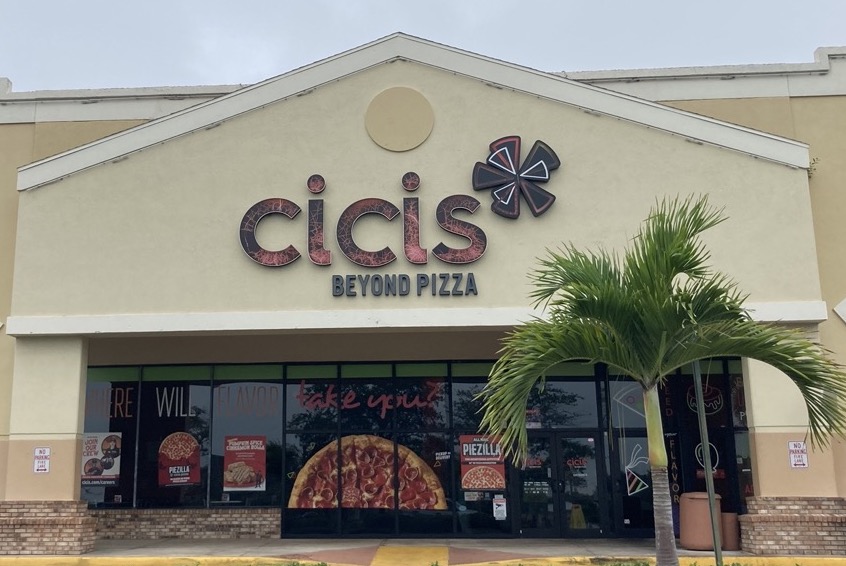 I grew up going to Cici's Pizza. The Clearwater location has since moved but still has a very family-friendly vibe. The Clearwater location has a big arcade room and bowling lanes.
Why it's kid-friendly (Clearwater location):
Pizza buffet
Big arcade room
Bowling alley lanes
9. Infinity Pizza
Infinity Pizza is a total hit with kids old enough to play pinball and arcade games. We've also enjoyed their pizza as take-out too.
Why it's great:
Cheap pinball and arcade games for kids to play
Old school video game consoles like Sega & Mario Kart
Delicious pizza
10. Caddy's Treasure Island
Caddy's has multiple locations but the Treasure Island location you can eat at tables on the sand — perfect for kids to play while you eat.
Why it's great:
Tables in the sand for kids to play
NOTE: Their Bradenton location also offers tables in the sand but it's not featured here because it is not in the St. Pete-Clearwater area.
11. RumFish Grill
RumFish Grill is a fancier restaurant but makes the list for its huge aquarium. If your kids love aquariums as much as mine, eating dinner next to a massive aquarium will be a hit.
Why it's great:
Huge dining room-sized aquarium where you can eat watching the fish
12. Paisano's Pizza
Paisano's is on our list to try next time we are in St. Pete because it has a lot of kid-friendly offerings that you can find on their specials page.
Why its kid-friendly:
Kids are given pizza dough to play with!
On Saturdays kids can make their own pizza
Free kids meal on Wednesdays
13. Chick-fil-a
Listen, I don't love putting Chick-fil-a on this list but you can't argue with on-site indoor playgrounds in Florida. Plus, they've streamlined online ordering making it easy with kids.
Why it is good for kids:
Playgrounds!
You can filter the location search on their website by playground
Easy ordering online so you don't have to juggle kids while ordering
Tampa Kid-Friendly Restaurants
Nearby Tampa has a host of kid-friendly restaurants too. We want to highlight a few great places, especially those near family-friendly attractions like the aquarium and zoo.
Sparkman's Wharf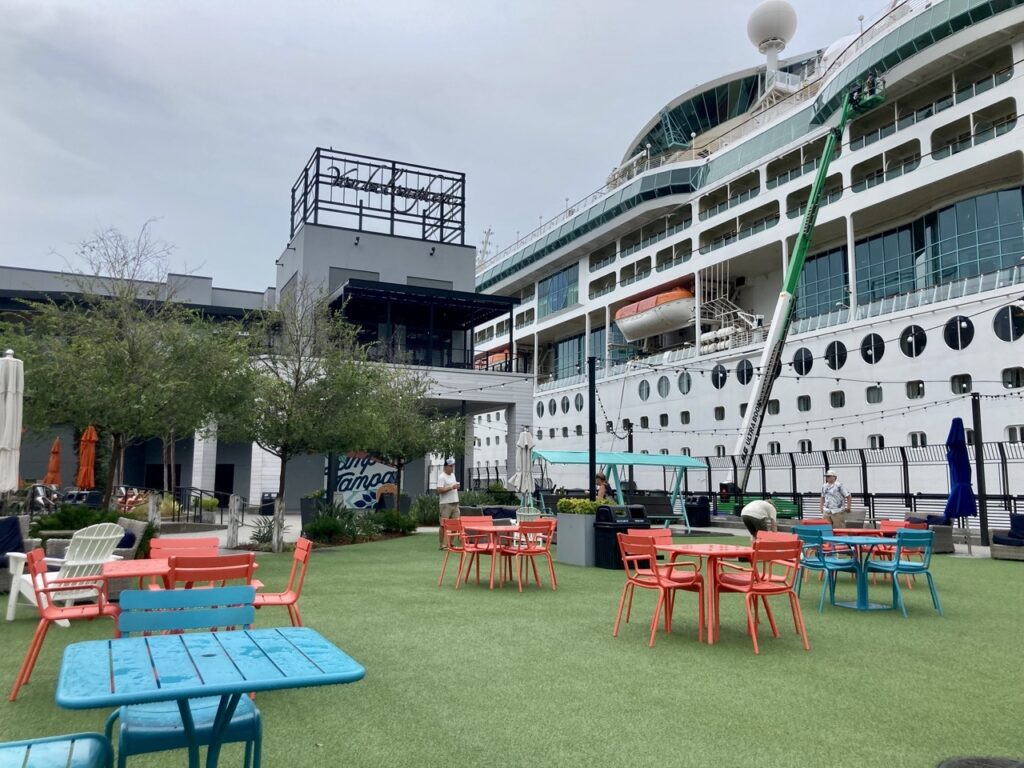 Why it's great:
Big open turf grass space for kids to play
Oversized checkers and games
Lots of food options so you likely can find something for picky kids
Walking distance from the aquarium & on the free trolley line
Armature Works
Why it's great:
Great lawn area space for kids
Nearby WaterWorks splash pad and playground
Lots of food options
On the water taxi route
Taco Bus
Taco Bus has been a Tampa Bay staple for over 20 years. Kids will love the actual bus on site and there is a location around the corner from ZooTampa
Why it's great:
On-site bus is a crowd-pleaser for little kids
Kids eat free on Sundays
The food is awesome
Read More:
If you're looking for more fun places to go, here's our list of kid-friendly breweries in the area.