Guide to Marshall Street Park in Safety Harbor
Your guide to visiting Marshall Street Park in Safety Harbor, FL.
Marshall Street Park is a neighborhood playground located in the St. Pete-Clearwater area in Safety Harbor. It boosts playground equipment, sports courts, picnic areas and easy parking.
My kids and I are regulars at this park for its easy access and chill atmosphere. The park has come a long way from how it was when I went to it as a child! T
he playground has been upgraded though you'll still find parts of the old playground, like a climbing dome and swings.
Let's dive into the details you need to know before visiting Marshall Street Park.
Important Information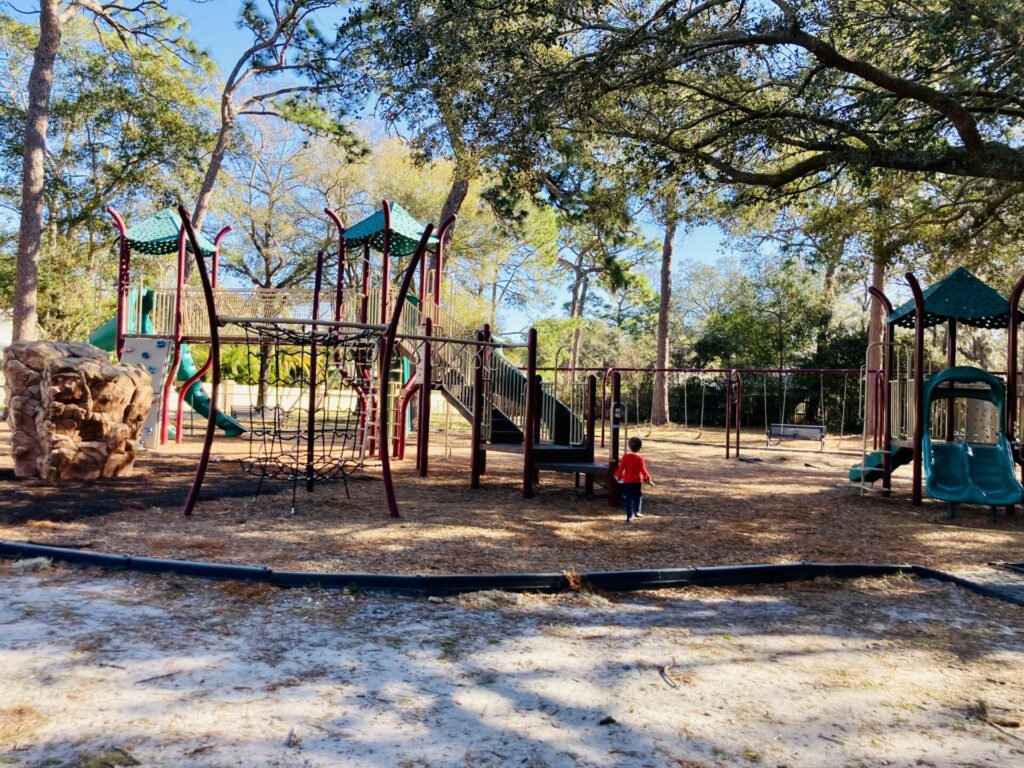 Here's the key information you need about Marshall Street Park
Best Features of Marshall Street Park
Here are the highlight features of Safety Harbor Marshall Street Park
What I love about this park is that is less busy than some other big parks in the area. Parking is readily available and I can easily navigate the park alone with the kids.
The park also includes a big field of wide-open nature for kids to run around or for walks.
The playground has space for big and little kids. I like that there are multiple swing sets, including some swings offset from the playground which would be nice for kids who may be nervous around other kids running around.
They also kept some old pieces of the playground from when I was growing up, like a big climbing dome. My kids really enjoyed playing under the dome even though they are too young to climb it still.
Playground Equipment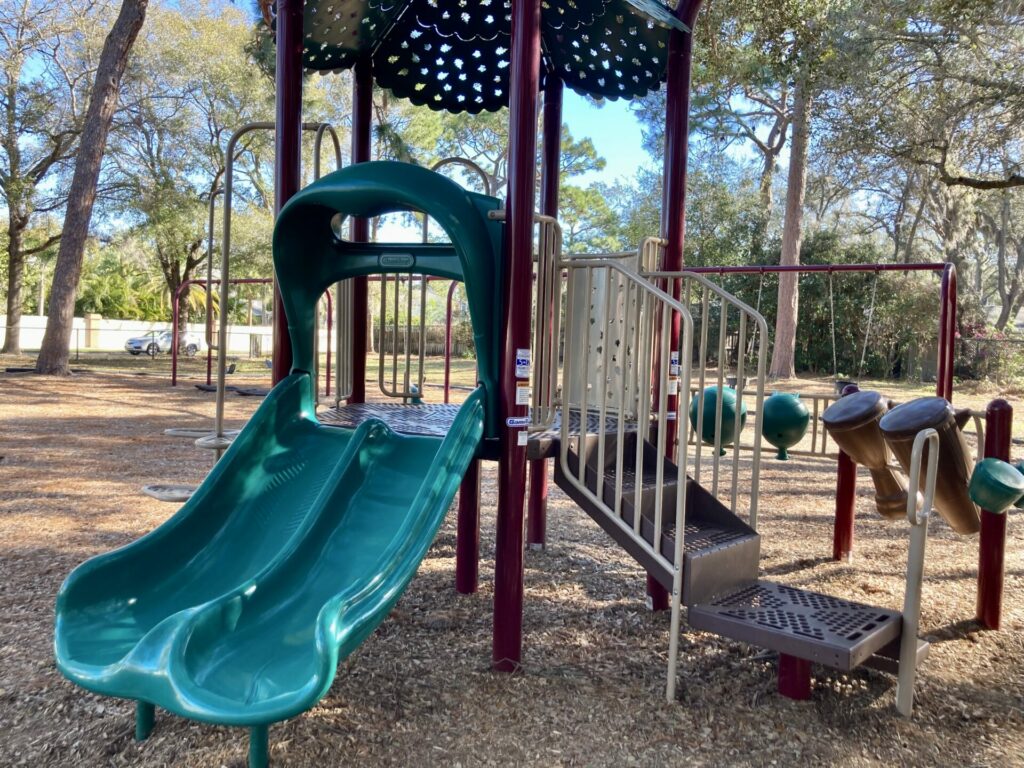 KEY FACTS
The playground includes a big playground set for older kids and a small area for toddlers (pictured above). The playground equipment is in good condition with no noticeable breaks or dangerous cracks.
One feature Marshall Street Park is missing is a fenced-in playground area. There are sidewalk openings in the fence along Marshall that are pretty close to the playground.
Most of the playground equipment has railings along the edges but there are openings where the climbing structures and ladders to the play set. This is fine for older kids but made me a little nervous when my 1-year-old decided she definitely had to go down the big slides.
The playground has a nice mix of climbing wall climbing and a natural-looking rock formation for climbing.
The surface of the playground is a mix of mulch and leaves from the surrounding trees. The trees give part shade cover, especially over the toddler part of the playground equipment in the mornings.
Sports Facilities
Marshall Street Park has a half-basketball court, tennis courts, and outdoor racquetball courts.
The basketball court is not a full court. It is a half court and there is only one. We found it often to be in use around the time that the nearby middle school lets out (around 4:15 pm). The basketball court is near the playground.
The tennis courts and racquetball courts are located apart from the playground area. If you are driving west on Marshall Street, you'll first pass the playground and a parking lot and then the parking for the tennis court is just around the curve.
The racquetball courts are outdoor courts so they are not fully enclosed. They are set back a little passed the tennis courts.
Parking at Marshall Street Park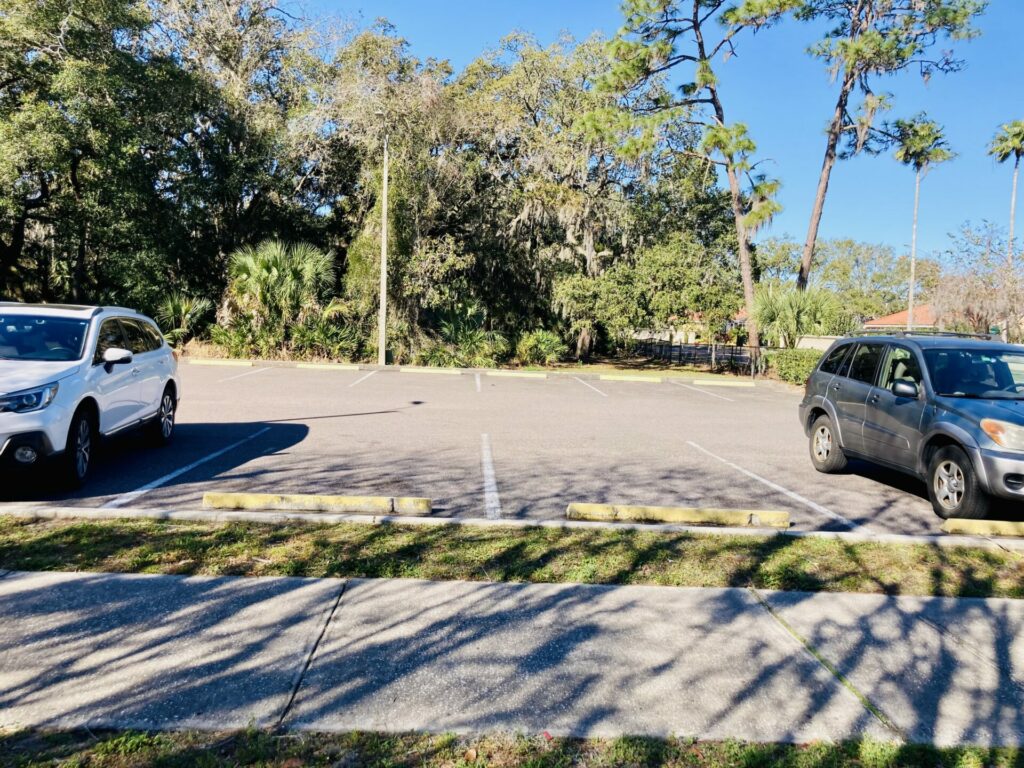 Parking at Marshall Street Park is free and easy. There is parking along Marshall Street and a good size lot right off the playground and pavilion area. There is a second parking lot located near the tennis courts.
Frequently Asked Questions
Are there bathrooms at Marshall Street Park?
Yes, there are public bathrooms at Marshall Street Park. The bathrooms are located in the building just off the main parking lot. There is also a water fountain.
Is Marshall Street Park stroller-friendly?
Marshall Street Park is somewhat stroller-friendly. There is no paved path from the parking lot to the playground, but the ground is flat and hard. The large grassy areas are also firm and flat so it is manageable with most strollers (and definitely no problem with a jogger).
Is Marshall Street Park busy?
In general, Marshall Street Park is not too busy. The park gets a little busier around 4:15 when the middle school around the corner lets out.
Can you go solo with kids?
You can definitely go to Marshall Street Park alone with kids. The parking lot is right by the playground so it is easy to get to when lugging kids and accoutrements.
Is there shade?
Marshall Street Park is partially shaded. There are many trees throughout the park. The little kids playground equipment gets good shade but only about half the big kid equipment gets good shade.
Is the park fenced?
Marshall Street Park and its playground are not fully fenced. There are openings in the fence along the main road for sidewalks and the parking lot side is not fenced.
The main road has a 25 mph limit but is fairly busy. I watched a toddler make a break for the road the last time we were there so definitely keep an eye on kids on the playground.
What are other nearby attractions?
Marshall Street Park is located 3-minutes away from Main Street Safety Harbor. After a morning at the playground, you could pop over to Nona's for pizza or Whistle Stop for lunch. Crooked Finger brewing is also just down the road.
For the kids, you can swing by Daisy Douglas playground which is a 2-minute drive away, or check out the Safety Harbor pier and nature boardwalk.
Is it worth the drive?
I would describe Marshall Street Park as a pretty standard community park. If you are nearby, it is a nice outdoor space and playground. You could also pair it with a visit to Daisy Douglas, another nice playground around the corner from Marshall Street Park.
If you are in a 15-20 minute radius to the park, it is definitely worth a visit. If you are farther than that, you'll likely pass equally good neighborhood parks on your drive that are closer.