Lego Clubs for Kids in Pinellas
YOUR GUIDE TO LEGO CLUBS & MEET-UPS FOR KIDS IN PINELLAS
Is your kid Lego crazy? Then you should check out some of the Lego clubs near you that are happening throughout the Clearwater-St. Pete area.
Many of the Lego clubs are free and meet at your local library! Free Lego meet-ups are a great free alternative to more costly kid activities.
Lego clubs for kids are meet-ups where kids get together to play and build with legos. Some of the meetings are open builds where the Legos are supplied and kids can build whatever they can dream up with other kids.
Other meet-ups are more like classes where kids are given more instruction or work through specific building kits together.
Either format is a great way to mix up Lego play, provide socialization and give kids an activity that they love. Malena's big kids are regulars at library Lego clubs and this article is based on their experience at these meet-ups.
Let's check out the local Lego meet-ups!
[Note: many of the St.Pete-Clearwater lego club meet-ups are regular during the school year but more limited over the summer]
Lego Clubs for Kids in Pinellas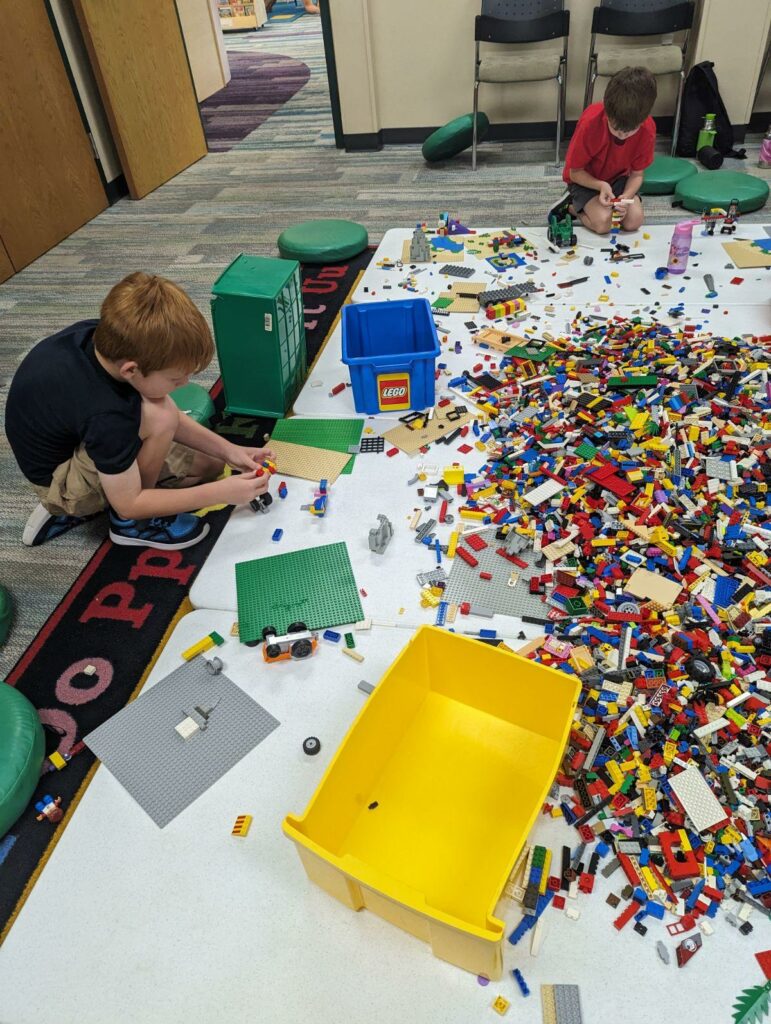 Safety Harbor Library Lego League – Weekly
Safety Harbor library's is one of my favorite lego clubs near me because it takes place weekly. The group is for children aged 3-12. Age 3 is the youngest of any of the Lego clubs on this list which is nice for those with toddlers who love building or multiple kids.
Parents must accompany their kid during the meet-up. The session is drop-in so you can stop by at any time during the session.
Clearwater Library Lego Spike – Biweekly
Clearwater's main library holds a Lego group where kids follow kits to solve a new problem each meet-up.
The lego meet-up is held roughly twice a month on Wednesdays. I reviewed the event calendar for 2023 and there were a few months (such as over the summer) where it wasn't held biweekly.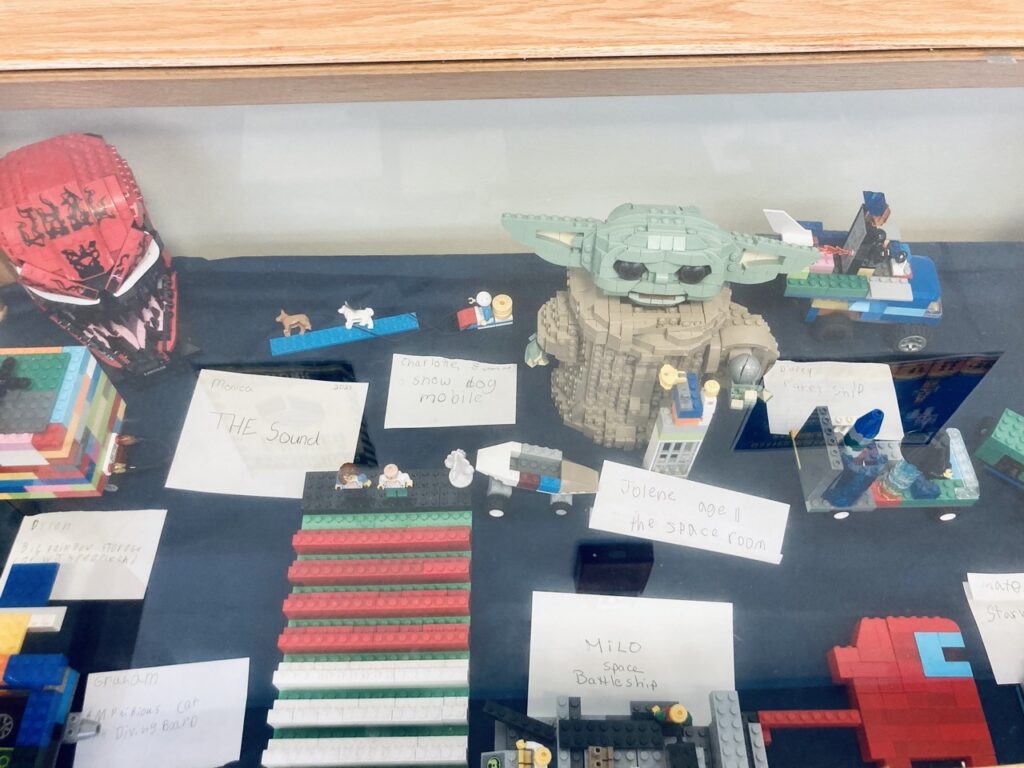 Oldsmar Library Lego Club – Biweekly
Oldsmar Library hosts an hour long Lego Club. It is not on a set schedule but as of this writing, it was hosted every other Wednesday in the last month in the afternoon.
They showcase the kids' creations online after the club. You can find examples here.
Largo Library Lego Library – Variable
The Largo library offers two types of Lego meet ups. The first, Lego Library, is the more general lego club.
Lego Library is open to younger kids than Lego Constructors, starting at age 5.
Largo Library Lego Constructors – Monthly
Largo Library's Lego Constructors is a more advanced lego meet-up for older kids. At Lego Constructors, they work on more complex builds, including with computer interfaces.
Unlike Lego Library, Lego Constructor requires advanced registration to attend.
Dunedin Library Lego Club – Monthly
The Dunedin library offers a Lego Club geared towards children 5-12. The library supplies legos for the kids to play with.
Library schedules change frequently but it appears that Dunedin's Lego club happens either the 4th or last Saturday of the month, based on their event calendar for the upcoming months (available here)
Barbara S. Ponce Library Lego Robotics – Monthly
The Barbara S. Ponce Library in Pinellas Park offers a Lego Robotics periodically for children grades 3 and up.
The Lego Robotics group builds robots using kits. Prior registration is required, with assistance available by phone at 727-369-0664.
I reviewed the library's event calendar for the six months to find out the Lego Robotics schedule. There didn't seem to be a pattern; the Lego Robotics sessions were offered about once a month, with a few months with no meet-up.
Tarpon Springs Library Lego Club – Monthly
The Tarpon Springs library hosts a monthly Lego group for kids. Along with the Safety Harbor library, the Tarpon Lego Club has the lowest age range if you have a toddler who loves building.
Legos are provided and they display the creations at the library, which is a nice touch.
The Tarpon Library calendar is a little weird to navigate. It defaults to a daily view for the events that day. I searched "lego" and set it to the first of the month to get the upcoming Lego clubs for the month to show up, as shown in the picture below.
Gulfport Library Lego Club – Monthly
The Gulfport library hosts a monthly Lego club on the 3rd Saturday of the month. An adult must stay with kids while they attend.
St. Pete Libraries (Bi-Monthly)
The St. Pete Library youth librarian recently reached out to me to share the news that they've restarted their Lego meet ups!
Here is the information she shared:
BUILDERS & BRICKS (Grades K-5)
"Kids in grades K-5 can work together to build creations inspired by their favorite books, connecting book series to real life fun!"
BLOCK PARTY (Grades 3-5)
"Kids in grades 3-5 will work to build and code their own designs with robotics kits! Build a sound machine! Make a dancing robot! Explore space! There is a world of possibilities."
Important Note: if you come across Tampa Bay Times' event calendar showing monthly "Lego Mania" meet-ups at different St. Petersburg libraries or times, this information is out of date. I called those libraries to confirm, and the youth librarian who emailed me also told me those meet ups were decade ago in 2012-2013!
Other Libraries
Some of the other libraries have Lego groups periodically sometimes but not on a regular schedule. They include:
Bricks4Kidz (Tampa)
Bricks4Kidz offers Lego camps, after school classes, and weekend workshops for a fee. Their weekend workshops are 3-hours long and cost $25.
While there is a fee for these programs, you drop your kid off and do not have to accompany them like many of the free library programs. The cost per hour is cheaper than a babysitter and gives you a morning off.
The kids also get to keep their Lego creation.
Lego Camps in Pinellas
Bricks 4 Kidz Camps
Bricks 4 Kids offered a number of summer camps around Pinellas in 2023. They included:
Safety Harbor @ the Sheriff's Youth Ranch ($160 half day & $255 full day for 5 day camp)
Shorecrest Preparatory in St. Petersburg (multiple camps for ages 5-10, cost around ~$315-395 for full day camp)
Palm Harbor CSA ($160 half day & $255 full day for 5 day camp)
Bonus: Legoland
If you have a lego lover, don't forget that Legoland is only about ~1.5 hours away from the Clearwater-St. Pete area. You can find their official site here.
Legoland includes a theme park and a water park. It also is home to a resort area and a Peppa Pig theme park.