10 Things to Do With Kids in Dunedin, Florida
YOUR GUIDE TO FUN THINGS TO DO IN DUNEDIN FL WITH KIDS
Dunedin Florida is home to some of the best beaches in the world. It has small town feel with a vibrant main street and lots to do for families.
Dunedin is home to about 36,000 residents, and about 10% of them are kids under 18 (source: U.S. census data for Dunedin). From a great library to the beautiful beaches, there is no shortage of things to do with kids in Dunedin.
Malena lives in Dunedin with her family and I regularly visit Dunedin since we are only 15 minutes away. The list below are things our kids enjoy around Dunedin.
Let's explore Dunedin kids activities!
1. Explore the marina & pier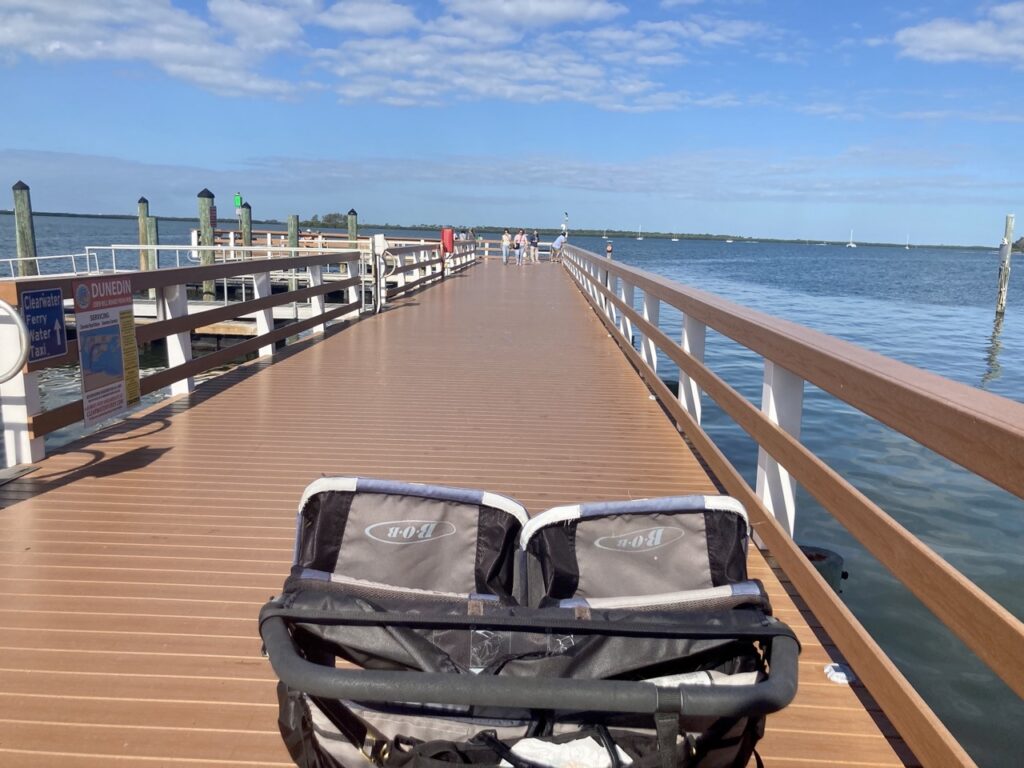 LOCATION: 51 Main St, Dunedin, FL 34698
The Dunedin marina is almost an essential stop on any trip to Dunedin. First off, there is a big free parking lot right at the marina making access easy. If you're visiting main street, you may well end up parking at the marina.
There is a wide pier that is stroller-friendly, as seen in the photo above. It has pretty views, of course, and there are always boats docked for kids to check out along the dock.
Bonus: every time we've gone to the marina, there have been big trucks delivering food to the nearby restaurants or doing work which is a huge hit with our toddler.
2. Play on the Edgewater Park playground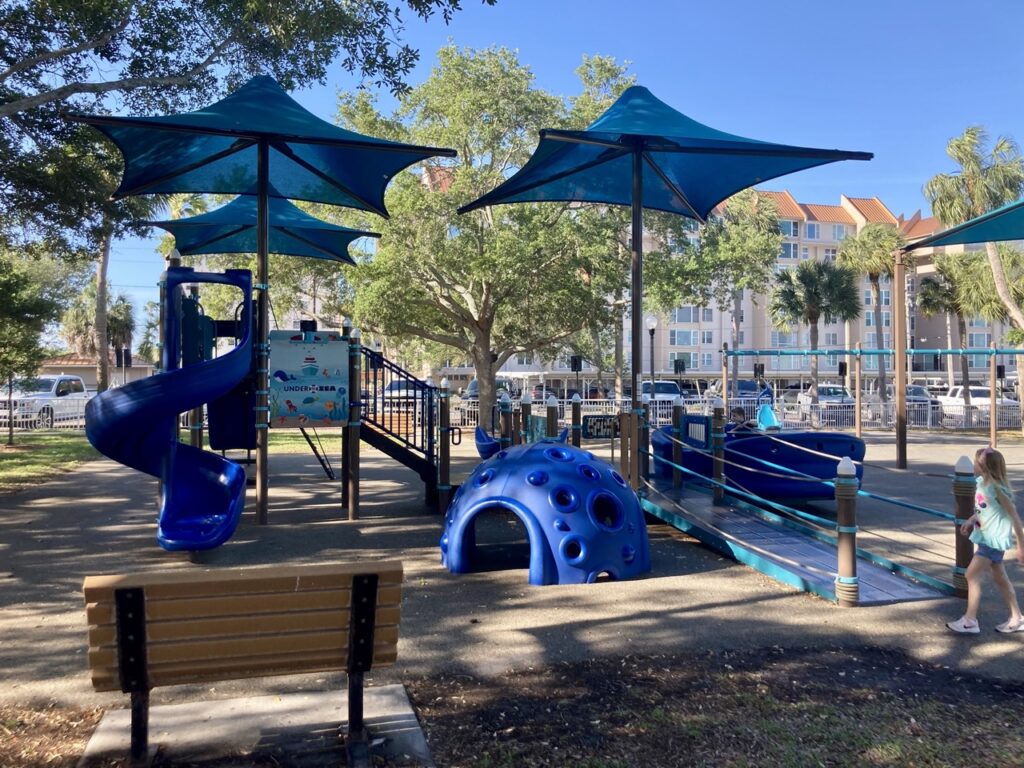 LOCATION: 51 Main St, Dunedin, FL 34698
We love Edgewater Park playground. First, it has built-in shade covers which is a true blessing when your 3-year old alligator death rolls away from sunscreen.
The park also has beautiful views of the water, public restrooms and easy parking.
Plus, the playground has some more interesting equipment than a lot of playgrounds. My kids could have swung on the double swing all day if I let them.
3. Hike the Pinellas Trail
LOCATION: Throughout Pinellas
The Pinellas Trail stretches from St. Petersburg all the day to Tarpon Springs. The trail used to be a rail line that has been converted into a unique hiking trail throughout the county.
You'll find the Pinellas Trail cutting through Main Street Dunedin. Just off the trail, you'll also find a line of Dunedin's breweries and distilleries, including HOB & Cueni Breweries and Cotherman Distillery.
For up-to-date information on the trail, such as possible closures, check the county's trail website.
4. Eat on main street
LOCATION: Multiple options along Main Street
There are pretty much endless food options on Main Street. You'll find fancy restaurants like Bon Appetit to casual window service like Lane's Lemonade and Taco Baby. There is really something for everyone.
I loved the nachos in the picture above from Taco Baby. It is a little window stall and they have with a few outside tables that had some shade.
(Note though that Taco Baby has a limited menu if your kids are picky eaters and it was a little spicy)
Window ordering is easy and flexible when I'm lugging around our big double stroller. My kids also really liked Lane's Lemonade because they were fascinated by it being a boxcar with wheels.
5. Get some ice cream at Strachan's
LOCATION: 310 Main St, Dunedin, FL 34698
Dunedin is Strachan's second location in Pinellas County. It is located on Main Street not far from the marina.
I regularly go to the Strachan's location in Safety Harbor and the ice cream is great. That's why it also makes the list of things to do with kids in Safety Harbor too. Their speciality is a carrot cake ice cream, a flavor that I've not seen elsewhere.
For kids, they have a "cookie monster" flavor that is bright blue with cookie dough and Oreos. I now make sure to dress my kids in clothes that can get stained before we head there because they always want the blue one.
6. Hang out at a brewery
LOCATION: HOB Brewing at 931 Huntley Ave, Dunedin, FL 34698
Dunedin is home to the first microbrewery in the state of Florida, Dunedin Brewery (source). In recent years, a whole new crop of breweries have popped up in walking distance to Main Street and the Pinellas trail.
Dunedin Brewery has a soft spot in my heart since we've been going to it since well before the recent micro-brewery craze.
The best brewery for kids in the area though is probably HOB. Their outdoor space includes a big astroturf area for kids to run around.
7. Cool off at the Kiwanis Splash Pad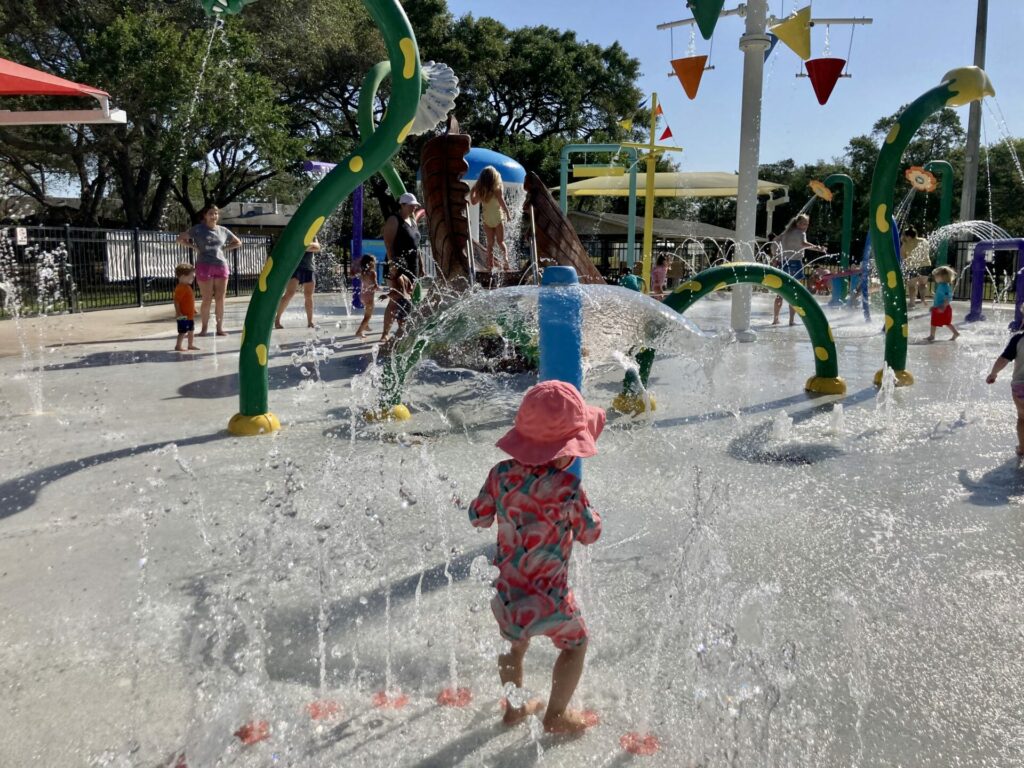 LOCATION: 1937 Ed Eckert Dr, Dunedin, FL 34698
You're in Florida, that means it is probably too hot and you need an activity to cool everyone down.
The Kiwanis Sprayground is the perfect activity for an afternoon in Dunedin. It's big, fun and best of all — free. This splash pad, of course, ranks high on our list of great splash pads in the St. Pete-Clearwater area.
There are so many good things about this splash pad. There's a water slide, lots of different sized fountains for kids of all ages. The benches on the side are shades and the parking is so easy.
Before you go, don't forget to check out our guide to visiting the Kiwanis Sprayground.
8. Walk the Dunedin Causeway
LOCATION: Causeway Blvd, Dunedin, FL 34698
The Dunedin Causeway has a great walking trail. The trail is wide and paved, perfect for walking it with a stroller. There are also public restrooms and beachy cafes along it.
Plus, parking is ample and easy. Even when we were recently there midday on a Saturday, you could still find free parking available.
If your family is like mine, watching the endless cars and trucks going by makes this Dunedin activity for kids a big, big win.
You can also stop along the trail at little beaches lining the causeway, though they aren't the same beautiful sandy beaches you'll find up the road on Honeymoon Island (which is next up on our list!)
9. Beach it up on Honeymoon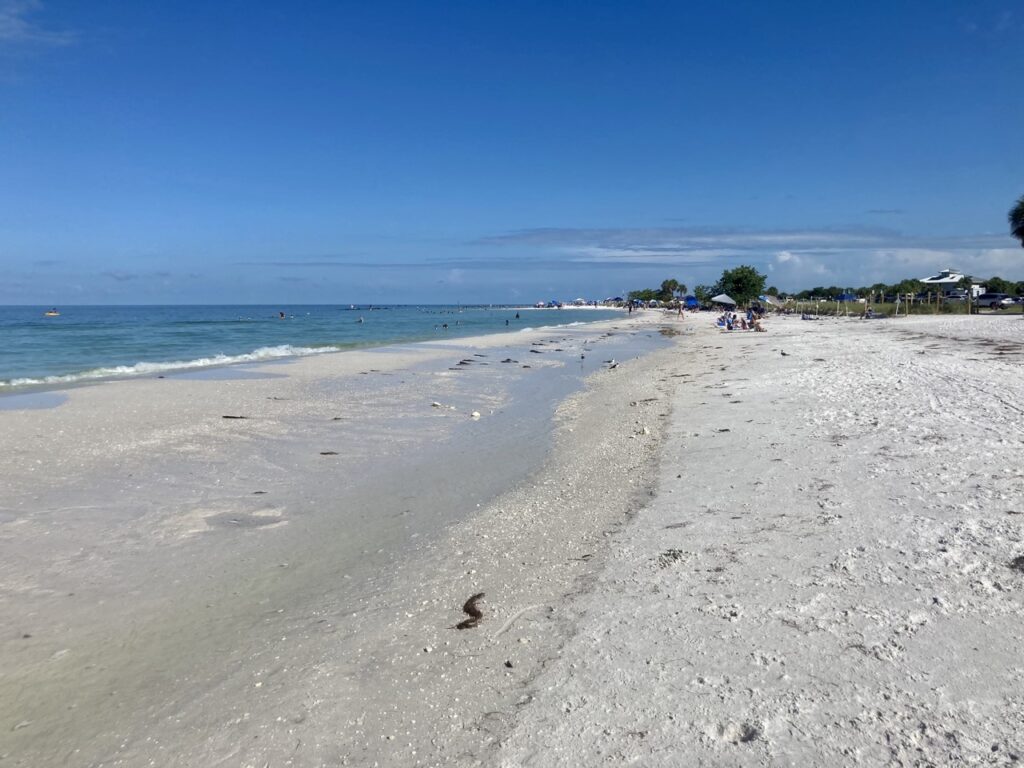 LOCATION: 1 Causeway Blvd, Dunedin, FL 34698
Pinellas has an embarrassment of riches when it comes beautiful beaches. And two of the best ones are right off the coast of Dunedin.
Honeymoon Island is a Florida State Park with impeccable beaches and trails through Florida shrub land. When you drive onto the island, it just feels like Florida.
With the right tides, the beaches are also shallow with tide pools — perfect for little kids. We went a few days ago and our kids were thrilled to play in the tide pools forever.
For an extra adventure, you can take the ferry over to Caladesi Island. Caladesi Island is an absolutely amazing beach.
The only reason we didn't include it as a main attraction on this list is because it only accessible by boat, which can be trickier with young kids.
10. Ride the Jolley Trolley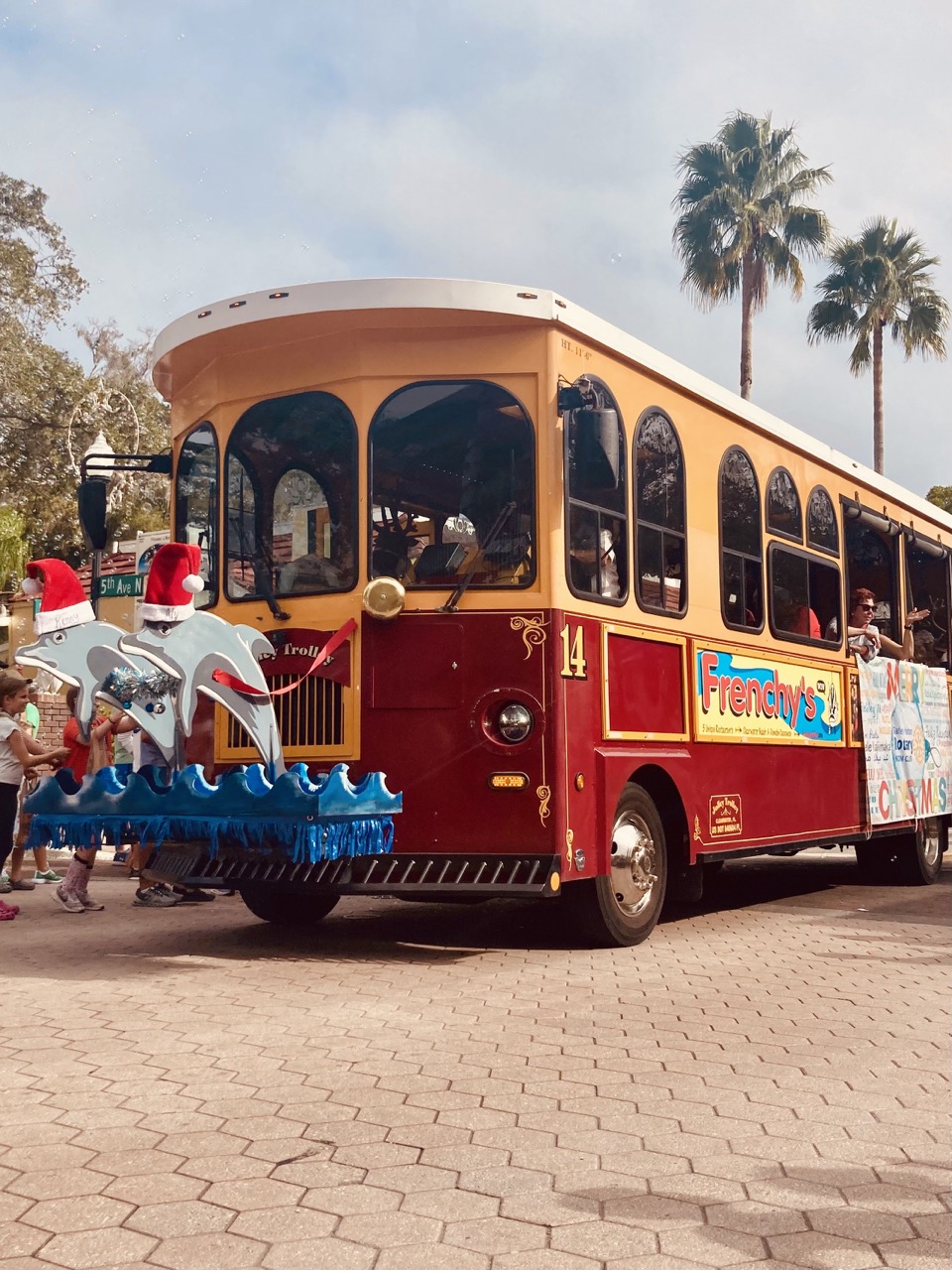 LOCATION: Throughout coastal Clearwater, Dunedin, Palm Harbor & Tarpon
The Holley Trolley is the trolley system that serves Clearwater Beach and the coastal towns in Pinellas, including Dunedin. You can find their routes and schedules on the Jolley Trolley website.
The Jolley Trolley is great for young families because children under 8 are free. The regular fare is $2.25. There are also ride free days throughout the year, such as Earth Day and Car-free Day.
The Jolley Trolley holds a special place in our hearts since Malena chartered a trolley for her wedding transportation.