Old McMicky's Farm Review: Is It Worth It?
Your guide to Old McMicky's Farm, from two local moms
Looking to check out Old McMicky's Farm? Old McMicky's Farm is an educational farm offering farm tours to families.
I remember going to Old McMicky's Farm as a child and getting to milk a cow. I was excited to share this childhood experience with my own kids.
Below you'll find our review of Old McMicky's Farm. Who are we? Two local moms who specializes in helping families find all the best things to do with kids around the St. Pete-Clearwater area.
While Old McMicky's Farm has some nice features, it is not a place we'd recommend to all families.
We'll give you an overview of the farm, some pros and cons, and alternatives you may want to consider. We also go over logistical issues like parking and stroller-accessibility.
We hope this guide helps you find the best farm activity for your family.
Let's dive in!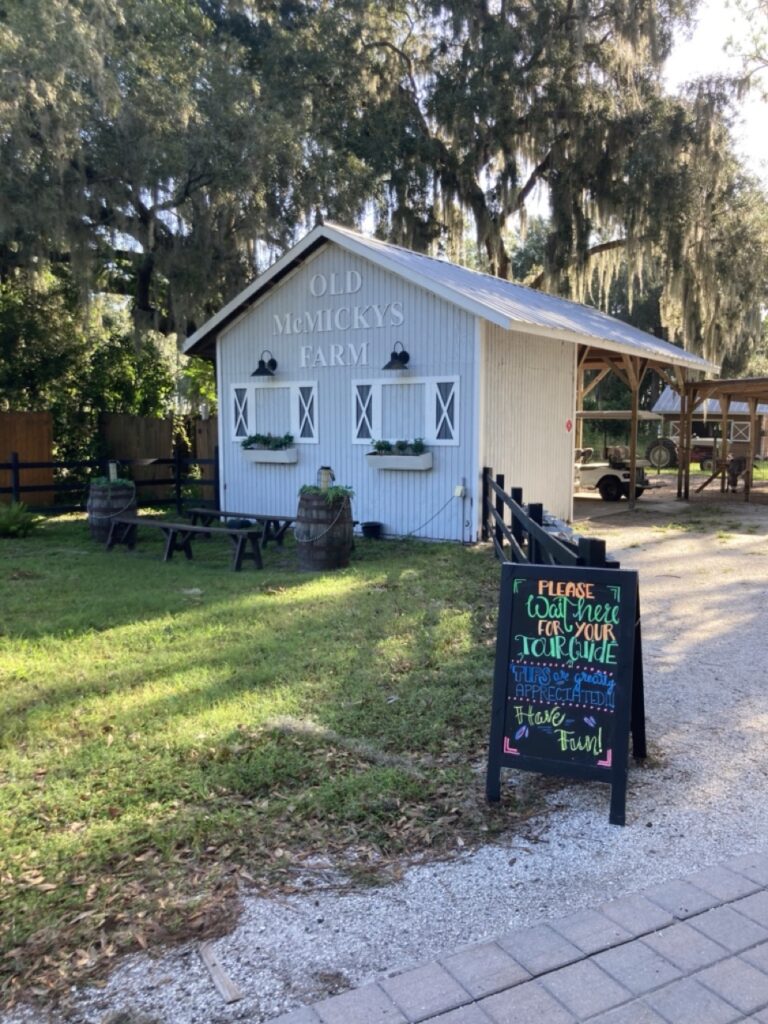 Old McMicky's Farm Overview
Old McMicky's Farm offers an educational farm tour with a petting zoo, pony ride and hayride. We think there are better options in the area though, especially with younger kids.
What is Old McMicky's Farm?
Old McMicky's is an educational farm that is open for family visits from Thursday-Sunday. You are guided on a tour through the farm and get the opportunity to hold chickens, brush goats, ride a pony and go on a hayride.
Old McMicky's Farm Features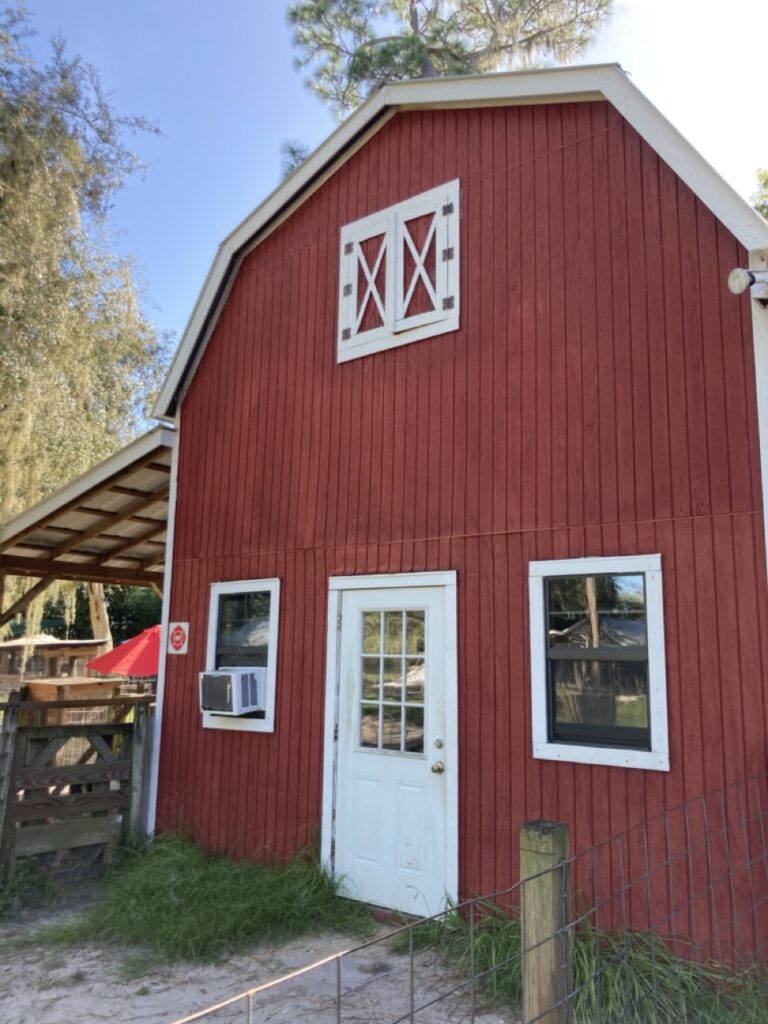 Educational Tour
Old McMicky's Farm is set up as a tour-only experience. You are with a tour guide through a 1.5-2 hour tour of the farm animals.
On the tour, the guide shares with you information about both the animals and the farm history.
On our tour, we got to:
Hold chickens
Pet a cow, pig, bunny and donkey
Brush donkeys
Ride a pony
Go on a hayride
Explore a (small) barn maze and slide, but only once per kid
See a tortoise, wandering turkeys, and baby pigs
On the website and their t-shirts, they advertise milking a cow but that was not part of our tour.
While our tour guide was great, the tour format was definitely a challenge for our 3-year-old. Our 1-year-old did a little better but didn't really get the educational piece.
I'd recommend this style activity for kids who the personality or maturity to really appreciate the tour format.
Petting Zoo
The highlight of Old McMicky's Farm is getting to interact with many different animals.
Our 1-year-old was delighted to get to hold a chicken and the tour guide was very helpful in facilitating that by finding the smallest and chillest chicken for her.
As we walked around the farm, we were escorted by a huge turkey that our 3-year-old was really into. And we got to pet nearly all the animals on property.
However, we were hoping to milk a cow when we went which was advertised on their website and on their staff t-shirts. The tour guide only mentioned in passing that they no longer had a dairy cow.
The opportunity to milk a cow I think was a big differentiator for Old McMicky's over neighboring farms like HorsePower and was a big reason we went to visit. Our 1-year is a milk fiend and we were hoping milking a cow may help cure her of her addiction.
If this is a key part for you too, I'd recommend calling to inquire before going.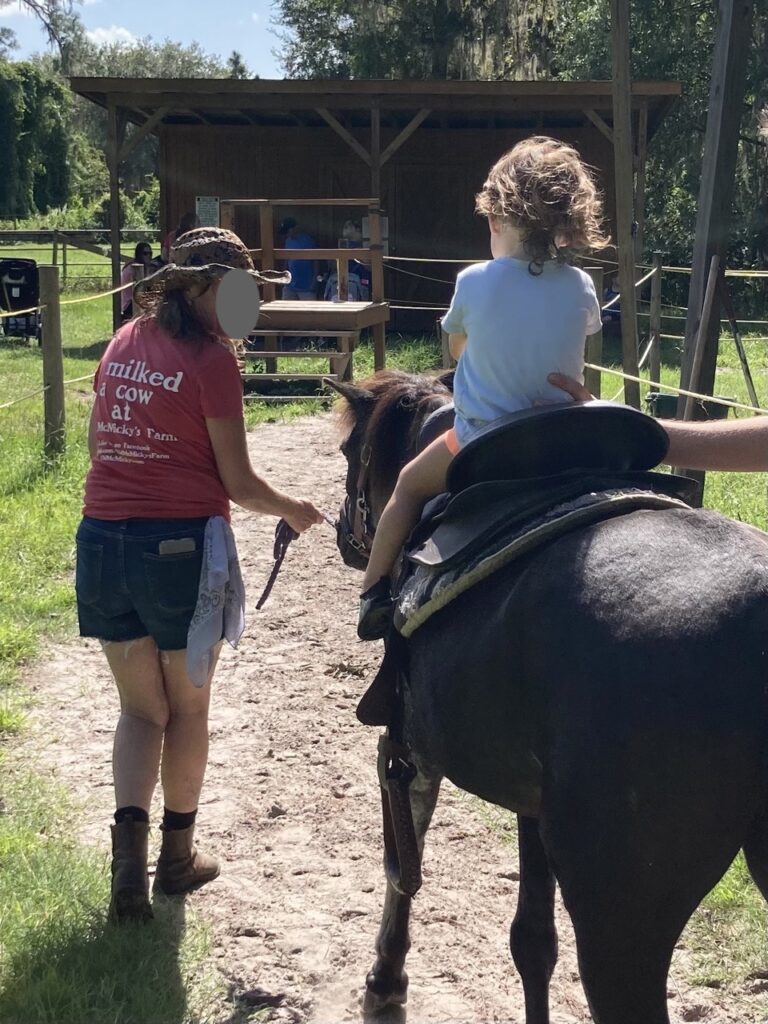 Pony Ride
Every kid on the tour is given the opportunity to ride one of Old McMicky's ponies. This seemed to be a highlight for many of the kids on our tour.
I appreciate that Old McMicky's farm includes the pony ride as part of the admission. Other farms we've visited charge extra to add a pony ride.
That said, I was very disappointed that there weren't helmets available for the kids to wear while riding.
The United States Pony Clubs make helmets a requirement at all their events because of the safety risks of horseback riding. You can read a lot of scary horseback riding head injury stats on this University of Connecticut page.
They had a parent walk along side the pony, who trotted along slowly. But, ponies are still their own animals and unpredictable so helmets should be a given.
Hayride
During the tour, you get the opportunity for a "hayride." For us, this was a tractor pulling a trailer with seats through a field with a couple cows.
Our 3-year-old absolutely loved the hayride but there wasn't much to see as it went around.
If your kid is into vehicles, this will be highlight. For others, it'll likely be only fine.
Pros of Old McMicky's Farm
Here are the pros of visiting Old McMicky's Farm:
Staff: The staff members were friendly, funny and shared a lot of history of the farm. They added a lot to the experience compared to simply walking a farm independently
Educational: The farm visit is a tour so you'll learn information about the animals and the farm at each stop.
Pony ride included: The pony ride is included in the price of admission. At most of the farms we've visited, the pony rides are an additional cost.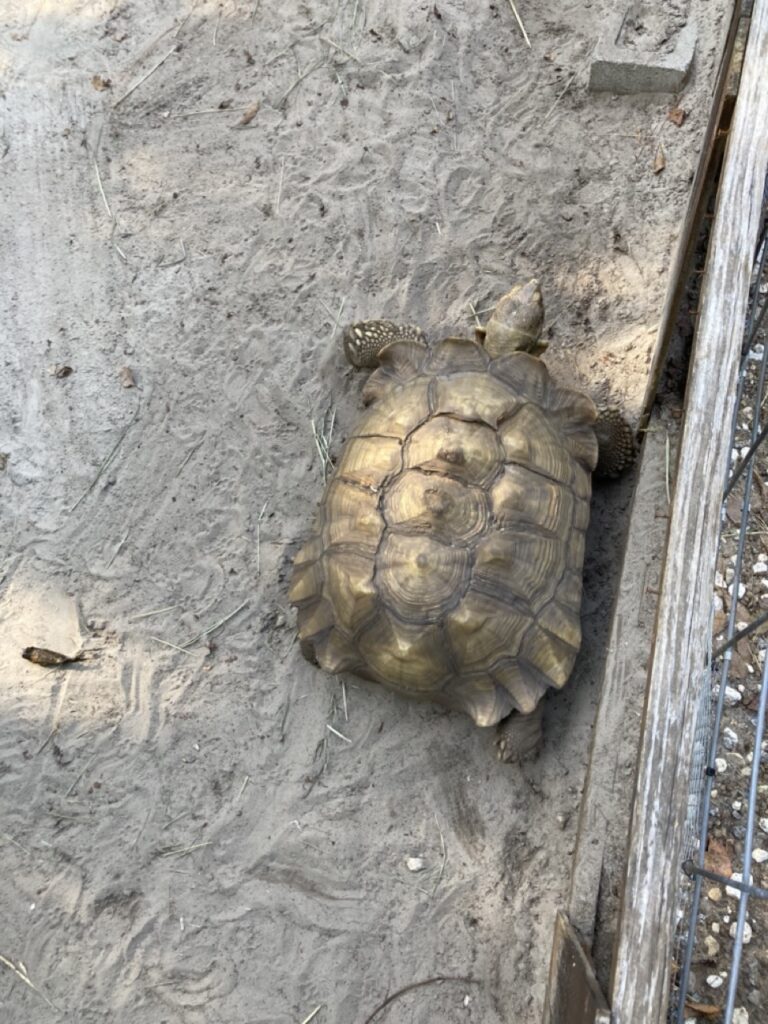 Cons of Old McMicky's Farm
Here are the things we didn't love about Old McMicky's Farm:
Staying with the tour: It was tough for the littlest kids to stay with the tour group and not run around the open space or to the next animal
No milking cows: The thing we were most excited about was milking cows, which is still advertised on their website and shirts, but they didn't have a dairy cow while we were there.
No helmets for pony ride: I was very disappointed helmets were not available for the pony ride. Horseback riding carries a high risk of head injury and helmets are required by the U.S. Pony Clubs (source).
Cost: I found the cost was a little high for what you got compared to HorsePower which is similarly priced but has a lot more to do
Tour size: They kept adding more and more people to our tour group throughout our entire tour so it felt large and sometimes hard to hear
Our Experience at Old McMicky's Farm
We had an okay time at Old McMicky's Farm. The staff was great — funny, knowledgeable and friendly; but, our overall visit was only okay.
You stay as part of a tour throughout your visit to Old McMicky's farm. We got there when the farm opened and started a tour with one other family.
As our visit progressed, more and more families joined our group. The tours go in a circle so you'll continue until whatever point you first joined the tour.
This is good for minimizing your wait times for tours to start. But, it seemed a little awkward if you jumped in in the middle of an experience like brushing donkeys after the instructions were already given.
Since we had to stay with the tour, it also felt like we had to wrangle our toddlers more so they stayed with the group without causing disturbances.
The tour structure was a little tougher too when our 3-year-old didn't want to go in with the chickens or wanted to running around a little.
Observing the other kids on our group, ours weren't the only toddlers that sometimes had issue with being in a tour structure. One family even had to dip out early.
Overall, I think Old McMicky's Farm is better suited for elementary aged kids who can better appreciate the educational aspect of the tour.
Tips for Visiting Old McMicky's Farm
Here are a few tips to know before heading out to Old McMicky's Farm:
Tips Welcome: There is a sign at the entrance that tips for tour guides are welcome (shown in the picture below). We didn't bring cash so this would have been good to know in advance.
Hand Washing Station: We almost missed the hand washing station at the fence by the main gate since it is child level. Thankfully, a staff member stopped us and pointed it out.
Snack Time Limitations: Your kids can only eat snacks in a few areas because of the roaming turkeys on the property. I wish we would have given them a snack before we went in.
Bring a stroller: You're on your feet for most of the tour so you'll probably want a stroller for younger kids.
Call about cow milking: Their website and their staff t-shirts all mention getting to milk a cow but it wasn't part of our tour. Call to verify if cow milking is included if it is an important part for you (I wish we would have known before since it was the main reason we went).
BYO-Helmet: If you feel as strongly as I do about helmets, you'll want to pack your own for the pony ride
Old McMicky's Farm Alternatives
There are a few alternatives near Old McMicky's Farm. Our favorite alternative is HorsePower.
HorsePower for Kids: HorsePower is a horse sanctuary and petting zoo located about 25 minutes south of Old McMicky's. They have discount $5 tickets on the first Thursday of the month.
Raprager Farm: Raprager Farm is located about 15 minutes away from Old McMicky's Farm. They have more activities than Old McMicky's and holiday festivals, but they close for a few months in the summer.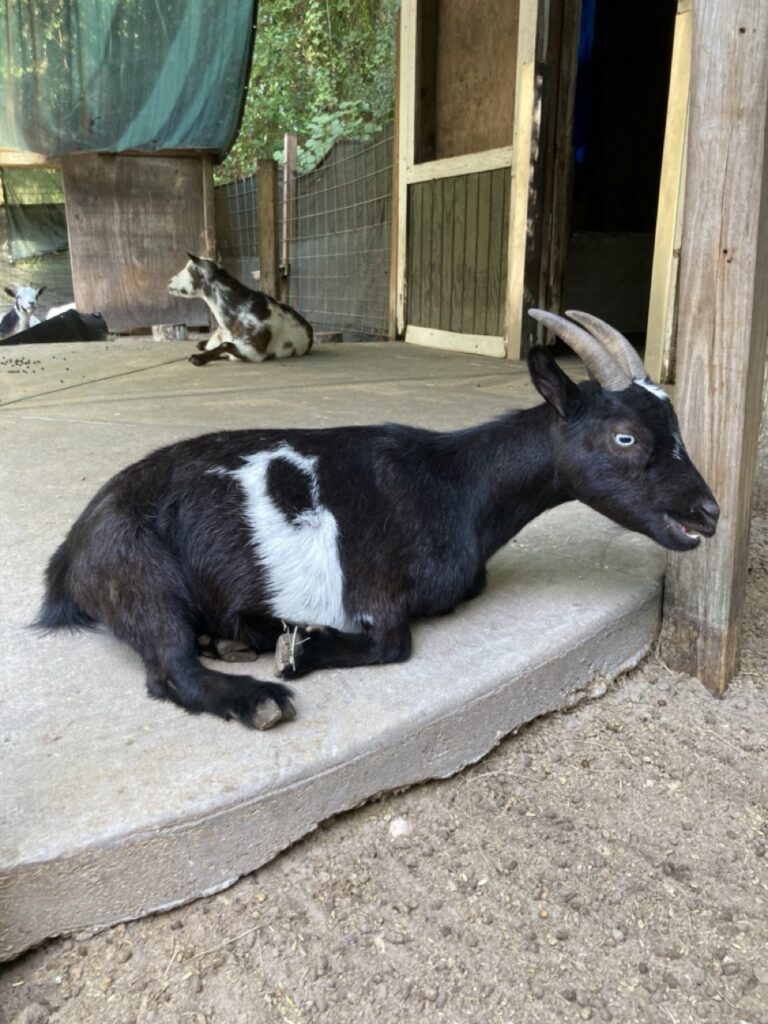 FAQs About Old McMicky's Farm
Is Old McMicky's Farm stroller-friendly?
Yes, Old McMicky's Farm is stroller-friendly. You're walking and standing for nearly all of the ~2-hour tour so you'll want a stroller if your child is younger. The ground is grass and flat dirt paths so fine to navigate with a stroller.
Is there food available at Old McMicky's Farm?
No, we did not see any food for sale at the farm.
Can you bring your own food to Old McMicky's Farm?
Yes and no. You can bring your own snacks into the farm but you are only able to eat them in certain areas of the tour. There are turkeys that roam the farm that are very food motivated so they'll try to get the food from you. Our tour guide strongly recommended not giving our kid snacks until the pony area or the hayride.
Is Old McMicky's Farm Good for All Ages?
While all ages are welcome at Old McMicky's farm, we don't think it's the best fit for the smallest kids. You have to stay with the tour the entire time and that seemed to be a challenge for not only our kids but many other toddlers in our group. We also think bigger kids are better able to appreciate the educational part of the tour.
How long should you plan to spend at Old McMicky's Farm
The farm says tours last approximately 1.5-2 hours. I'd say to budget 2.5 hours. Our tour lasted slightly over 2 hours, and you may have to wait briefly to join a tour.
Is parking free?
Yes, there is free parking on the property. There are signs for the parking you'll want to follow. Be warned that your GPS may lead you to the drop off lot instead of the actual parking lot.
Final Thoughts: Is Old McMicky's Farm Worth It?
Overall, Old McMicky's Farm is only okay for the price. It cost of almost $50 for our family (thankfully our 1-year old was free), which felt pricy since it wasn't a great fit for toddlers.
Personally, I'd 100% rather go to HorsePower than Old McMicky's Farm for the price. HorsePower has way more to do and more flexibility to run around for younger kids (plus they have a $5 ticket day once a month).
Old McMicky's Farm will be more worthwhile if your kids have the personality and age to appreciate the tour guide and education piece. I learned a lot more at Old McMicky's Farm but our kids were just too young for it.
That said, I think older kids would probably still have more fun at HorsePower with its trains, multiple playgrounds, and unrestricted time with the animals.
Read More:
Need to cool off after your farm visit? The Oldsmar Splash Pad is only about 20 minutes away on the way back towards the Clearwater area from Old McMicky's farm.