Local's Guide to ZooTampa at Lowry Park
What you need to know before visiting ZooTampa
Looking to check out the best zoo near the St.Pete-Clearwater area? ZooTampa is an awesome place to visit for families.
As zoo members and locals, we've been to ZooTampa a lot. Not only do we regularly take our kids (ages 1-7), but we both have been going to the Tampa zoo since we were kids.
We both grew up with zoo memberships to what was then called Lowry Park Zoo before it rebranded as ZooTampa at Lowry Park.
We specializes in helping families find all the best things to do around the St. Pete-Clearwater area. Since ZooTampa is big, our goal with this guide is to help you make the most out of your visit.
Below you'll find our ZooTampa review and 9 local tips to help you plan your zoo trip. We go over logistical issues like parking and stroller-accessibility too.
So, whether you're a local or a visitor, we're here to help you have the best time at Tampa's zoo.
Let's explore!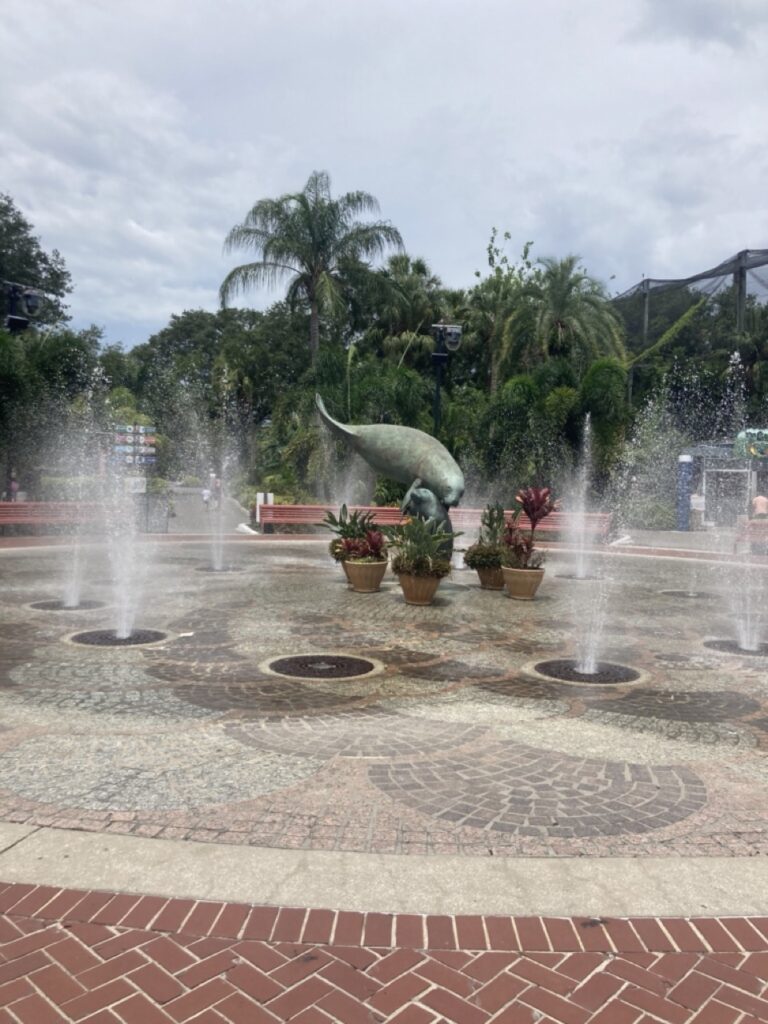 ZooTampa Highlights
Our favorite features of the zoo are:
Epic manatee exhibit
Free rides for kids of all ages
Two splash pads to cool off
Diverse animals
Fun special events
Ways to Save Money on ZooTampa Admission
ZooTampa isn't cheap so before we dive into what you need to know before visiting, we want to highlight a few ways to save money on your visit.
We've included money saving ideas for both visitors and locals.
Buy tickets online
The easiest way to save money on ZooTampa tickets is to buy your ticket online before you arrive.
Tickets bought online are $3 cheaper per ticket than buying them on site.
Visit with CityPass
If you are a visitor or doing a staycation, CityPass is the best way to hit five Tampa Bay kid-friendly attractions for about 54% off regular ticket price.
With CityPass, you have a 9-days to visit:
And the choice of two of the following:
MOSI: Museum of Science and Industry (a personal favorite when I was a kid)
Glazer Children's Museum
Clearwater Marine Aquarium (here's our review of the Clearwater Marine Aquarium)
Boat Tour (Dolphin or Sunset-themed)
Get a 'Pay for a Day' ticket in Oct-Dec
ZooTampa tickets are expensive for a single visit but each ticket comes with the benefit of unlimited visits back to the zoo for the rest of the year.
They call these tickets 'Pay for a Day' and they grant you entry until the end of the year, except for a few blackout weeks around Spring Break, Thanksgiving and Christmas. You are also able to visit for their holiday events which is an awesome bonus.
The best way to save money on ZooTampa is being strategic about when you buy your 'Pay for a Day' ticket.
You'll get so much more bang for your buck buying a ticket in January than you will in September.
In years past, if you buying in Oct-Dec. you can return to the zoo all the way through the following year. So buying a ticket on October 1, 2022 gave you free return visits until December 31, 2023!
Try the Zoo + Aquarium Joint ticket
If you're visiting and don't want to do the full CityPass, you could also consider a ZooAquarium ticket.
A ZooAquarium ticket gives you admission to both ZooTampa and the Florida Aquarium within a 7-day period for about 15% off regular admission.
If you're a local, we'd recommend ZooTampa's 'Pay for a Day' ticket over this option. It is only a little more to get the regular ticket and then you can return all year and visit their cool holiday events at Halloween and Christmas.
Take advantage of memberships or your reciprocal membership
Some people may want to consider the ZooTampa membership to save money on admission.
For example, the ZooTampa membership may be a more cost effective option for bigger families. Families who want to bring guests like grandparents or child care providers also will save with a membership.
For smaller families, 'pay for the day' and return all year tickets will likely be cheaper. As discussed above, if you're visiting in October or November, the 'pay for the day' ticket will also give you a longer period of time to visit the zoo than a membership.
ZooTampa memberships may also make sense if you plan to visit zoo or aquariums that participate in reciprocal membership discounts. You can find the list of reciprocal members here.
Already a member of a different aquarium or zoo? Use your reciprocal benefit to save you a lot of money when visiting ZooTampa.
10 Best Tips For Visiting ZooTampa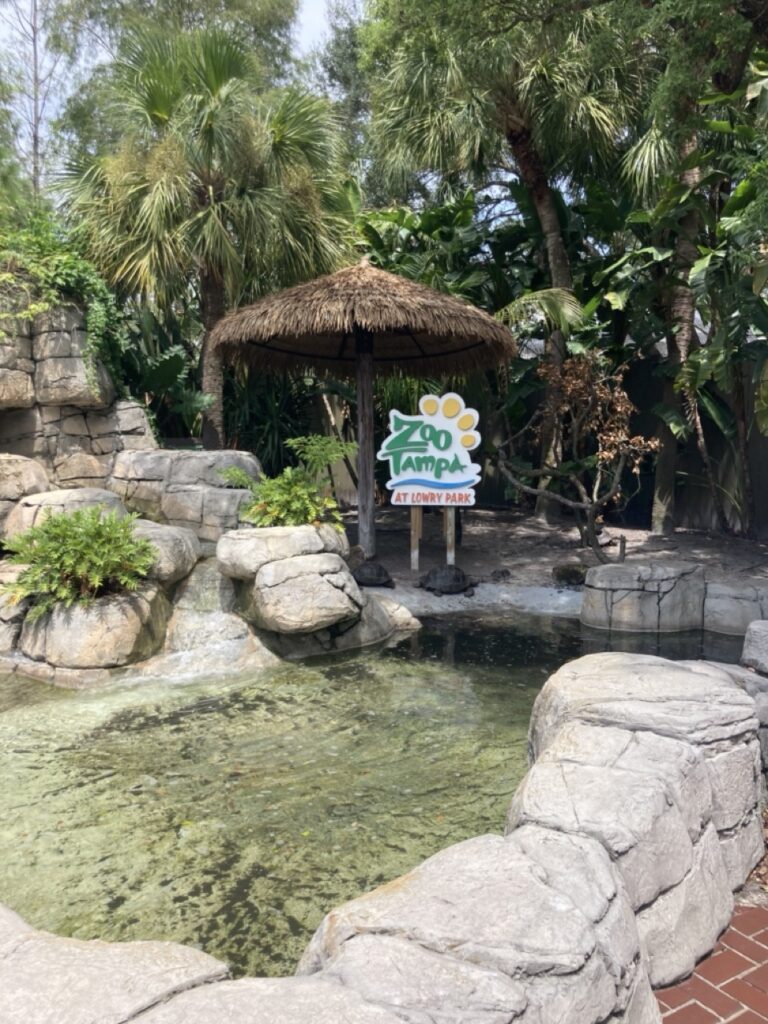 1. Watch Secrets of the Zoo: Tampa before your visit
National Geographic made a reality tv show at ZooTampa, following the zoo team as they take care of the animal residents.
You can watch the show on Disney+ and it is a great way to get excited before your visit.
The show is called Secrets of the Zoo: Tampa and it has four seasons to watch.
2. Bring your stroller
The zoo is very stroller friendly, with smooth and wide paths throughout the zoo. There is easy stroller parking spots next to all the rides too.
ZooTampa is a lot of walking and smaller kids will likely need a break from walking during their visit.
With a 1-year old and 3-year old, there was no way we could have fully enjoyed the zoo without our double stroller. If you think there's even a chance your kid may get tired walking, we definitely recommend a stroller.
The only part I found slightly tricky to navigate with the stroller was trying to get close to the windows at the manatee exhibit. My kids were being lazy though and you'd have no problem tucking a stroller up by a wall and walking up to the windows.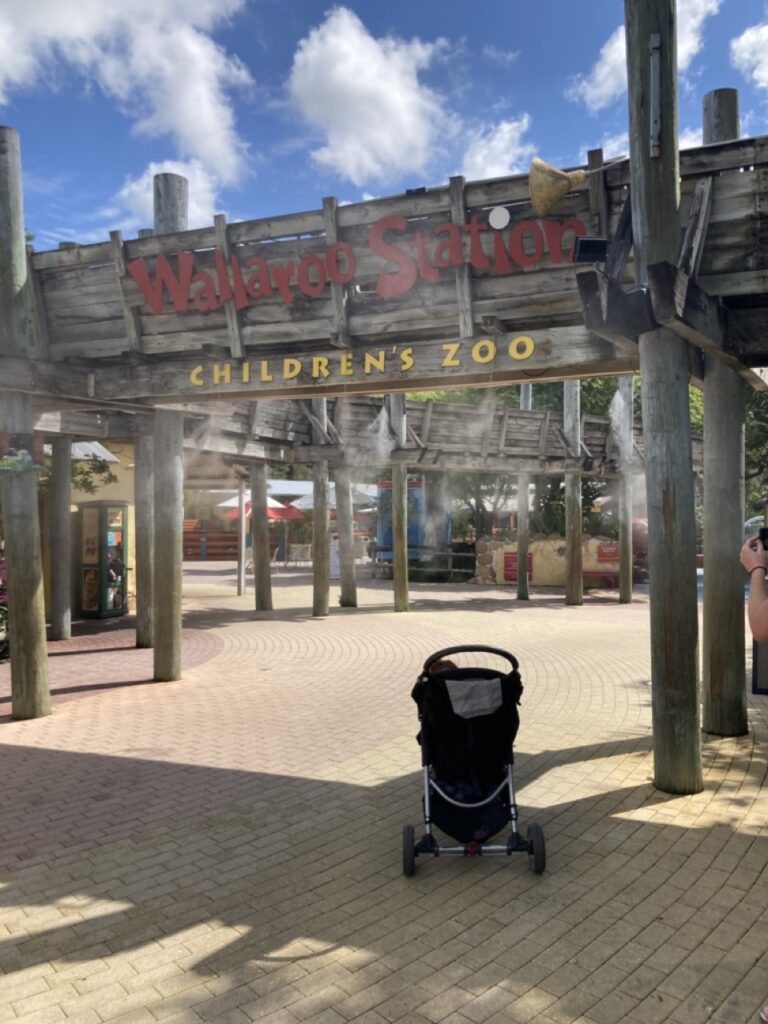 3. Pack swim suits
Some of my most vivid memories of visiting Lowry Park Zoo as a kid myself are playing in the manatee fountains at the end of the day.
There's really nothing better than cooling off in the water after walking around all day. Which ZooTampa clearly understands because they've added a second fun splash pad area for kids in Wallaroo Station.
Plan ahead for the splash pads and remember to pack swim suits or at least dry clothes so you don't have soaking wet kids in your car.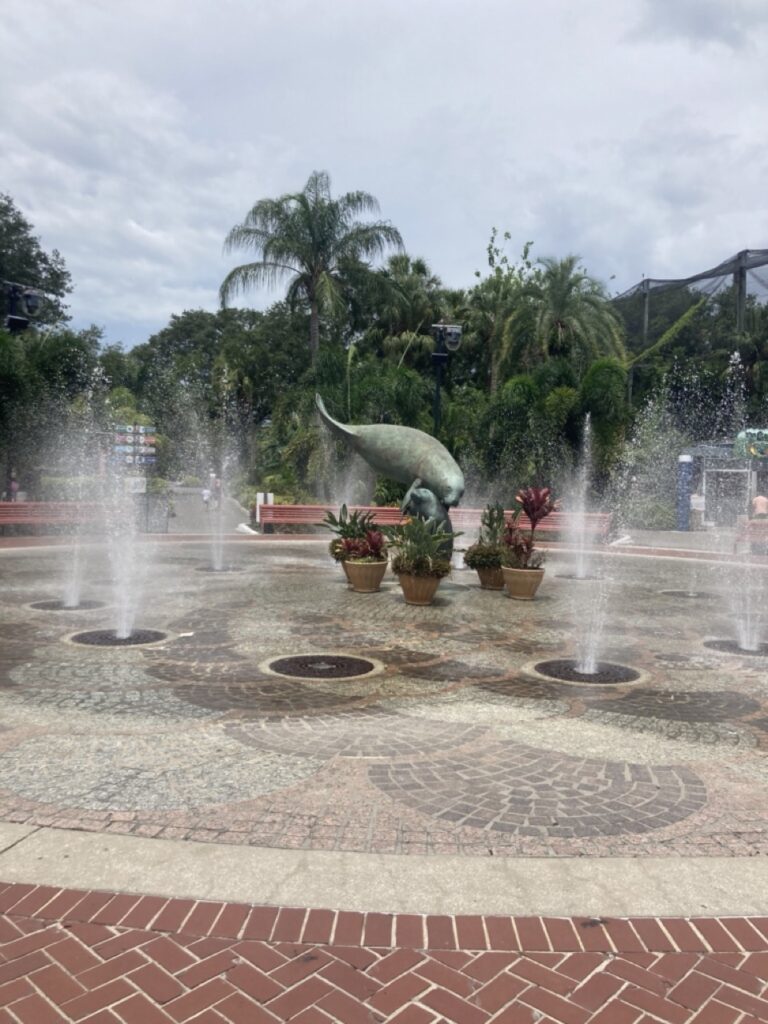 4. BYO-Snacks
ZooTampa allows snacks for kids to be brought into the zoo. This is a great way to save money and also save time during your visit.
We've regularly brought in enough food for full lunches without any issue too, even though the official rules frown on this.
We like bringing our snacks because:
Save money
You can sit in front of your favorite animal's exhibit while you eat (we personally like doing this in the Africa section)
You don't have to backtrack to find a food stall when your kid randomly demands a snack
On less busy days, some food stalls may not be open. We experienced this on our last visit (though that may have been because of an approaching hurricane).
That said, there are food options scattered throughout the zoo if you don't want to deal with packing your own food.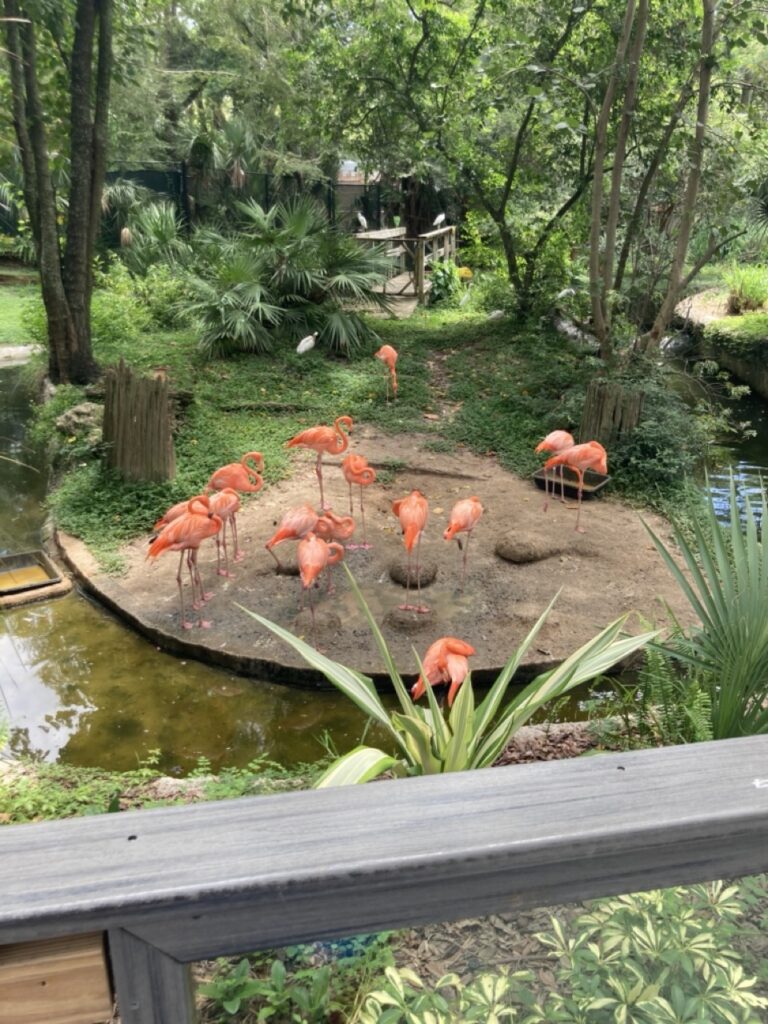 5. Arrive early to "beat the heat"
Arrive when the zoo first opens to enjoy (slightly) cooler temperatures.
If you can cover most of the zoo before the worst heat of the day, you'll be ready to hit the splash pads as the hottest part of the day rolls around.
Let's be real, during Florida summer its always pretty hot but things will be more bearable earlier in the day.
At the zoo, the heat also factors into the animals activity. More animals will be hiding out from the heat or less active when its really really hot.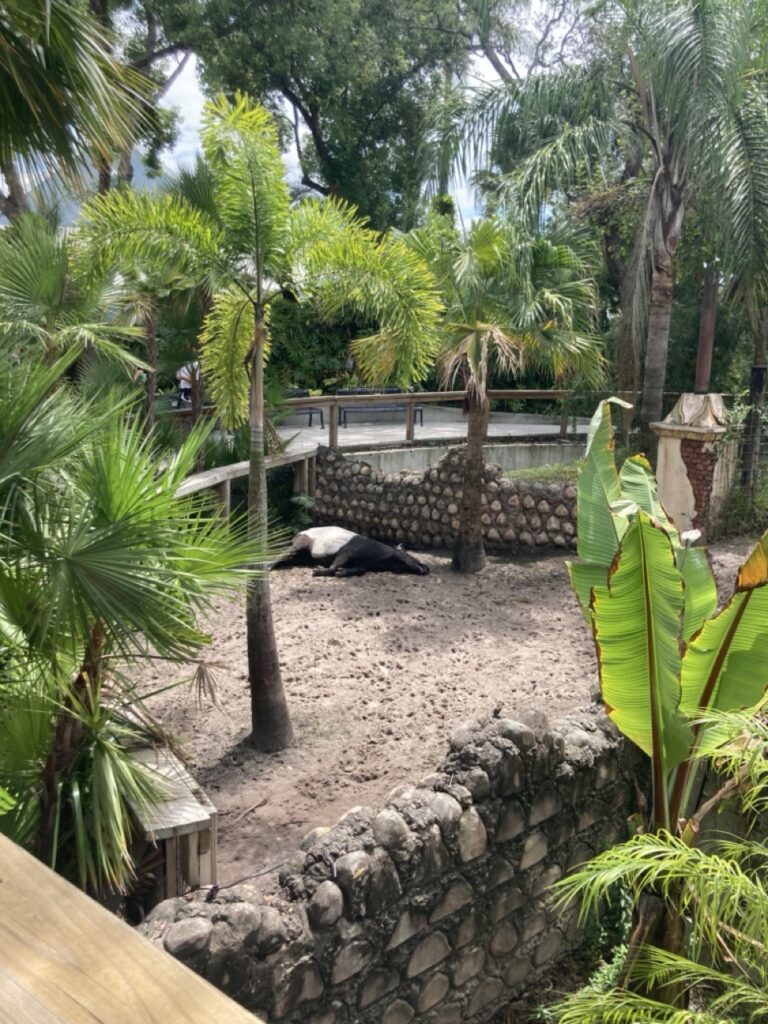 6. Sit on the driver's side on Expedition Wild Africa Safari
Expedition Wild Life Africa Safari is a unique experience at ZooTampa. You ride on expedition trucks to on a backstage adventure around the Africa section of the zoo.
First, you'll want to head to the Safari ride as soon as possible after it opens at 10am to enjoy shorter wait times. The line will get longer as it gets to midday and more people arrive to the zoo.
For the best views of the animals while on safari, try to grab the driver's side seats if possible and put your child at the window.
The driver's side gets much better views of the rhinos, giraffes and elephants. The passenger side gets the male elephants closer but if they aren't by the fence you're less likely to get cool close up views.
TIP: You'll want to budget time for the safari experience. On our last visit, there was no line but we still spent about 30 minutes in total between waiting for the next truck, watching the safety video, riding the ride, and disembarking.
7. Don't miss the manatees
The manatee exhibit is really a special feature of the Tampa zoo.
You won't even see manatees like this even at our local aquariums (though Clearwater Marine Aquarium just broke ground on a manatee rehab center).
Visiting the manatees definitely leaves a lasting impression — I remember so distinctly the manatees at Lowry Park Zoo from my childhood. I even got to do one of the "sleep with the manatee" field trips once.
The manatee exhibit is very tranquil and serene. If you can catch the manatees at a feeding time, it's even better.
Plus, in the manatee house you'll find a lot of other cool Florida reptiles and sea-life, like adorable tiny seahorses and less-adorable big snakes.
8. Get up close & personal with the animals
ZooTampa offers a lot of cool ways to interact with the animals.
First, you can catch some of their educational talks or experiences that happen throughout the day. You can find the schedule here.
It's worth reviewing the schedule before your trip so you are aware of times. On our last visit, we just missed the macaw flyover by seconds and we definitely could have made it if the time had been on our radar in advance.
Second, you can interact and feed animals throughout the zoo.
There is a petting zoo in Wallaroo Station, with the option to feed the goats.
You can also feed the lorikeet birds nectar near the primate and Asia sections, though the feeding is only available at certain times of the day.
The zoo also sometimes has stingray touch tanks open. However, this closed for a period after stingrays mysteriously died (source). The exhibit has since re-opened with improvements but was closed again on our last visit for renovations around the area.
Finally, there are a number of paid experiences where you can get behind the scenes tours and interact with some of the zoos most beloved animals like giraffes, penguins and koalas.
9. Enjoy the free rides
All the rides at ZooTampa are free and included in your general admission admission ticket.
This is such a nice feature that I haven't found at many of the other zoos we've visited.
We love being able to let our kids ride the carousel and flying bananas as much as they want, without having to think about buying tickets.
There is also a new water flume ride that adults will appreciate too. You may want to save this until later in the day to cool off.
10. Holiday special events are worth it
The zoo puts on cool holiday events throughout the year.
At Halloween, they have "spooky" evening zoo nights called Creatures of the Night. We visited at the end of August and the Halloween decorations could already be seen throughout the zoo.
Check out our review of ZooTampa's Creatures of the Night event!
For Christmas, they deck the zoo halls with a light spectacular that you can visit at night.
We think these festive events are a lot of fun and definitely worth visiting. Plus, you get free admission to the holiday events even with "Pay for a Day" tickets!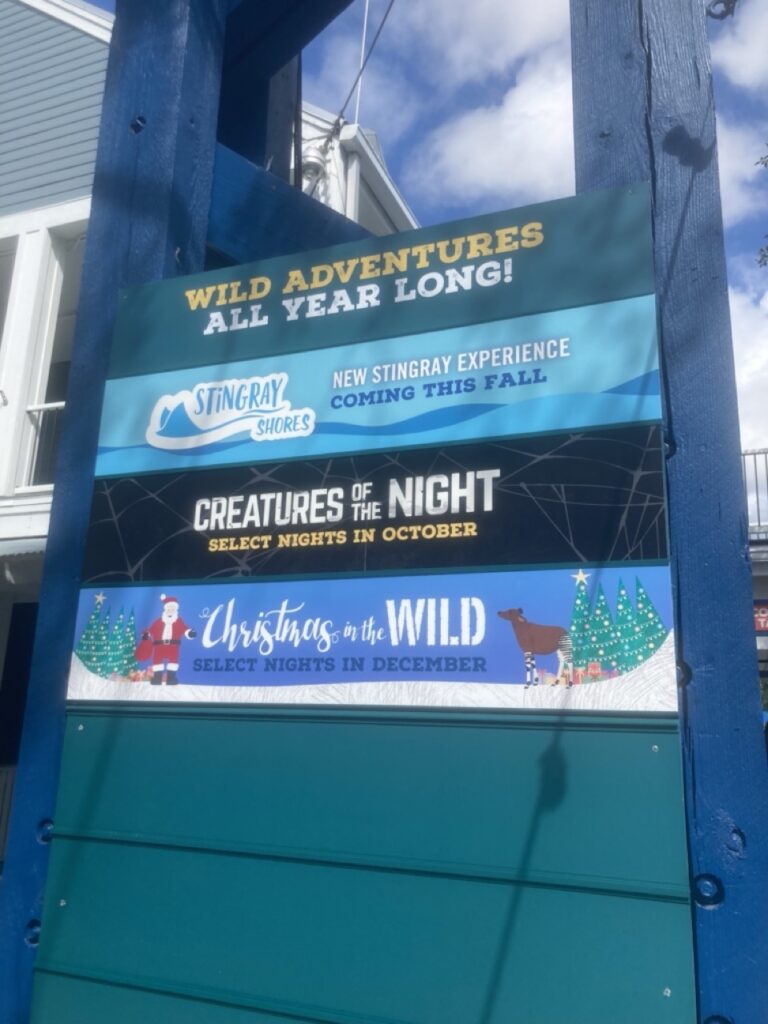 Pros of ZooTampa
ZooTampa is awesome and has a lot of pros. We've covered a lot of them above, but here is a TLDR list:
Pay for a Day, Return for a Year ticket: There is so much to do at the zoo that repeat visits are a big benefit
Animal diversity: ZooTampa has lots of cool animals to see and interactive petting zoo opportunities
Manatees: The manatee rescue is a very unique experience that you won't find elsewhere in the Tampa area.
Rides: The rides are a cool added feature at the Tampa zoo that our kids love. Plus, they're free with admission unlike other zoos I've visited.
Splash pads: A splash pad is always a welcome feature for an outside Florida attraction.
Free parking: I appreciate any place that doesn't hit you with an added cot for parking after already charing you so much for entry.
Cons of ZooTampa
We don't see too many cons to visiting ZooTampa.
If you only plan to visit once, the cost is the biggest negative about ZooTampa. The tickets are very expensive for only one visit and is like cost-prohibitive for some folks.
The other negative about visiting ZooTampa is a con for any outdoor Florida activity — it's probably going to be really hot and humid.
While that weather is expected when you're in Florida, at the zoo the heat can impact the animal action you see. When we went in August, we saw a lot of animals taking naps tucked away in the shade. And honestly, who could blame them?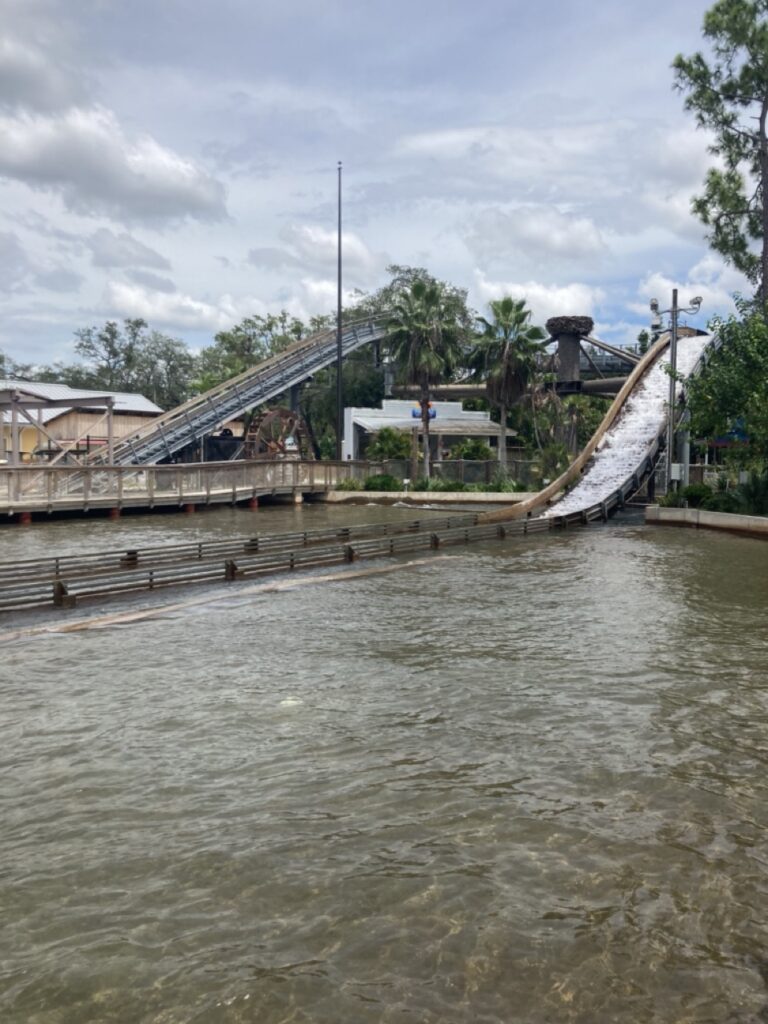 Scavenger Hunts of ZooTampa
Looking to make ZooTampa even more fun for your kids? Don't miss out on our scavenger hunts that we've made for different areas in the zoo.
Want to get in on the fun? Sign up for our mailing list and you'll get access to all our ZooTampa scavenger hunts (plus lots more scavenger hunts for parks and attractions around Tampa Baby!).
Our mailing list is also a great way to stay up to date on fun things happening around St. Pete-Clearwater for families.
ZooTampa Alternatives
You aren't going to find another zoo of ZooTampa's scale around the Tampa Bay area.
For visiting other animals, you could visit:
HorsePower for Kids: HorsePower is an animal sanctuary and petting zoo. It is more farm-style than zoo style but there are lots of opportunities to interact with animals
Old McMicky's Farm: Old McMicky's Farm has been in operation for over 70 years and we have fond memories of visiting on childhood field trips. Families can enjoy guided farm tours for $15 per person.
Or check out our local aquariums:
Florida Aquarium: Florida Aquarium is the premiere aquarium in Florida. It's located about 12-minutes away from ZooTampa
Clearwater Marine Aquarium: Clearwater Marine Aquarium was made famous by the movie Dolphin Tales. CMA is a conservation and rescue-focused aquarium.
FAQs About ZooTampa
Is ZooTampa stroller-friendly?
Yes, ZooTampa is very stroller-friendly. If your kids are remotely stroller-aged, I'd definitely recommend bringing a stroller. The paths are smooth and wide, so it is easy to navigate. It is a long day and a lot of walking so the stroller really helps.
Is parking free at ZooTampa?
Yes! All parking is free at ZooTampa. Members get priority parking closer to the entrance but even the standard parking is only a quick walk away.
Can you bring in food or drinks into the zoo?
The official zoo policy is that you may bring in snacks for small children & babies, non-glass water bottles, and one soft cooler bags that are 8.5" x 6" x 6" or smaller per kid. No alcohol, glass or prepared meals permitted.
In practice, we've never been stopped for food when we've visited. Last time I brought a soft cooler that was probably a little over 12" without issue. That said, we go with small children and you never know who will do your bag check, so your mileage may vary.
Can you touch any animals at ZooTampa?
Yes, there is a petting zoo and stingray touch tank at ZooTampa. You'll find the petting in the Wallaroo Station area (you can also feed goats here). The stingray touch tank is in the Florida area
How long should you plan to spend at ZooTampa?
For us, ZooTampa could easily be an all-day activity. Between the animals, the rides and the splash pad, there is so much to see and do at Tampa's zoo. On our last visit, we spent a little over 4 hours there and felt like there was a lot still to do.
Final Thoughts: Is ZooTampa Worth It?
If you are a local to Tampa Bay or visit a few times throughout the year, ZooTampa is definitely worth the price of admission.
While the ticket price is high, it gives you free return visits for the rest of the year so you can definitely make the cost worthwhile.
Once you're inside, ZooTampa offers so much to do for kids of all ages. Plus the rides and parking are free.
If you're an out-of-towner, ZooTampa's cost may not be worth it as a standalone ticket. It's a lot for just one day at the zoo. Instead, we'd recommend looking at the CityPass ticket to get the most bang for your buck.
Read More:
Get our best tips for visiting the Florida Aquarium, just 12-minutes away from ZooTampa.