Dive Into the Clearwater Marine Aquarium: Local's Guide
What you need to know before visiting the Clearwater Marine Aquarium
Looking for a memorable family day out in Clearwater? The Clearwater Marine Aquarium (CMA) has been our go-to spot since our own childhood and a favorite now that we are moms.
As locals, we frequently take our kids ranging from ages 1 to 7 to the Clearwater Marine Aquarium. Malena has an annual membership and takes Elizabeth on her guest passes so we have lots of combined experience navigating the aquarium.
Our site specializes in family-friendly activities in the St. Pete-Clearwater area. Our goal is to help families and visitors find great things to do with their kids and make outings as hassle-free as possible for parents.
Below you'll find our Clearwater Marine Aquarium review and 7 tips to help you plan your aquarium visit. We go over logistical issues like parking and stroller-accessibility too.
So, whether you're a local or a visitor, we're here to help you make the most of your aquarium trip.
Let's dive in!
CMA Overview
The Clearwater Marine Aquarium is a local aquarium focused on rescue and education that's a great families with kids. Its manageable size and smaller crowds than the nearby Florida Aquarium make it an easy kid activity in the Clearwater area.
What is the Clearwater Marine Aquarium?
The Clearwater Marine Aquarium is a conservation-focused aquarium located in Clearwater, Florida. It is best known as the home of Winter the dolphin, star of the movie Dolphin Tales, who lost her tail (source).
Thanks for the success of Dolphin Tales, the Clearwater Marine Aquarium has had the funds to grow a lot since I visited as a kid. They opened new and improved spaces in 2020.
The best part of the aquarium is its focus on rescue and education. Unlike some other aquariums, CMA mission is to help rehabilitate sick animals and education people, and this is palpable throughout a visit to the aquarium.
Tips for Visiting the Clearwater Marine Aquarium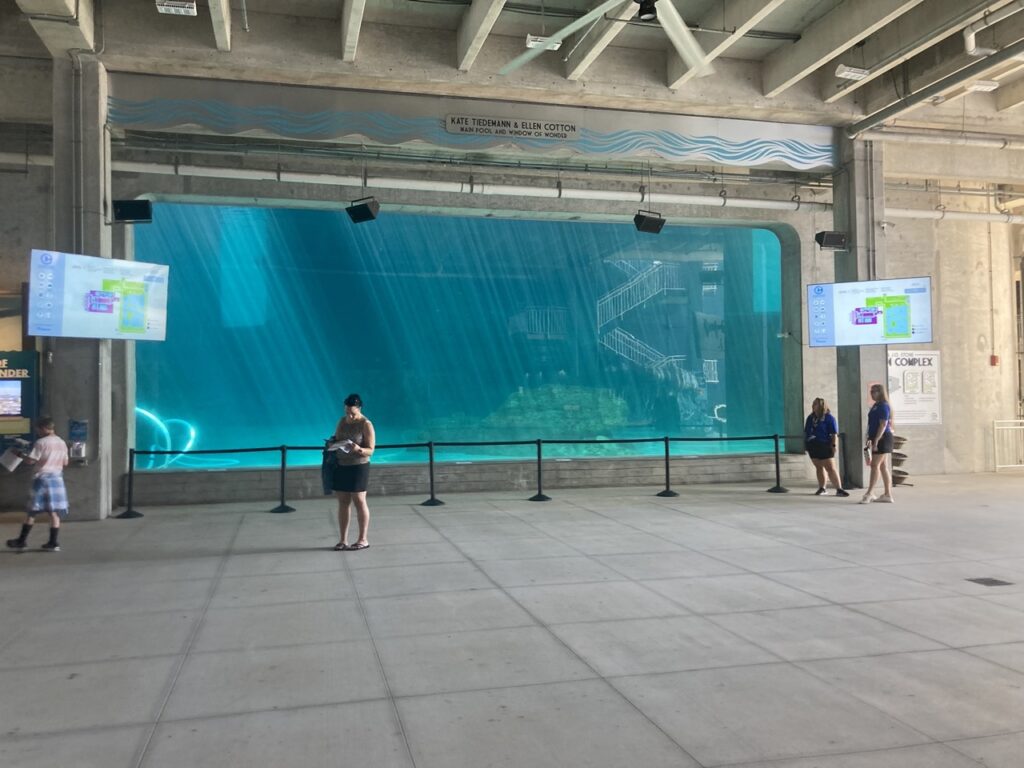 Watch Dolphin Tales before visiting
Clearwater Marine Aquarium got a big boost by the hit movie Dolphin Tales. Dolphin Tales is about Winter the dolphin who lost her tail and is fit with a prosthetic.
If your kids are old enough, watching the movie before you go to the aquarium is a great way to get excited.
Throughout the aquarium you'll find Winter information and memorabilia (Winter passed away in 2021), including one of her tails as pictured below.
My kids are still a little too young to watch a whole movie and they were confused by all the Winter stuff. It would have been a lot easier to answer their questions if they had the reference point of the movie.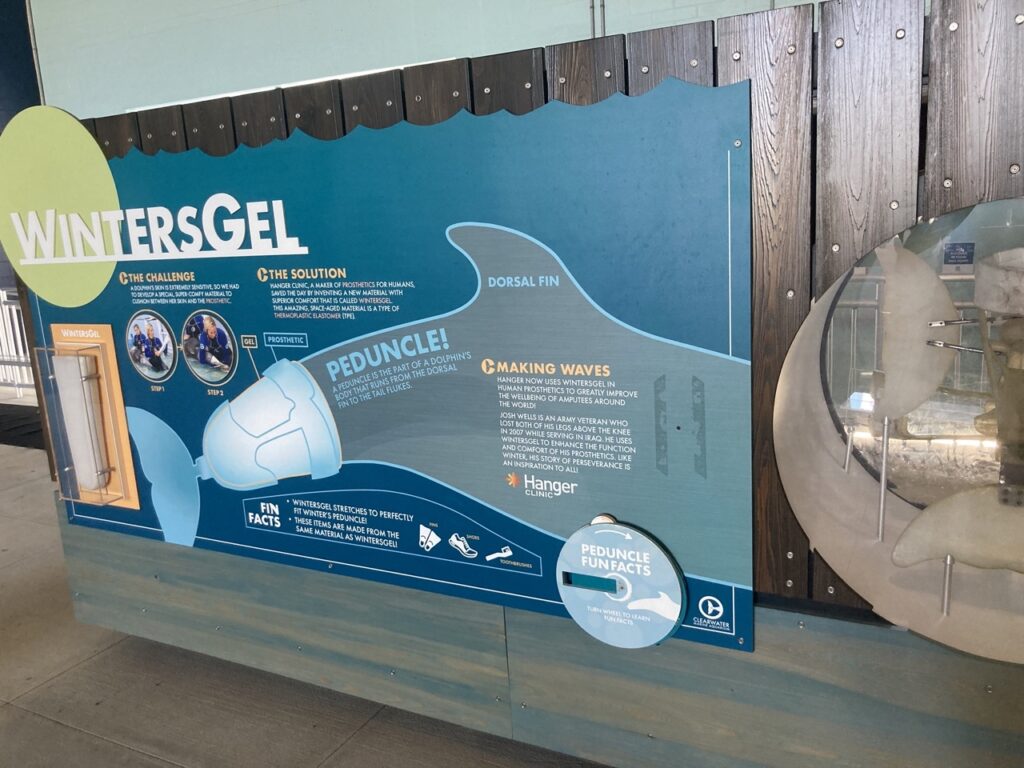 Pack a baby carrier
If you have a little one, I'd recommend bringing a baby carrier (we make a similar recommendation about the Florida aquarium).
You'll be picking you kid up a lot of to look into various tanks and a baby carrier will save your arms.
Also, I found parts of the Clearwater Marine Aquarium tricky to navigate with our double Bob stroller.
With a stroller, you'll have to wait for elevators and there are a few narrow halls. There were also some doors to the elevator that were so heavy I had to have help to be able to open and push the stroller through.
A stroller is doable but you'll be more agile without one if you can manage.
Arrive at opening for less crowds
As with many places, crowds are lighter at the Clearwater Marine Aquarium when it first opens.
We got there early and were able to park right by the door, quickly get through the entrance, and enjoy some peaceful time at the dolphin tanks.
By the time we were leaving after lunch, the parking garage was full and we were seeing big groups of school or camp kids.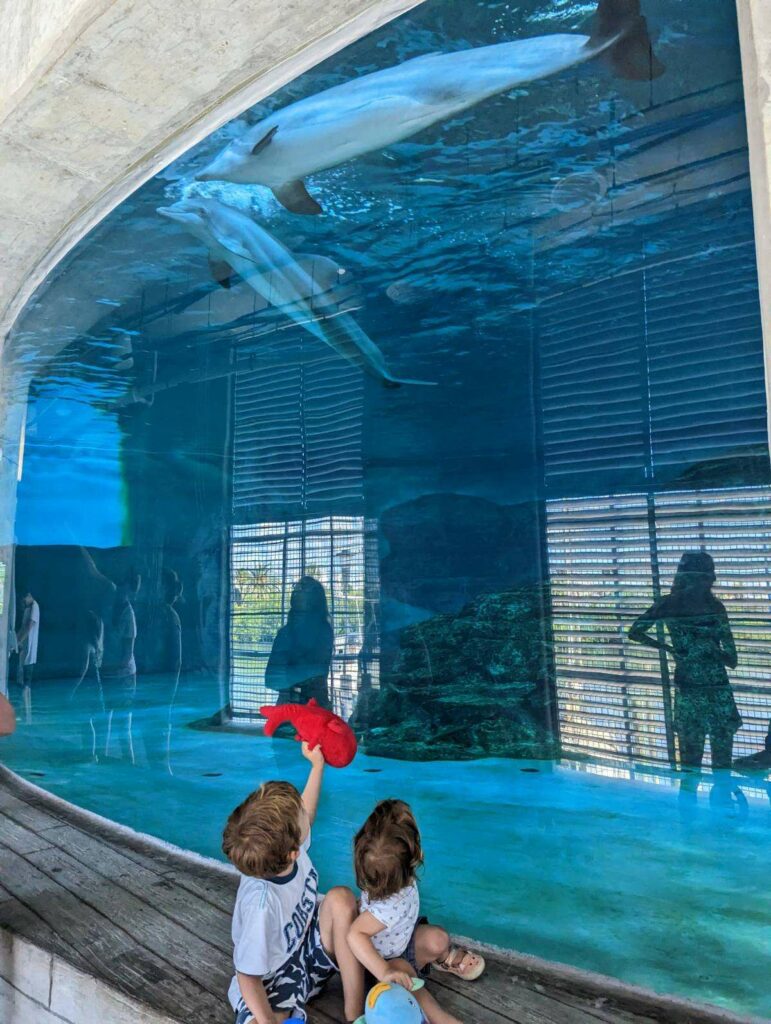 Catch a presentation or feeding
Education is one of the core missions of the Clearwater Marine Aquarium and it shows in their daily programming.
There are multiple education shows and feedings every hour. You can find the current schedule on their visitor information page.
These programs add a lot to the experience of going to the aquarium.
My kids are little for the educational piece but they were still mind-blown by watching the dolphins perform their tricks for the first time.
Visit with City Pass to save money
One way to save money on your admission cost is to visit with City Pass.
City Pass is a week long pass that gives you entrance to five Tampa Bay attractions that are great for kids.
With the pass, you visit:
The pass will save you about 50% off individual admissions.
City Pass is a fun option for when the kids are home for the summer and you want to do a "stay-cation" or for those visiting to Clearwater on vacation.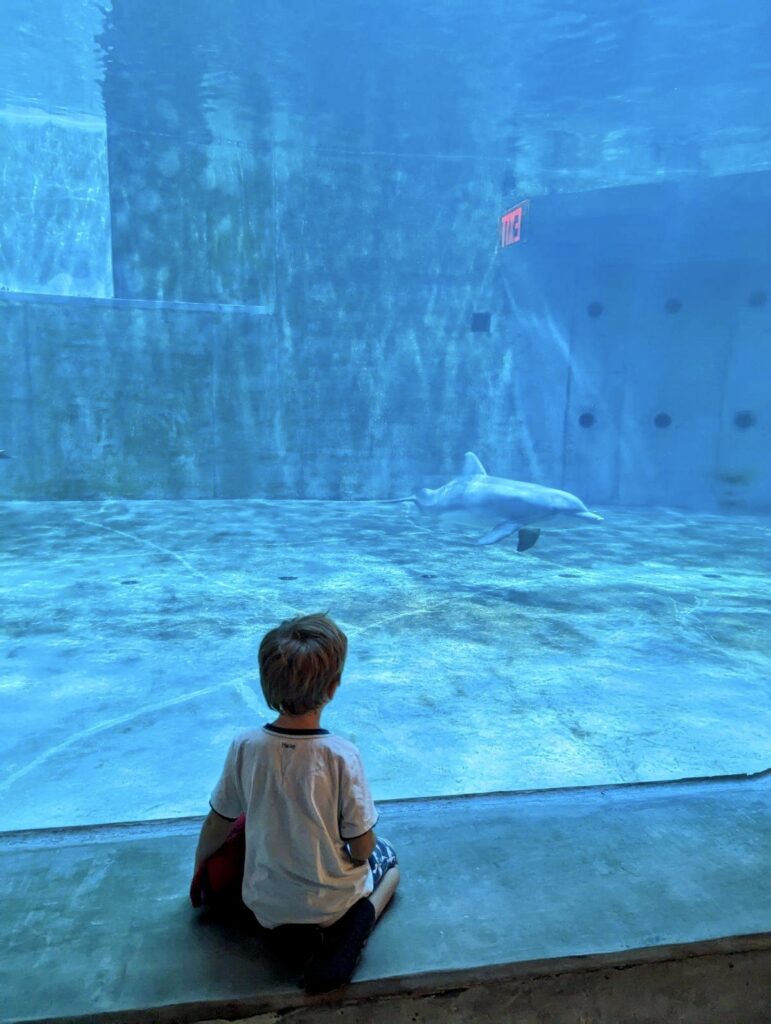 Catch aquarium friends on their live webcams
One way to get pumped before visiting the Clearwater Marine Aquarium is to check out one of their animal live webcams.
They have multiple dolphin webcams, an otter webcam, pelican webcam, rescue tank webcam, and beach cams.
The webcams are also a nice activity when you get home as an alternative to more traditional screen time.
Consider an annual membership
Another way to save on visiting the CMA is by opting for a membership.
A membership for a family of three is only about $39 more than a single visit (admission + parking).
The membership gives you admission for a year, free parking except during peak season (July, August & around Christmas), and special events throughout the year.
Plus, the membership help supports the aquarium's rescue and education work.
As members ourselves, we definitely recommend the membership if you're local and planning a visit to the aquarium.
Visit for free on your birthday
You can visit the Clearwater Marine Aquarium for free on your birthday!
This is one of my favorite birthday freebies in Pinellas.
To take advantage of this freebie, you have to have your photo ID and present it at the ticketing counter.
For kids, they also accept birth certificates and school ID cards.
Take advantage of teacher & military discounts
If you're a teacher or a military family, the aquarium offers 50% off tickets as a show of appreciation for your service.
Teachers are eligible for one discounted ticket with their valid ID.
Military families can get discounted tickets for the whole family, up to four dependents.
Discounted tickets can be purchased upon arrival at ticketing.
Pros of the Clearwater Marine Aquarium
Here are some of our favorite things about the Clearwater Marine Aquarium:
1. RESCUE MISSION: Clearwater Marine Aquarium's rescue mission is front and center throughout the aquarium.
Every animal at the aquarium is there for rehabilitation or because they cannot safely return to the wild.
This rescue focus is palpable in the programming the aquarium puts on, the information posted throughout the aquarium, and when talking to the staff.
2. LESS BUSY THAN FLORIDA AQUARIUM: The aquarium feels more manageable and less crowded than the Florida Aquarium.
If you want a chiller aquarium day, Clearwater Marine Aquarium is a nice pick.
3. DOLPHINS: The aquarium really shines at the work as a dolphin rescue facility.
The huge dolphin tanks are majestic and impressive. My kids could have sat in front of them for a long, long time.
It also feels better knowing that these dolphins are not in captivity solely for entertainment, but because they couldn't otherwise live in the wild.
Cons of the Clearwater Marine Aquarium
There are a few negatives about visiting the Clearwater Marine Aquarium that you may want to consider:
1. COST: The biggest con for us is that the Clearwater Marine Aquarium is expensive. A family of four will spend over $100 dollars to visit for the day.
The ticket prices are also about the same as the bigger Florida Aquarium, which is the flagship aquarium in the state.
2. SMALLER SIZE: The Clearwater Marine Aquarium is smaller than the nearby Florida Aquarium.
Because of its rescue focus, it also has less fewer animals and not as much exhibit diversity as the Florida Aquarium.
3. LESS WOW FACTOR
CMA is a rescue and education organization first. This makes its vibe and atmosphere different than the bigger aquariums with more of an "entertainment" focus.
You just don't get as much of the wow factor as you do at flagship aquariums with their huge tanks and exotic sea-life.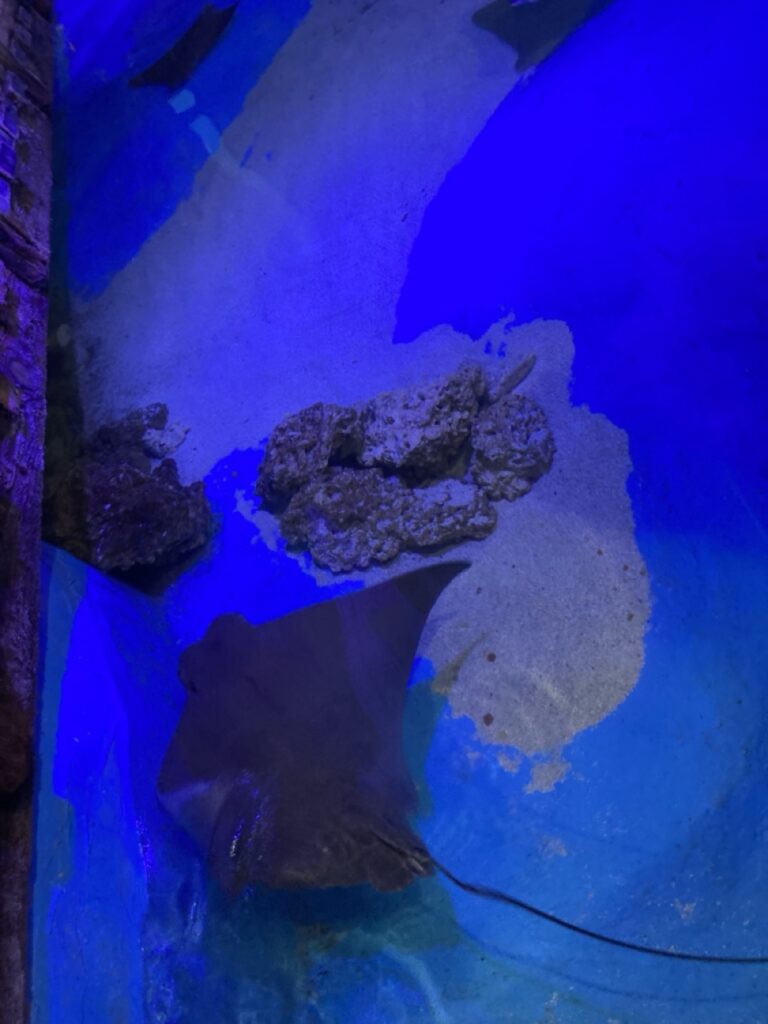 Our Experience with the Clearwater Marine Aquarium
We had a great visit at the Clearwater Marine Aquarium. Malena and I visited together on our list trip with a 3-year-old, 2-year-old and 1-year-old (a full toddler set!).
We started our day focused on the outdoor portions of the aquarium to take advantage of the slightly cooler weather.
As you enter, you'll first come to the top of the dolphin tanks. We headed downstairs to see the big side-view windows into the dolphin tanks.
My kids loved playing with the interactive features in the aquarium like the buttons that played each dolphin call.
Another highlight for the kids was the touch experiences. CMA has a touch tank for sting rays. During our visit, there was also a pop-up visiting reptile exhibit where they could touch turtles and lizards.
Throughout the aquarium you'll find shaded benches and picnic tables to rest or have a snack. We packed our own lunches but you can also purchase food at the aquarium.
Parking at the Clearwater Marine Aquarium
Parking on-site at the Clearwater Marine Aquarium is easy: there is a parking garage that directly leads into the entrance to the aquarium.
Finding information about the parking online is much less easy!
The Clearwater Marine Aquarium website is very vague about the costs of parking, even for members.
So I called them to ask for clarification (in August 2023).
NON-MEMBERS: Non-members pay $12 to park in the parking garage year round.
MEMBERS: Parking is free except for blackout days when it costs $5. The person I spoke to on the phone said they charge members for parking during peak seasons: summer (July & August) and around the holidays in December.
That said, it seems like sometimes you get surprised with free parking for everyone. On our last visit, they were not charging for parking.
We got parking tickets as we entered the garage, but as we left the gate was up and you did not need to put in your ticket or pay to exit.
Clearwater Marine Aquarium Alternatives
The Clearwater Marine Aquarium is not the only local aquarium option. If you're looking for alternatives to the Clearwater Marine Aquarium, check out:
1. FLORIDA AQUARIUM: The Florida Aquarium is the flagship aquarium in the state. It is located about 40 minutes away from CMA.
The Florida Aquarium is bigger, with more exhibits and exotic sea-life. Florida Aquarium is also mostly inside, which is nice in the Florida heat.
Here is our full guide the Florida Aquarium.
2. TARPON AQUARIUM: The Tarpon Aquarium is a local aquarium that is much smaller than CMA but more interactive.
Tarpon Aquarium feels more home spun. You can do things like hold baby alligators at the Tarpon Aquarium and it is also more affordable than the other aquariums in the area.
FAQs About CMA
How long should you plan to visit?
I'd plan to stay at least 2-3 hours during your visit to the Clearwater Marine Aquarium. We were there about 3-hours and felt like it would have been nice to have a little longer to explore.
How much is parking at the Clearwater Marine Aquarium?
Since the Clearwater Marine Aquarium is vague on the specifics about parking, I called to ask for current parking information. According to the staff person I spoke to in August 2023, non-members pay $12 for parking year round.
Members park for free, except during peak seasons when it costs $5. I was told peak seasons are July and August, and December around the holidays.
Can you see Winter the dolphin at the Clearwater Marine Aquarium?
Unfortunately, Winter passed away at the end of 2021 (source). Throughout the aquarium though you'll find mementos and memories of Winter, including her recorded dolphin call and prosthetic tail.
Is the Clearwater Marine Aquarium indoors or outdoors?
The Clearwater Marine Aquarium is a mix of outdoor and indoor spaces. The dolphins, otters, pelicans, and educational tanks are outdoor viewing.
Inside you can see stingrays, a big rescue tank with turtles, smaller tanks. They also have indoor dining, a theater, and indoor educational exhibits.
Is the Clearwater Marine Aquarium stroller friendly?
You can definitely navigate the Clearwater Marine Aquarium with a stroller. I was able to do it with a double stroller even.
However, there are parts of the aquarium that are trickier with a stroller. There are doors that are too heavy to open and push through a stroller and some narrow halls that are tough with other people around.
You'll be more agile and have an easier time walking around if you can comfortable forgo the stroller.
Final Thoughts: Is Clearwater Marine Aquarium Worth It?
The Clearwater Marine Aquarium is a great place to visit with kids. While it is on the expensive side, it is easier to pay knowing that the money goes to funding their rescue and conservation work.
CMA has done a lot to grow and improve, especially in the last decade. If you haven't been in awhile, it is definitely worth checking out all the new expansions and programming.
Read More:
Looking for more aquarium ideas? Check out our Florida Aquarium tips in nearby Tampa.