9 Tips for Visiting the Florida Aquarium with Kids
YOUR GUIDE TO THE FLORIDA AQUARIUM FROM TWO LOCAL MOMS
The Florida Aquarium is located in Tampa, approximately 30 minutes away from Pinellas making it easy to visit from the Clearwater area.
It is a perfect activity for young kids, with mesmerizing tropical fish tanks, a great splash pad, and a playground.
We had been dreaming about taking our baby to an aquarium since I was pregnant. Unfortunately, that got postponed by three years by the pandemic. So we were understandably very excited to take our now toddler to the aquarium finally.
These tips for planning your trip to the Florida Aquarium with toddlers come from our recent visit in July 2023 and a year's experience with a family membership. So you can be sure that these tips have been tested by a real person who has actually been to the aquarium with toddlers.
Let's dive in (water pun!).
Florida Aquarium General Information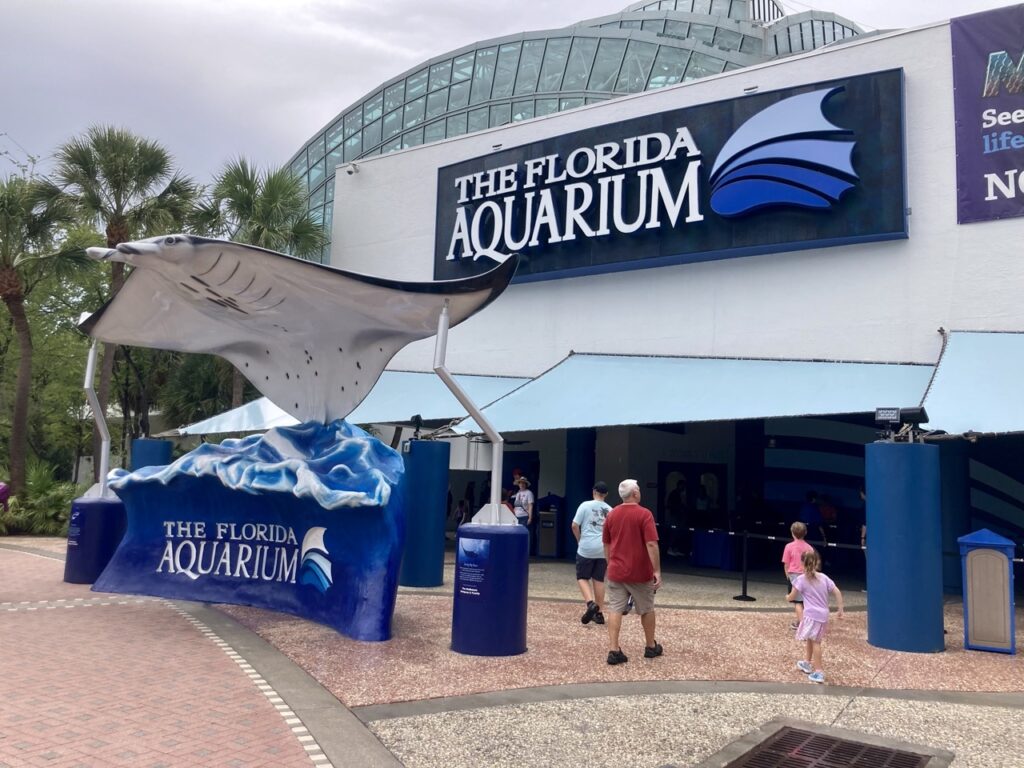 1. Arrive early in the day
If you are going to the aquarium during busy times, such as the weekend or during rainy weather, consider arriving early.
More people usually arrive over the course of the day so it'll be less busy at opening. Morning arrival also makes parking easier.
The official parking lot can fill up during busy times. As we left the aquarium after lunch on a Saturday, there were so many cars circling the official parking lot waiting for spots to open up.
Arriving in the morning to avoid the parking lot traffic jam was reason enough to get the kids there early.
There are also two nearby parking garages, Channelside and Cumberland, but both are more expensive than the official lot.
2. Bring a front-facing carrier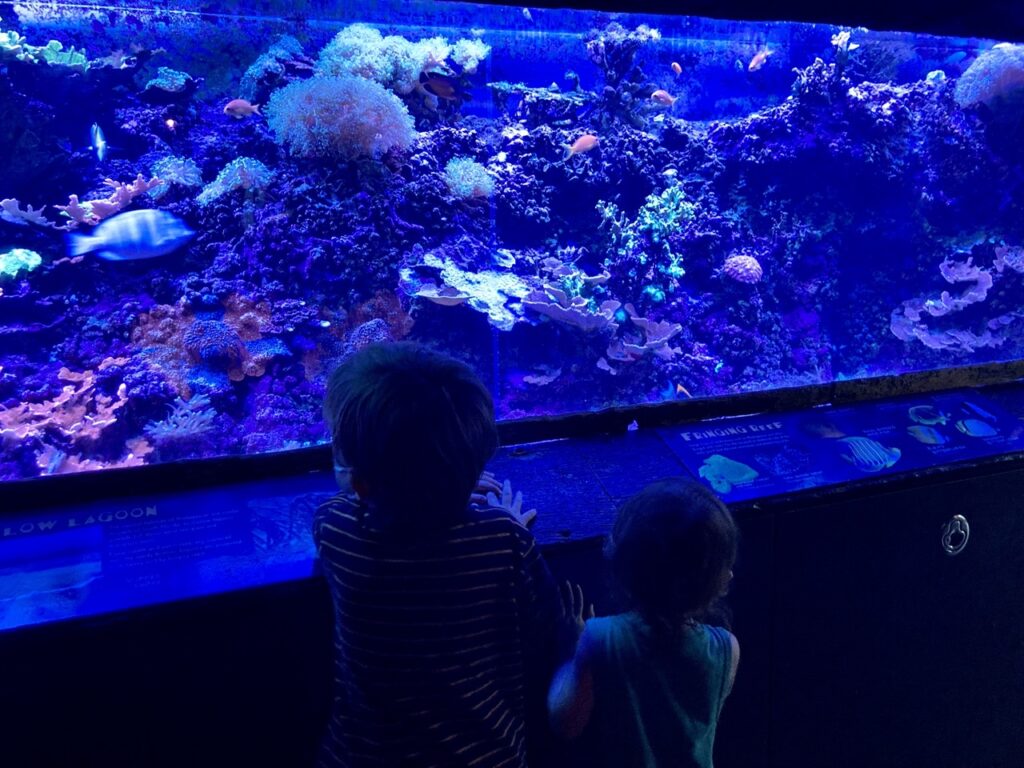 If you have a smaller toddler, don't forget to pack a front-facing carrier. You're going to get really tired carrying and picking up your kid at every tank.
We had a stroller and our 1-year old walks well so we didn't grab our baby carrier. Big mistake.
Many of the tanks were too high for her to see so she needed to be carried for most of the visit. Even with the little steps at some of the tanks, she was still too short to see in a lot of the exhibits.
Plus, in the crowds she was less comfortable walking independently.
Even if she rode in the stroller, she would have needed to be picked up repeatedly to see the tanks.
Save yourself the tired arms and pack a carrier.
3. Bring your stroller
Strollers are permitted at the Florida Aquarium. There are pros and cons to bringing a stroller with you on your visit.
The aquarium paths are wide and easily accommodated even our double stroller. We were there on a busy Saturday and were still able to move around pretty easily with the stroller even in crowds.
However, it is a multi-story building with limited elevator access. There was only one elevator near to main entrance by the main stairs and escalator. While we were there, there were at least six other strollers trying to use the elevator.
So if you bring a stroller alone during peak hours, you may have to wait a few rounds for the elevator. I'd take a look at elevator locations before your visit on this map.
With two people, you could carry the stroller down the stairs since they are wide.
That said, we both feel that strollers are a must for the longer aquarium day with toddlers.
The stroller was great for us to lug all our stuff around. We ended up carrying our 1-year old a lot to show her tanks so it was nice to not also be carrying a big diaper bag too.
It was also helpful to have the kids contained for the walk from the parking lot to the entrance.
4. Pack swim suits
A beloved feature of the Florida Aquarium is the outdoor play area with a great splash pad. The splash pad is really nicely done with a grippy ground and lots of features.
Even if your kids don't play in the splash pad, the playground equipment will be wet from splash pad kids playing with both so your kids are likely to get wet.
At our last visit, the splash pad was turned off because of rain. Still, lots of kids were running around playing on all the fountain features in the rain even though it was off. It's that big of a hit.
I regularly forget towels when we go to a splash pad so this is your reminder to come prepared with swim gear and dry clothes when you visit the aquarium.
Bonus: there are somewhat-overpriced cocktails and beers for sale immediately adjacent to the splash pad.
5. Kid snacks are okay
Despite what the website says, you can bring in snacks for your toddler.
I called the aquarium prior to our visit to inquire about the food policy. The person on the phone said that snacks for little kids are okay and that the posted no food rule was to keep people from packing picnic lunches.
We personally were able to bring in some puffs, bars and pouches without any issue. And as we walked around, pretty much every toddler in a stroller was snacking so it wasn't just us.
That said, the official stance on the Florida Aquarium official site is that food is not permitted unless it is for a medical reason or infant (you can read the official policies here).
6. Time your visit
Timing your visit is important in three key ways with kids:
Visiting during off-peak hours
Timing shows and the free 3-D movies
Considering your kids nap times
Let's look at each point in a little more detail.
OFF-PEAK TIMES
If possible, consider visiting the Florida Aquarium on off-hours. We visited on a stormy Saturday over the summer and it was understandably very busy.
You'll enjoy less crowds and a more relaxed atmosphere by visiting on a weekday.
The aquarium is also a popular spot in rainy weather or when it is very hot out since it is primarily indoors. You're less likely to face big crowds on days with beautiful weather out.
SHOWS AND MOVIES
Throughout the day there are shows and educational talks throughout the aquarium. They happen at set times that are posted on signs in the aquarium.
There is also a 3-D movie theater with shows throughout the day that are included with admission. A stop at the theater is a great place to get a rest and keep your toddler busy.
NAP TIME
Finally, don't forget to consider your toddler's schedule and nap times.
The aquarium is very stimulating so it is easy for kids to get overtired.
7. Buy tickets in advance
The Florida Aquarium uses dynamic pricing so prices increase based on demand. Buying tickets in advance online at least 24-hours in advance offers the cheapest prices compared to buying at the door (per their Plan-Ahead-Pricing FAQ).
Buying tickets early also makes getting into the aquarium easier — a big benefit when you are wrangling toddlers. You skip the step of waiting to purchase tickets and can simply get scanned in from your phone after the bag check.
8. Save Money on Tickets
If you plan to visit the aquarium more than once, you'll likely save money by buying a membership instead of individual tickets.
Memberships are also nice with toddlers because it takes the pressure off doing everything in one visit.
For those only planning to visit once, you can also save money on tickets by buying a Tampa CityPass. With the CityPass, you gain entry to multiple kid-friendly attractions in the Tampa Bay area in a week period.
9. Don't Miss the Free Trolley
Downtown Tampa has a free trolley system with a stop right outside the aquarium.
My toddler was entranced watching the trolley go by. What toddler doesn't love a good form of transportation, am I right?
Since it is free and outside the aquarium, it is easy to add on a quick trolley ride onto your visit.
You can find the trolley map here, and the schedules for the stop in front of the aquarium here (southbound) and here (northbound).
Frequently Asked Questions
How long should you plan to visit?
It took us approximately two hours to get through the inside exhibits with our toddler and baby. This was just looking at the sea life, not time playing outside on the playground and splash pad.
I'd budget at least three hours to allow time for snacks and outdoor play during your visit.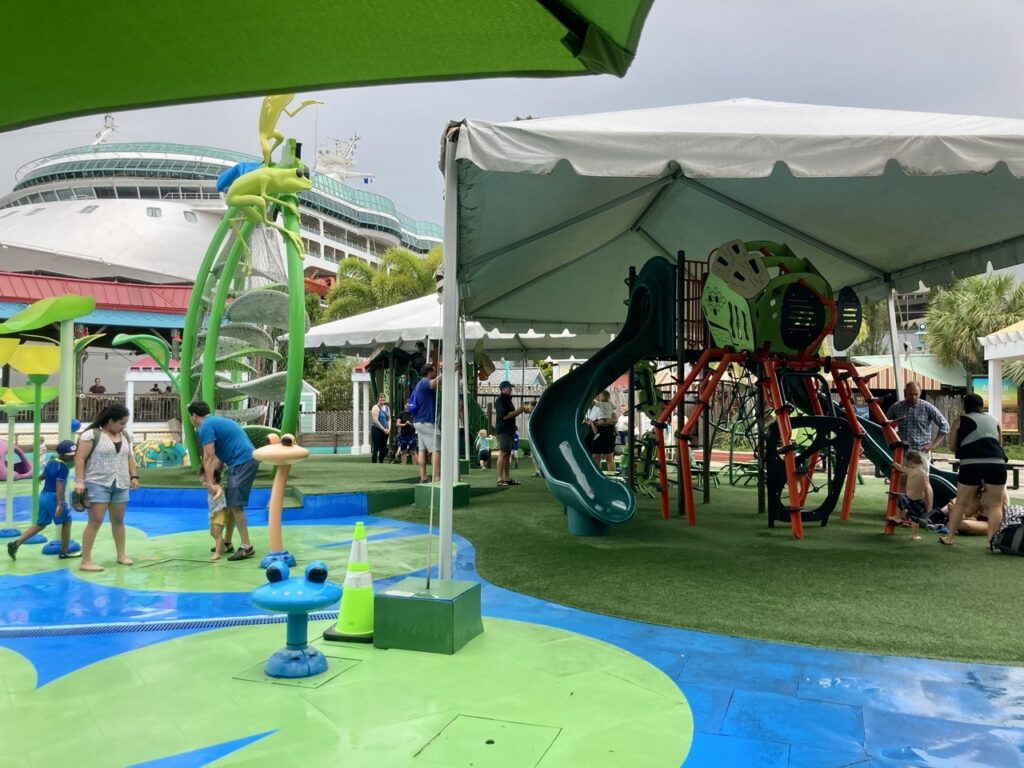 How much is parking?
Official parking costs $10 for the day. The parking is located north of the aquarium at 1371-1387 E York St, Tampa, FL 33602.
Additionally, there are two nearby parking garages but they are a bit more expensive:
Channelside Garage: 810 Channelside Dr., Tampa; Daily Max $15
Cumberland Garage: 1045 Cumberland Ave., Tampa; Daily Max $20
Parking garage prices were sourced from The Car Park.
Can you pet any of the sea life?
There are a few touch tanks spread throughout the aquarium. Our toddler touched stingrays, much to his delight.
There is also a jellyfish touch area on the first floor and a tank with anemones on the second floor. These are smaller tanks than the stingrays so both had lines during our visit.
Where should you eat near the aquarium?
Sparkman's Wharf is about a 3-minute walk from the aquarium with many food vendors and a big astroturf space for kids to run around.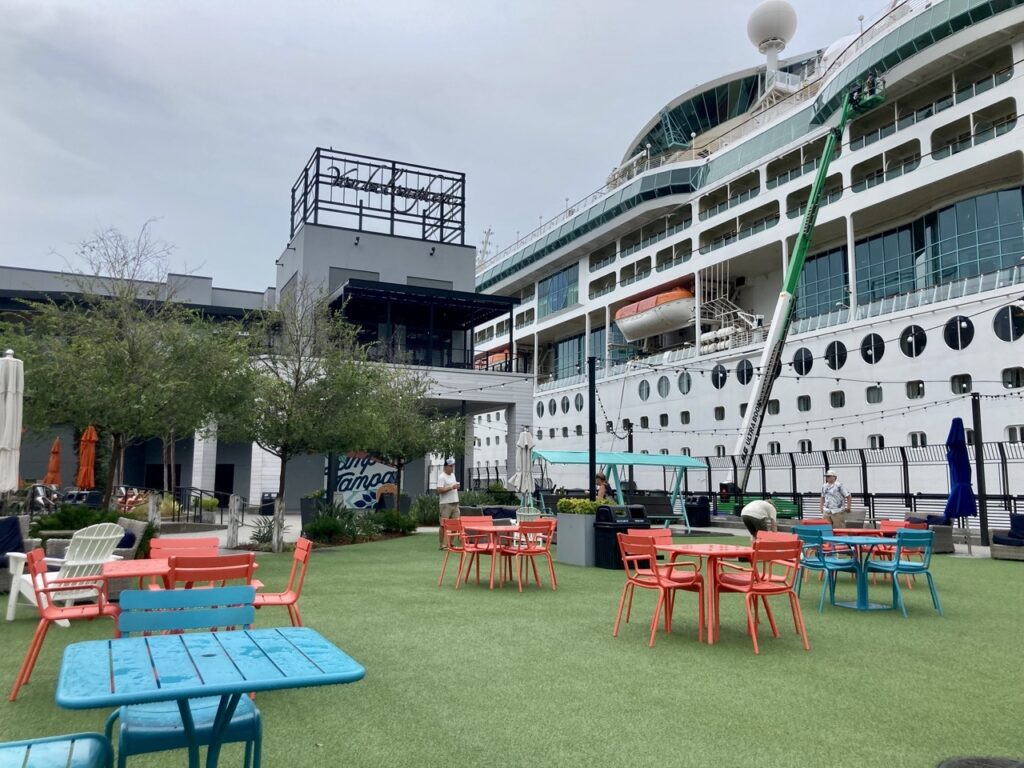 We really enjoyed stopping here after the aquarium because the kids loves the astroturf space, including a huge checkers board and big cruise ship views.
There was a good variety of food vendors which also works well for big parties. You'll find tacos, fish and chips, ice cream, fancy hot dogs, and asian noodles.