Thanksgiving Turkey Trots in Pinellas
Your guide to Thanksgiving Turkey Trot runs around St. Pete-Clearwater
Turkey Trots are a fun way to kick off Thanksgiving and are a tradition for many families.
I have memories of the Turkey Trot being a big event even when I was a kid in the area. There was a yearly contest for Pinellas 5th graders to design that year's Turkey Trot t-shirt logo and it was a very. big. deal (I definitely did not win).
When I tried looking up Turkey Trots near me for this year, I was disappointed that the lists that popped up only had the few big ones around the greater Tampa Bay area.
Our list of Pinellas Turkey Trots also highlights smaller local runs and area running club runs. We hope this will help you find the best fit for your Thanksgiving run. We also include a few races that take place the weekend after Thanksgiving.
Let's trot!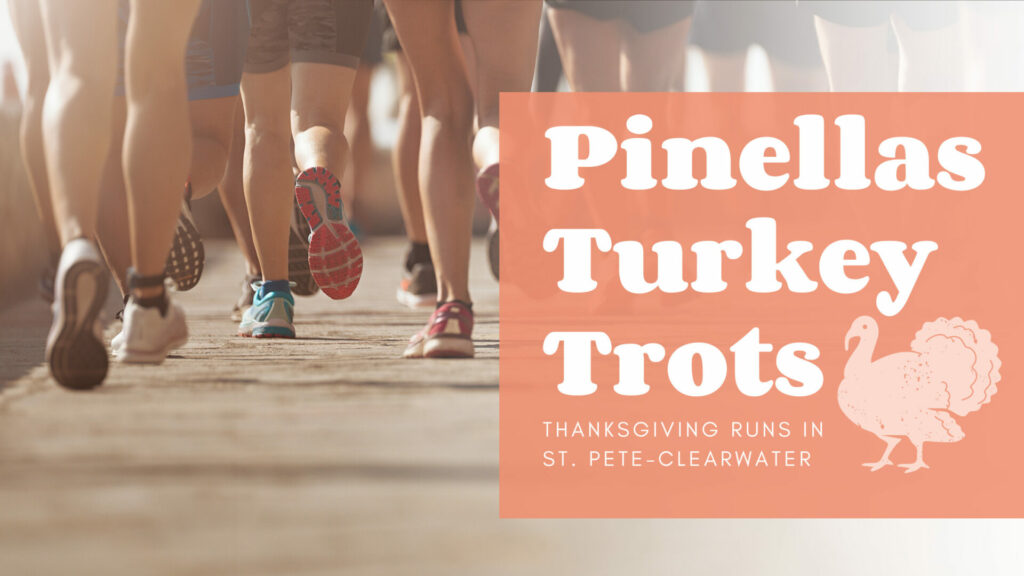 Tampa Bay Turkey Trot (Clearwater)
The Tampa Bay Turkey Trot is the biggest Thanksgiving Day run in Pinellas — in 2022, 8000 runners participated!
Safety Harbor Gobble Wobble
The Safety Harbor Gobble Wobble benefits the Mattie Williams Foundation
Tarpon Springs Run Club Turkey Trot
Coffee Pot Turkey Trot (St. Pete)
The Coffee Pot Turkey Trot benefits the North Shore Elementary School PTA.
St. Pete Running Company Unofficial Turkey Trot
Greater Tampa Bay Turkey Trots
Races not on Thanksgiving Day
Nov 18: Gobbler 5K & 10K in Tarpon Spring's Fred Howard Park
Nov 25: Marilyn Monroe Mustache 5K in Palm Harbor
Maybe Nov 25: Thanksgiving Calorie Burner at Caddy's Indian Shores (Note: I wasn't able to verify this one, I'm monitoring Caddy's social media for more information and will update if it becomes available)