11 Best Splash Pads in St. Pete-Clearwater for Kids
YOUR GUIDE TO ALL THE SPLASH PADS IN PINELLAS COUNTY
Ready to beat the heat with a visit to a splash pad? Splash pads are amazing outdoor activities for babies, toddlers and kids. They're great for kids who haven't learned to swim yet and are fun for older kids too.
Since Florida has warm weather nearly year round, finding kid outdoor kids activities that allow them to cool off is vital. Thankfully, Pinellas county is home to great splash pad options, including many free splash pads.
I made the list after I was searching for splash pads near me and couldn't find a good list. Lots of playgrounds that didn't have splash pads popped up on Google maps leaving me to wade through to find the actual splash pads.
I hope that the list below will save you time searching for splash pads near you in the St. Pete-Clearwater area to keep your kids cool all summer long. We love going to splash pads and try to visit at least one a week, so I also include best features and tips from our visits to help you find the best splash pads for your family.
Let's get splashing!
Splash Pads in St. Pete-Clearwater
1. Kiwanis Sprayground in Dunedin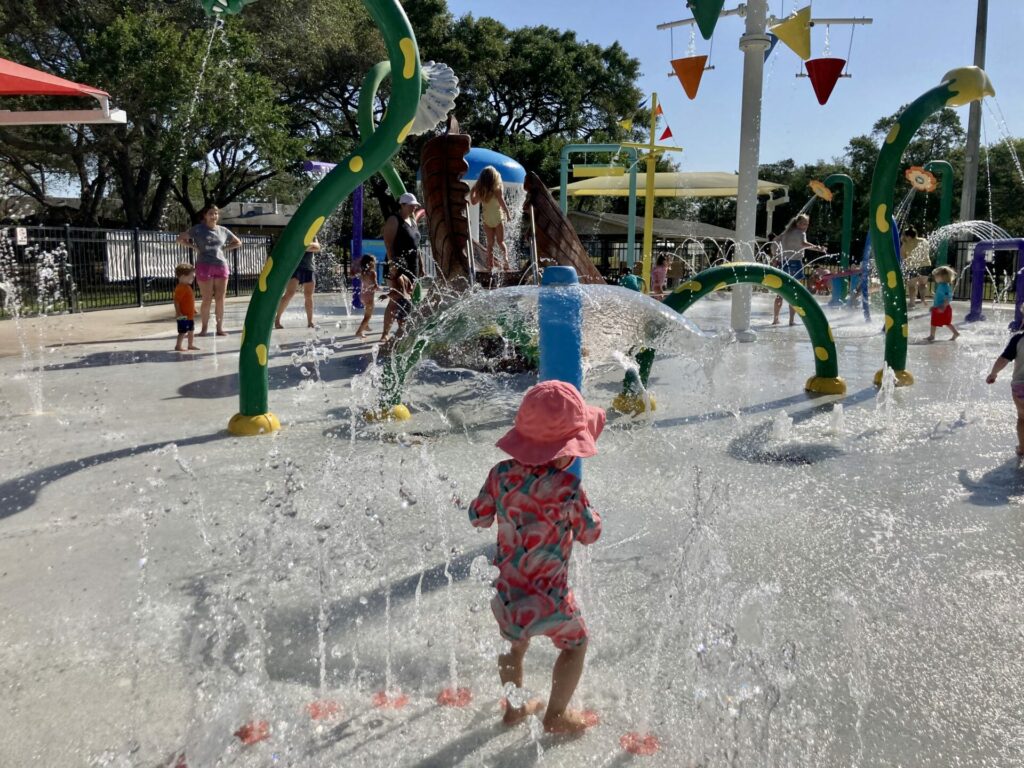 Kiwanis Sprayground is an awesome splash pad located in Dunedin's Highlander Park. It is a seasonal splash pad, open from March to October, that is completely free with easy parking.
This splash pad is busy but worth the visit. We went on a weekday morning, right when it opened, and it was already hopping. There are a lot of water features though so it never felt like my kids couldn't find a fountain to play with. I also appreciated the variety of fountains since there were some that were smaller for our baby and cautious toddler.
Check out my full guide to visiting the Kiwanis Sprayground for more details from our visit to the splash pad.
GREAT FEATURES OF THE KIWANIS SPRAYGROUND:
HOURS OF THE KIWANIS SPRAYGROUND:
2. Tarpon Springs Splash Park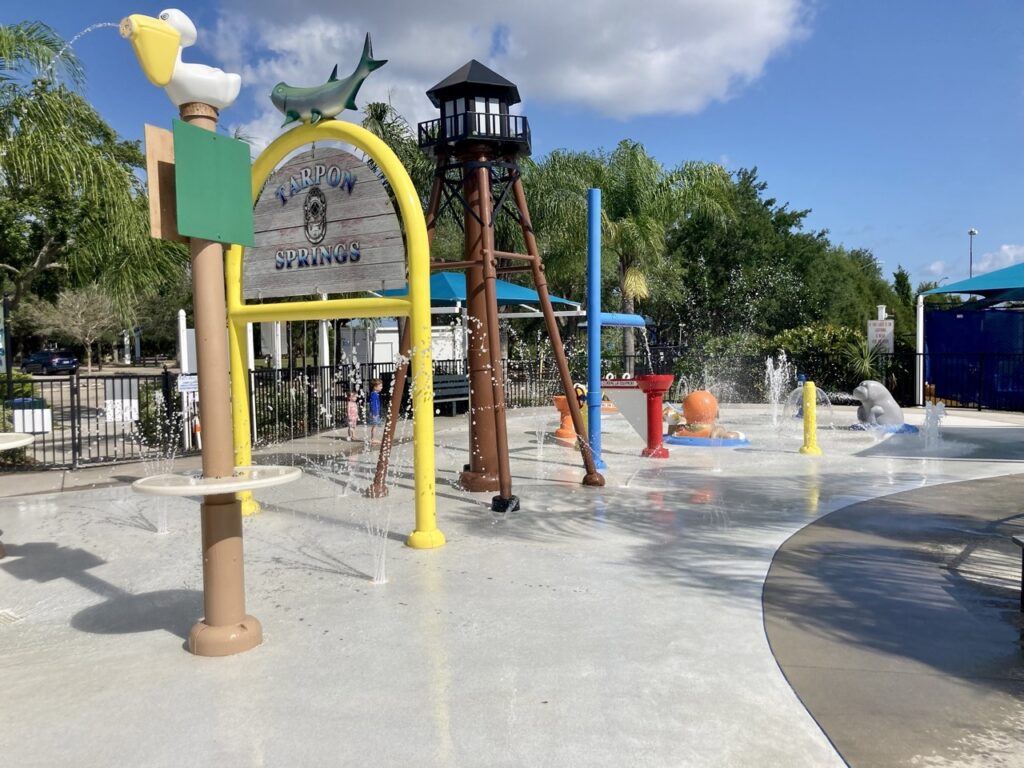 The Tarpon Springs Splash Park is located at the Live Oak recreational complex. It is one of the bigger splash pads on this list with a maximum capacity of 90 people, according to posted rule signs.
The splash pad is totally free, featuring two water slides, a variety of fountains and water features that are locally themed to Tarpon, like a sponger dock diver and tarpon fish.
The splash pad is fully fenced and includes many amenities like bathrooms and picnic pavilions. There is also a playground and dog park at the location, giving an easy alternative if your kid needs a break from the water features.
Note that the splash pad is intended for family use only; large organized groups and tours are not allowed.
GREAT FEATURES OF THE TARPON SPRINGS SPLASH PARK
3. Majeed Foundation Splash Pad at St. Pete Pier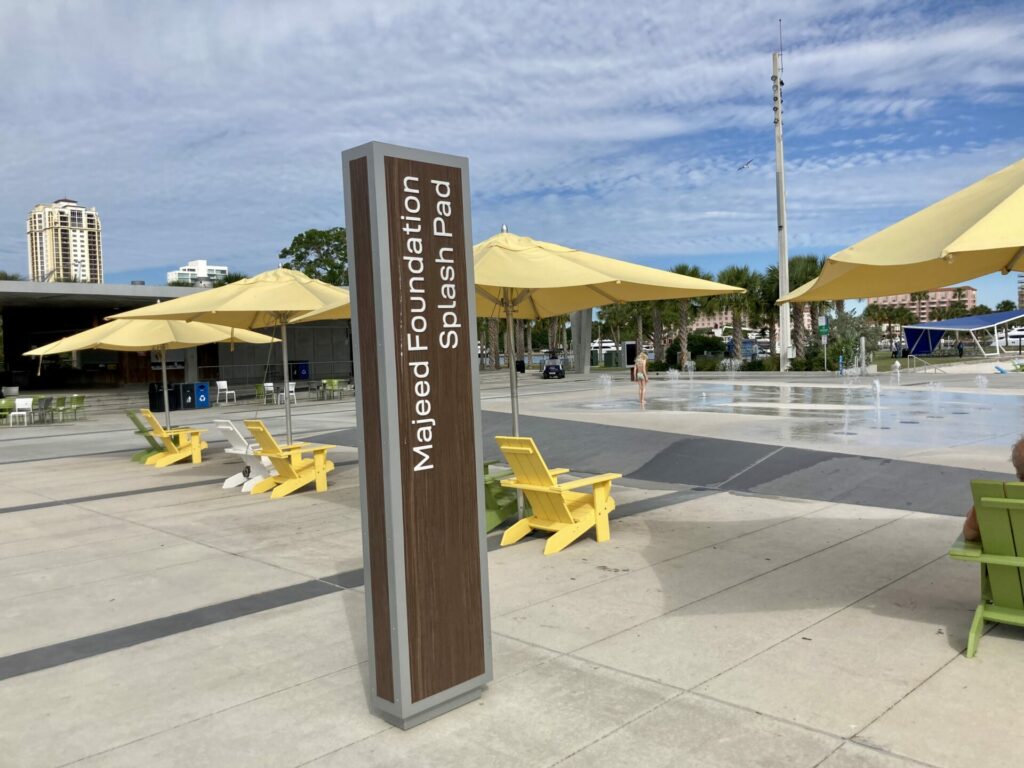 The splash pad is sizable but doesn't have the same variety of water features as other splash pads on this list. The splash pad is simply many fountains shooting straight up out of the ground that kids can play in.
It was a little chilly on the day we visited so I wasn't able to gauge level of busyness. The pier itself was very busy, but there is also an amazing playground across from the splash pad that may temper the crowds. That said, on hot days and weekends expect the splash pad to be hopping.
While the splash pad is free, you may have to pay for parking during your visit to the pier. We went early on a weekday and were able to find free two-hour street parking a block away, but on weekends you should expect to pay.
Pier parking costs $2/hour for the first four hours, then the price increases by a dollar per hour. There is also nearby metered street spots for $1.50/hr.
GREAT FEATURES OF THE ST. PETE PIER SPLASH PAD
4. Crest Lake Park in Clearwater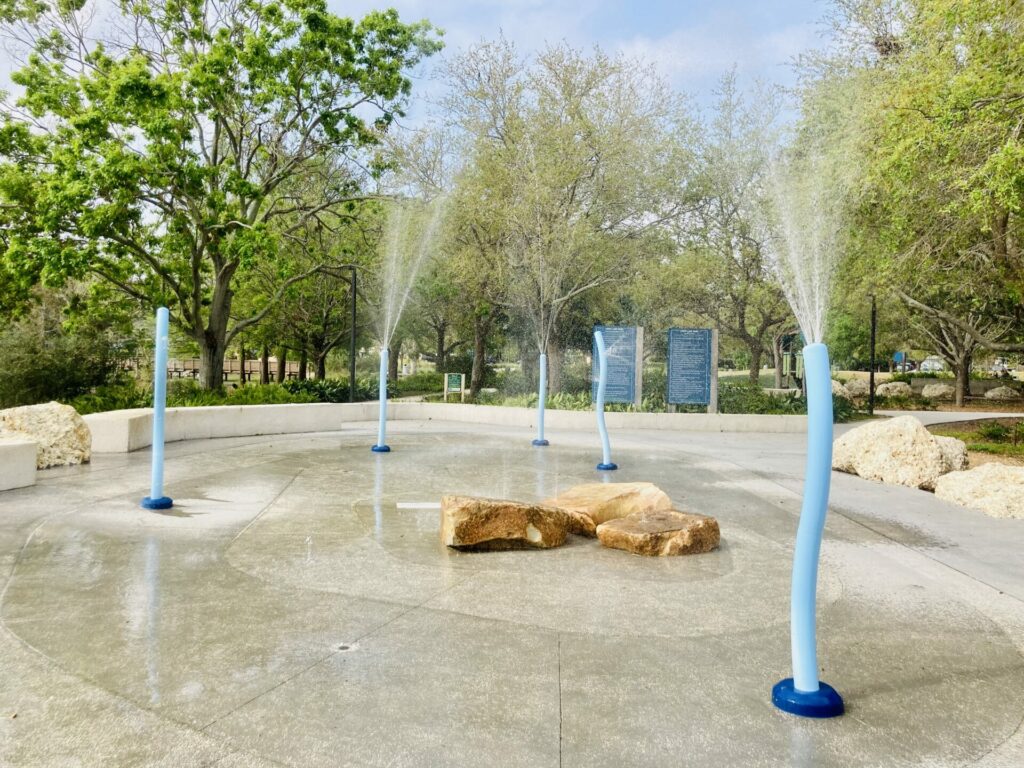 Crest Lake Park was recently renovated in 2021 and the improvements show! The splash pad was one of the new features added to the park in the renovation. Even though it is smaller than some other splash pads you'll find on this list, it is one of our favorite splash pads in the St. Pete-Clearwater area.
My kids loved the natural-looking rocks with fountains spraying from them. Some of the fountains create lighter sprays which my cautious kids appreciate. Since it is smaller, it is less crowded and opens a little earlier than other big splash pads in the area.
The parking is ample and free, but a little awkward depending on how you enter the park. Coming from 60, the parking is angled in the opposite direction making it awkward to turn into a spot if the lot is crowded.
GREAT FEATURES OF CREST LAKE PARK
5. Highland Family Aquatic Center in Largo
The Highland Family Aquatic Center in Largo is more like a small water park than a splash pad. It include multiple larger water slides and a variety of pool features.
The facility includes a zero-depth area with water sprays and play features which is why it makes this list of splash pads. This would be a good splash pad option for families or groups with bigger kids who would enjoy the water slides while the little kids play in the splash area.
The sessions are only two hours so you are limited in how long you can enjoy the park. Depending on the family, this time limitation can be disappointing after paying the higher entrance fee. Note also that food and drink is not permitted but they facility does house a snack bar where you can purchase food.
GREAT FEATURES OF THE HIGHLAND FAMILY AQUATIC CENTER
6. Dell Holmes Park in St. Petersburg
Dell Holmes splash pad is located at Dell Holmes park. The splash pad is located off of a very large and very nice playground. I like this feature because it provides an easy plan B if your kids get overwhelmed by the splash pad.
The pad has a number of animal fountains sure to appeal to little kids, including a shark, manatee, frog and alligator. It also has tunnel-like spray features for kids to run around.
The splash pad is open seasonally from April through September. We visited a few days before April so didn't get to experience the splash pad on but will definitely be returning soon.
You'll also find other great community amenities at the park, like covered picnic pavilions with grills, a free driving range and a pier.
GREAT FEATURES OF THE DELL HOLMES SPLASH PAD
7. James P. Ernest Park in Kenneth City, FL
The smallest splash pad on the list is located at James P. Ernest Park in Kenneth City. The park was recently renovated in 2018 and the splash pad was one of the new addition (source).
The splash pad only has two fountains but there are other nice features at the park, like a ping pong table, shuffle board courts and a playground.
The small size of the splash pad may actually be preferable for some kids. The splash pad limits capacity to 24 people, according to posted rule signs. This is a good option if your kid feels overwhelmed at bigger splash pads. The crowds are also likely to be smaller given it is less of a destination.
GREAT FEATURES OF JOHN P. ERNEST SPLASH PAD
8. R.O.C. Park in Madeira Beach
R.O.C. Park, which means "remember of children" is located right off the water in Madeira Beach. The park is home to a small splash pad for kids. You'll also find baseball and basketball courts, a pier, and dog park.
The splash pad is small but has shaded seating area. The smaller fountains can be great for the littlest kids or kids who may get overwhelmed at some of the bigger splash pads like Kiwanis Sprayground or Tarpon Springs Spray Park. It is also less busy than the big splash pads in the area.
In addition to the splash pad, you'll also find a shaded playground and bathrooms facing the splash pad in the recreation building.
GREAT FEATURES OF THE R.O.C PARK SPLASH PAD
9. Cyprus Forest Spray Park in Oldsmar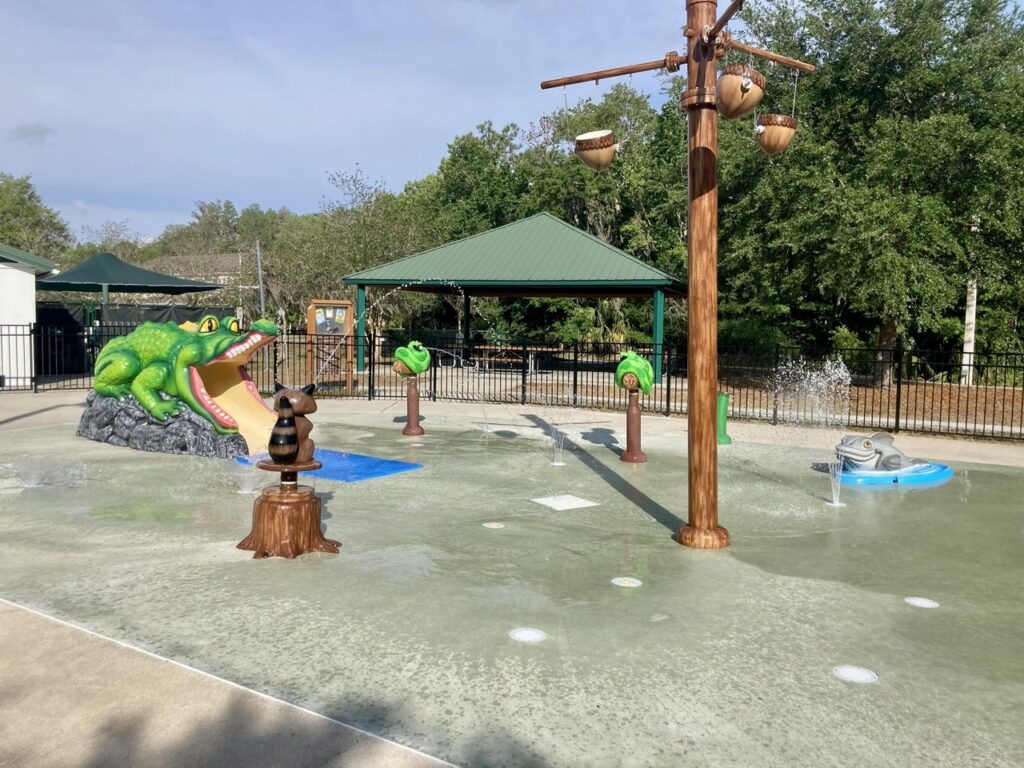 The Cyprus Forest Spray Park is a nice splash pad located at the Cyprus Forest Recreation Center. When we visited, it was much less crowded than free splash pads like the Kiwanis Sprayground in Dunedin.
It has a small water slide that is the perfect size for toddlers. I wish it had a few more small fountains for the smallest guests; our baby stayed mostly on the perimeter since most of fountains were taller than her.
Read my full guide to visiting the Cyprus Forest Spray Park for more information and tips from our visit to the splash pad.
GREAT FEATURES OF THE CYPRUS FOREST SPRAY PARK
10. Coachman Park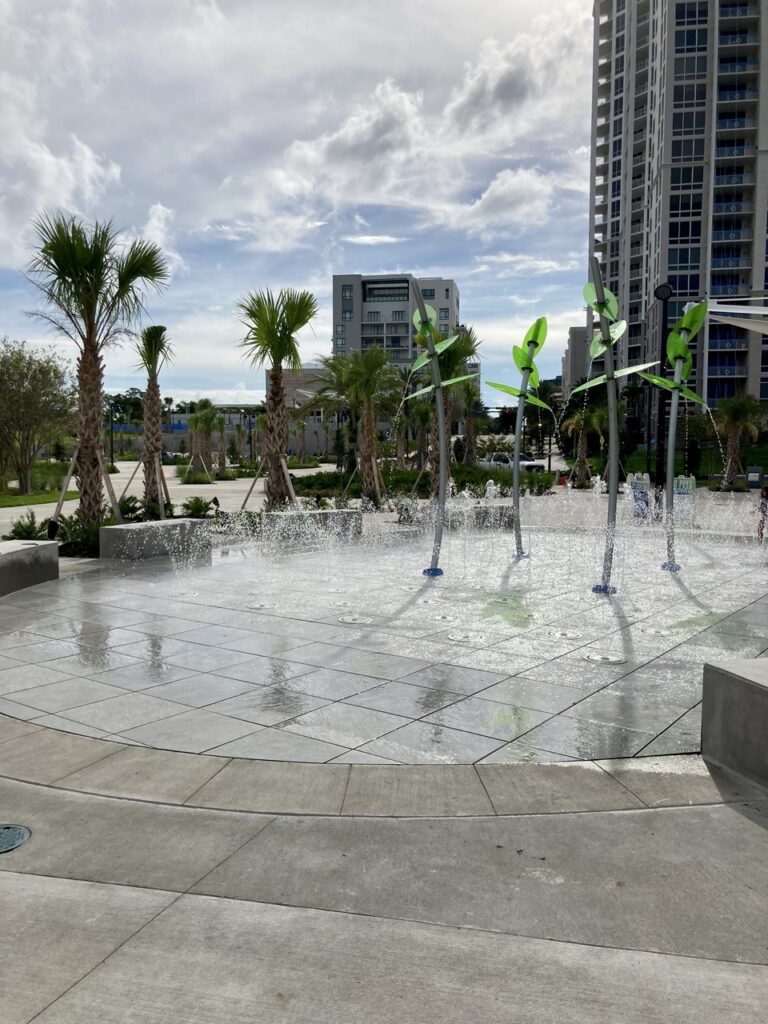 The newest splash pad in the area is at Coachman Park, which was recently refurbished and re-opened in summer 2023.
The splash pad is fine, nothing special but will cool you down on a hot day. All the main fountains are the same size, and we found the water to be high for toddlers.
But, it's perfectly located next to a playground and has awesome views of the water.
Read our full review of the new Coachman Park for ideas what else you can do when you visit the park.
11. John Giegle YMCA Splash Pad
This YMCA-based splash pad is hard to find information about online. The hours are listed on the pool schedule for the location, available here. The splash pad is open to Suncoast YMCA members.
According to their social media, they occasionally host events that open the splash pad up for free to the community (here is an example from April).
GREAT FEATURES OF THE JOHN GIEGLE YMCA SPLASH PAD
Free Splash Pads in Pinellas County
For easy navigation, here is a list of the free splash pads in the St. Pete-Clearwater area:
Crest Lake Park (Clearwater)
Dell Holmes Park (St. Pete)
John P. Ernest Park (Kenneth City)
Kiwanis Sprayground (Dunedin)
Majeed Foundation Splash Pad (St. Pete Pier)
R.O.C. Park (Madeira Beach)
Tarpon Springs Spray Park (Tarpon Springs)
Pinellas Splash Pads by City
And here is the list of splash pads organized by city:
Nearby Tampa Splash Pads
If you're looking to explore outside of Pinellas, you'll find even more splash pads throughout the Tampa Bay area. One great feature about most of the Tampa splash pads is that they operate year round.
Here are some splash pads in neighboring Tampa:
The public park hours of operation listed above were sourced from the City of Tampa website.
Tips for Visiting Splash Pads
Here are a few tips before you head off to one of these splash pads
1. APPLY SUNSCREEN: Most of the splash pads on this list are not shaded, so don't forget to apply sunscreen before your visit.
2. PACK TOWELS: You would not believe how often I forget towels when we head to a splash pad. I hope this reminders spares you from making the same misstep!
3. KEEP YOUR BELONGINGS DRY: Be mindful of where you put down your bad at splash pads. Most do a good job of keeping the perimeter dry, but kids will be kids and we've definitely had toddlers pour buckets of water by our diaper bag. Opt for the benches or bring a stroller to put your stuff on.
4. WATCH FOR OVERWHELM: Splash pads can be sensory overload for babies and toddlers, especially when they're busy. Both my kids freak out when water gets on their faces, and we regularly see other toddlers in various states of meltdowns during our splash pad visits. If this could be your kid, consider some of the splash pads with adjacent playgrounds for an easy plan B, like Kiwanis Sprayground or Dell Holmes Park.
Read More:
Looking for something else to do with your kids? Check out the best children's libraries in Pinellas.