9 Things to Do With Kids in Safety Harbor FL
YOUR GUIDE TO FUN THINGS TO DO IN SAFETY HARBOR FL WITH KIDS
Safety Harbor is a cute little town in Pinellas County with waterfront views of the Tampa Bay and a walkable main street.
While Safety Harbor is a small town of only 5 sq. miles & just over 17,000 residents, there is still a lot of fun things to do with kids (source: U.S. census data for Safety Harbor).
I grew up in Safety Harbor and now live there with our kids. The list below are things our baby and toddler love to do around Safety Harbor.
Let's explore Safety Harbor kids activities!
1. Visit Philippe Park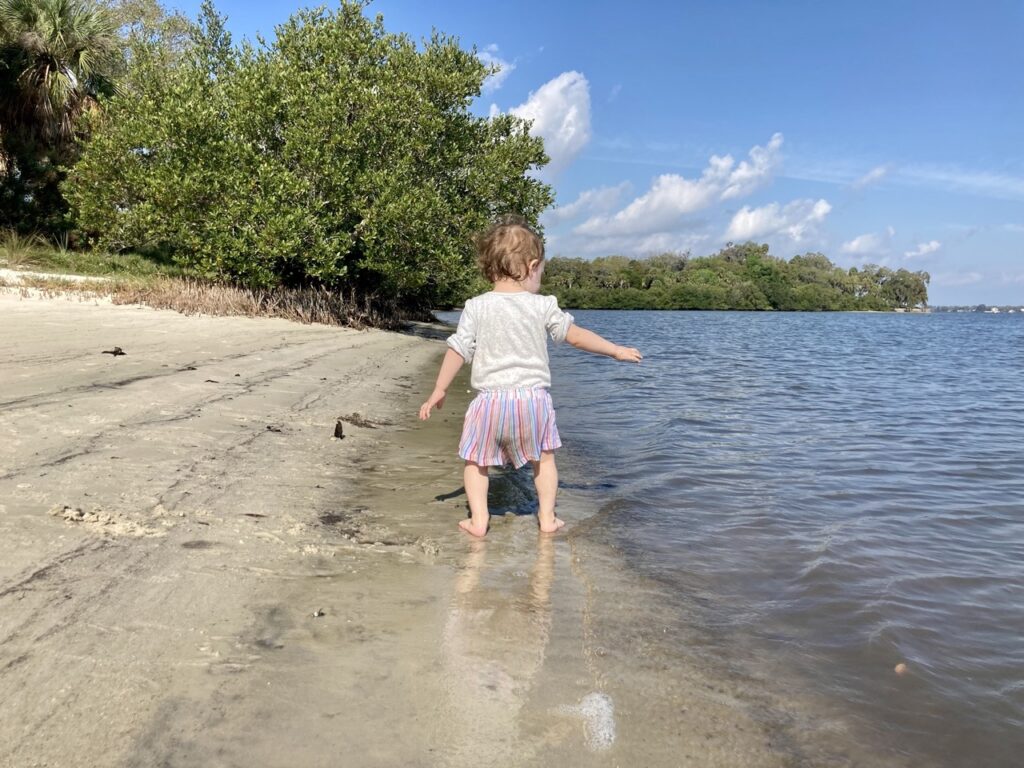 LOCATION: 2525 Philippe Parkway Safety Harbor, Florida 34695
There is something for everybody at Philippe Park. You can play on the playground. Or, hike up the Tocobaga Temple Mound for views of the Tampa Bay. Plus there are a number of little beach areas to play at.
For kids there is a traditional playground and a climbing-focused playground with big rock and rope features. Throughout the park, you'll find easy access to covered picnic areas and restrooms.
My kids favorite thing to do is play in the water at the little beach at the Philippe Point. The size of the beach changes with the tides but even at high tide there's enough sandy beach for kids to play.
2. Stroll the pier
LOCATION: 110 Veterans Memorial Ln, Safety Harbor, FL 34695
The Safety Harbor marina is home to a fishing pier. From the pier you get great views of the bay and the Tampa sky line.
The pier has a sizable covered area at the end of the pier. There are always people fishing off the pier which is always a hit with our kids.
In addition to the pier, there is nice outdoor space in the marina park. There are a couple covered picnic areas and a fountain that smaller kids will like. There are also boats docked to look.
The pier also has a public restroom! Always a win to have easy bathroom access with kids in tow.
3. Walk the Safety Harbor Nature Boardwalk
LOCATION: 110 Veterans Memorial Lane, Safety Harbor, FL 34695
Just north of the pier, you'll find the Safety Harbor nature boardwalk. There is a short sidewalk path connecting the two.
The boardwalk winds through the coastal marsh. You'll go through the vegetation and enjoy sections that are over the water with nice views of Tampa Bay. Throughout the path there are information placards about sea birds and animals in the area.
The highlight for my kids is the areas where people have left love locks along the boardwalk. If you have toddlers, I definitely recommend checking this out. The confined area and endless supply of locks to investigate makes for some great sitter-vising.
4. Find a tiny beach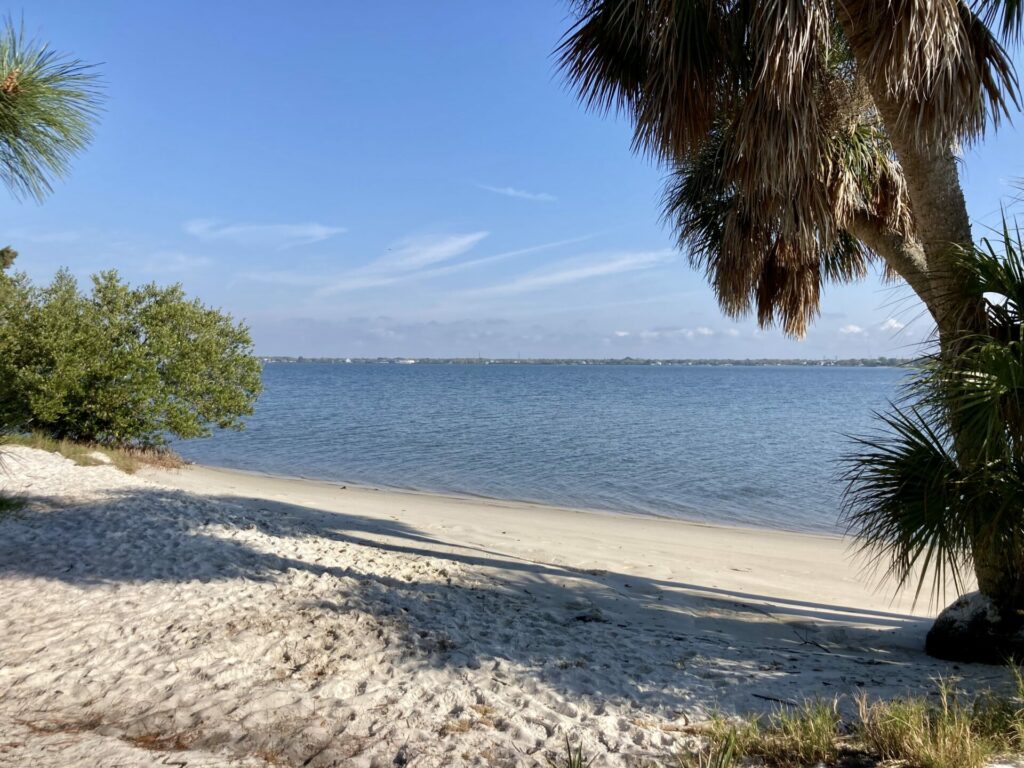 LOCATIONS: Philippe Park and waterfront marina & pier park area
Enjoy some beach time without having to deal with the headaches of parking and crowds at the popular beaches (looking at you, Clearwater Beach…)
Throughout Safety Harbor, you'll find little tucked away beaches that are perfect for kids. We love to frequent the little beach in Philippe Park located the Philippe Point and the small batch of beach at the Safety Harbor marina, just north of the pier.
I linked our favorite little beaches on the map in location section above. The photo above is a little beach in Philippe Park.
These beaches are great because they have easy parking and are usually totally empty. The Philippe Park beaches also have shady patches since they are tucked between vegetation. You don't find shade like that on Clearwater beach.
5. Eat ice cream on Main Street
LOCATION: Strachan's at 323 Main St. Safety Harbor, Florida 34695
While there are lots of food options on Main Street, ice cream and sweets are always a kid favorite.
You'll find a couple options for ice cream on Main: Strachan's, Ice Barr, and Coldstone. For other desserts, check out Joey Biscotti and Bassano Cheesecake.
Of these, Strachan's Ice Cream would be my first stop. It's a homegrown local Pinellas ice cream place that now has four locations in the county. Try the carrot cake flavor, its their specialty for a reason and not a flavor I've seen elsewhere.
Ice Barr features snowballs, popsicles and slushies (including alcoholic ones sometimes).
6. Play at City Park playground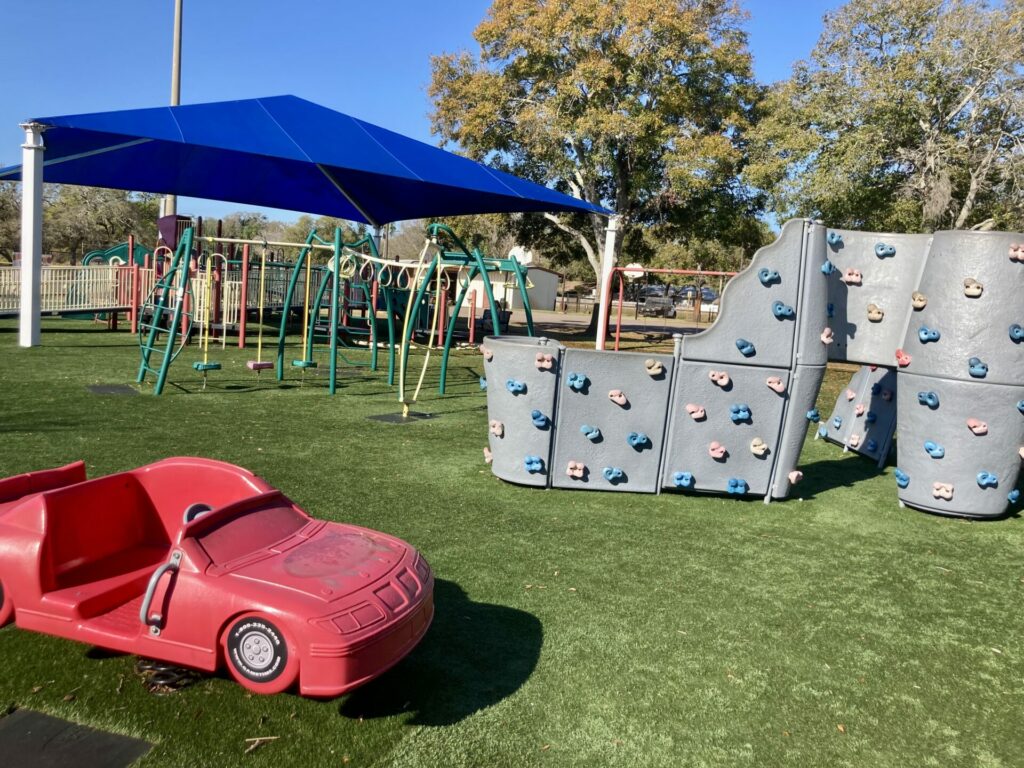 LOCATION: 940 7th St S, Safety Harbor, FL 34695
Safety Harbor City Park is a great stop for kids of all ages. There is an extensive playground — with shade covers over the two playground sets!
My kids love the little cars in the picture above. When the playground is empty, I like to use the big climbing structure for a little exercise while the kids play.
For older kids, there's a nice skate park right next to the playground. You'll also find baseball fields and basketball courts at the park.
The park abuts to Alligator Lake for those who want to see some nature. You can often see alligators and turtles at the lake.
Do you like a quieter playground? Safety Harbor's Marshall Street Park is also a great pick with lots of wide open nature space for kids to run around.
7. See Whimzyland and the Safety Harbor Art & Music Center
LOCATION: 706 2nd St N, Safety Harbor, FL 34695 (Art & Music Center); and 1206 3rd St N, Safety Harbor, FL 34695 (Whimzyland)
The Safety Harbor Art & Music Center and Whimzyland are incredibly cool art features in Safety Harbor. They are the work of local artists Kiaralinda and Todd and have been a Safety Harbor landmark as long as I can remember.
Their house is decorated in bright beautiful art, including mosaics and decorated bowling balls. The Art Center decor mirrors the same fun and vibrant art style. Growing up, we knew Whimzyland as "the bowling ball house" or "the art house," and I have fond memories of holidays where they decorated the whole house silver.
A block from Safety Harbor Art & Music Center is the Rigsby Center playground. The playground is small but completely fenced in and has some shade. We play at the playground and walk over to check out the art after.
Here is more information on Whimzyland and the Safety Harbor Art & Music Center.
8. Go to Folly Farms Nature Preserve
LOCATION: 1562 Dr. Martin Luther King Jr. St N, Safety Harbor, FL 34695
Folly Farms is a nature preserve area and outdoor community space in Safety Harbor. There's a butterfly garden, hiking path, and a cute little playground for the kids.
Throughout the year, they'll host community events like pancake breakfasts, ice cream socials, musical events, and night hikes. They also host kids and homeschool classes at the farm.
We've personally done the pancake breakfast and night hike, both of which were great for our 3-year old.
9. Hang out at Crooked Thumb Brewery
LOCATION: 555 10th Ave S, Safety Harbor, FL 34695
This last one is for parents. Crooked Thumb brewery is a great spots for adults while also being kid-friendly.
Crooked Thumb is a local Safety Harbor brewery that has a very nice outdoor space. It is spacious so there is room to have kids without having to keep them confined in their seats.
Our kids are young enough that they still love digging so the gravel ground makes this place an instant win. We pack a few dump trucks and they'll sit by the table scooping and dumping the rocks while we have a beer.
Crooked Thumb often has food trucks and every time we've gone, the trucks have had at least some kid-friendly foods, like mac-n-cheese from BBQ food trucks.
Plus, I'll always have a soft spot for a brewery that makes a beer in honor of local weatherman Denis Phillips.